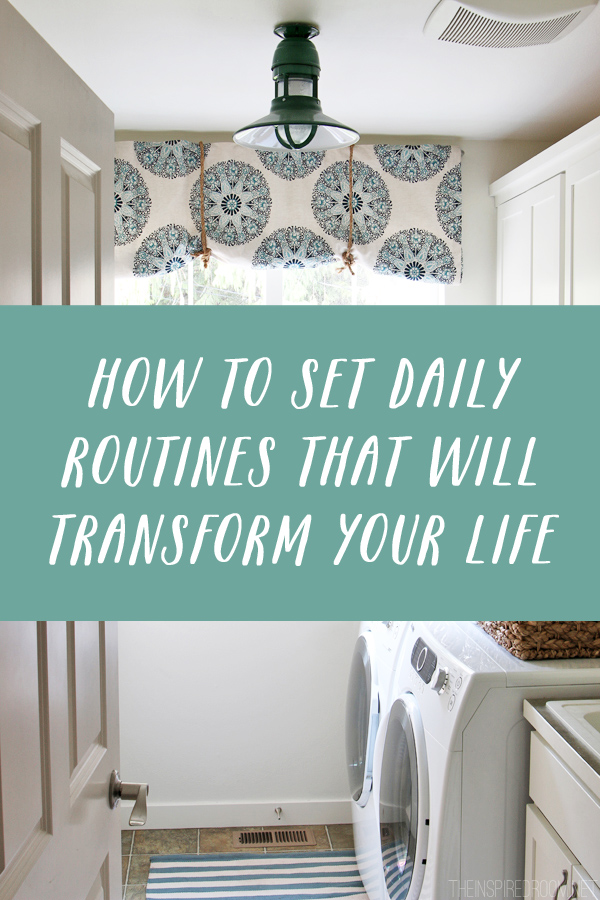 As someone who has admittedly always struggled with procrastination and staying focused on tasks, zeroing in on and practicing my "must do" daily routines was a literal life-changer for me. I desperately needed to figure out daily routines not only to help me keep up with my house, but to help me with my sense of joy at home. Daily routines offer me a way to focus on what needs to be done at home so I can accomplish what matters to me. They also give me more time to reach my personal goals, too.
About seven years ago I shared my basic daily routines on The Inspired Room. Through opening up about my own struggles over the years, I realized I wasn't alone in needing a simplified approach to home management. Since then I've continued to learn so many new things about productivity and being intentional with how I spend my days. I enjoy offering what has worked for me and love when I hear how these simple things have changed other people's lives, too.
I wasn't the "born-organized" type, so even if I read all the organizing books in the world or had a list of what to do, the only way I was able to actually become a more organized disciplined person was through beginning to recognize my habits, struggles and limitations and finding super practical ways to work around and overcome those challenges.
In recent years I stumbled upon another life-changing realization: I discovered the key reason I used to be so disorganized. Decluttering and organization was an ongoing issue for me most of my life because I was indecisive and lacked focus in so many areas of my life!
Once I learned how I could in fact train myself to be more inspired, decisive and focused in the areas that mattered to me, I was able to accomplish so much more with much less stress and effort. I still struggle with a tendency toward clutter and disorganization at times, but now I have very specific and practical ways to bring myself back to focus every time and keep myself motivated to succeed.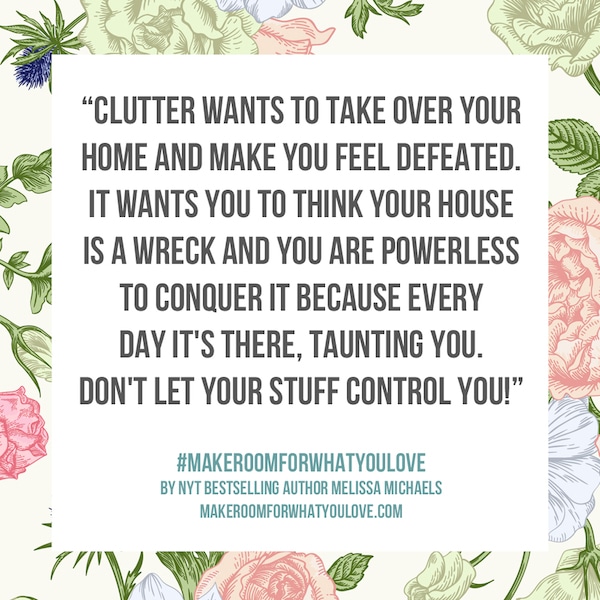 The simple habits and mindsets I learned have impacted my house, my style, my business and my family in so many positive and healthy ways. I love to share what has actually worked and been successful for me. It makes me so happy when what I learned offers hope to others who, like me, really want to simplify their life and home.
Here are five tips for success in setting daily routines that will transform your life:
Be decisive.
What are your goals for your home or life? If they are undefined or unattainable, you will not be effective in reaching them. Plain and simple, to have a beautiful, uncluttered and organized home you have to be more decisive both in what you want to allow in your home and focused on the daily steps that will be required to get where you want to go.
Commit to being disciplined.
Whether you are heading out the door early for work, wrangling kids to school or working at home, what you do from the moment you open your eyes and in the moments or hours that follow determines and sets the course of your day. Discipline yourself to start out every day with a realistic sense of purpose and intention and follow through with attainable goals. Your life and home will not change unless you commit to being disciplined.
Focus on your dailies.
You don't have to do everything (in fact, to succeed you shouldn't do everything) but you have to be very focused on your housekeeping essentials and stick with those every day. Anything extra is a bonus. My dailies are making my bed, cleaning my sink, doing a load of laundry and doing a quick cleaning frenzy or two in the day.
Practice productivity.
Habits aren't learned in a day, they are acquired through practice over time. If you want to become organized and reach your home or life goals, you'll need to practice productivity. Don't give up or get too discouraged by setbacks, practice will make daily routines and chores so much more effortless and rewarding in time.
Eliminate distractions.
What distracts you from keeping up with your home goals or doing what you love? What non-essentials and low priority tasks are crowding your day, life, or your home and keeping you running around frazzled? If you stick to your daily routines you will be able to better manage a busy and full schedule so you can live life to the fullest! Eliminate the clutter and excess around your home and in your schedule, so you can effectively transform how you live.
If you find it challenging to stay focused on tasks or to keep up with housekeeping or to eliminate the clutter in your home, you'll find lots of valuable insights and very practical tips and encouragement in the new book I wrote called Make Room for What You Love. It's different than my other books, so whether you've read the others yet or not, I hope you'll find this one uniquely inspiring and motivating!
So many people who have already read the book have mentioned that they are so inspired and motivated as they read that they find themselves getting up repeatedly to go make progress on their home! That's the best compliment I could receive! I didn't just want to offer a list of ways you could transform your home, but my goal was that you'd be inspired to actually go take action and see the results for yourself.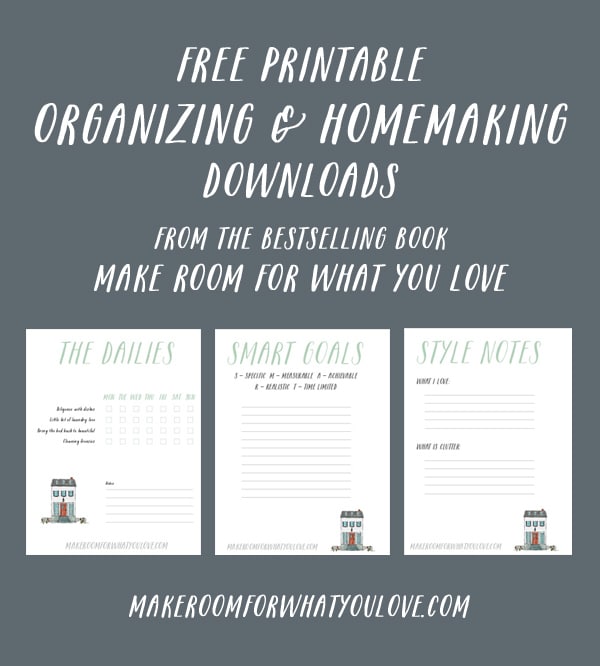 Download this set of Make Room for What You Love Printable Worksheets HERE!
Above you'll find a link to save and then print the set of FREE worksheets pictured in the graphic. We created these worksheets as a companion and support to a few of the concepts in Make Room for What You Love. If you've read the book or would like to, these adorable free printable sheets will be a visual way to help you set goals and begin to find your focus and purpose as you prioritize your home, day, and even refine your decorating style! You can add them to a home notebook or post them on your command center.
ENJOY!
Related Posts:
Do you suffer from "design chaos syndrome"? Check out the symptoms here and see how they might be affecting your home!