Hey friends, I was just writing a post on my new SHIPLAP wall (you can see tiny sneak peek of the wall above, eeek!) when I got an email offering a copy of THE INSPIRED ROOM BOOK F-R-E-E for everyone who is taking advantage of the Caldrea summer entertaining kit I told you about the other day!
WHAT? I'm SO excited about this I had to stop and tell you about it right now (can you blame me?) and you can come back in a bit tonight to see my new planked wall :) It's worth the wait.
So here's the deal, if you already ordered the Caldrea kit through me in the past few days OR if you place your order through Sunday through my link you will ALSO get my book, THE INSPIRED ROOM FOR FREE. Yay! It's a gorgeous hardback, full color book about how to decorate every room in your home on a budget with tons of ideas and photos to inspire you.
NOTE: THE OFFER FOR THE FREE BOOK EXPIRED! It was a limited time offer.  So you will not receive a book, but you can still get the Caldrea dish soap and counter spray for FREE with this offer.
This offer for the free book and free Caldrea kit is good for first time Grove Collaborative orders who place their first $20 order with my link. Get TOILET PAPER! DISHWASHING STUFF! Things you'll probably have to buy on Monday anyway, but I guarantee you no other store will put all these awesome freebies in the bag with your TP.
I'm sure you'll agree it is a crazy generous offer from an amazing and generous company (!) so I am BEYOND thrilled to offer this to you. Plus, I love the Caldrea products and I know you will, too.
What are you signing up for?

No worries, there is no further obligation to buy anything you don't want. After your first order of $20, you will receive a text / email as a reminder when it is time to check your cart. Grove will recommend great items you might like, but you don't have to order anything. You can choose to order whatever you want, there's no mandatory or minimum order, and you don't have to order anything at all. It's your choice. No tricks or gimmicks, you'll always get the email or text notice to remind you to update any upcoming orders. And if you want, you can cancel ANYTIME but I bet you'll never want to.  You'll love Grove that much.
So when you place your first $20 order of anything you want to order, you will receive your Grove shipment (the FREE Caldrea kit with Caldrea dish soap and countertop spray in any scent you like, wood handle dish brush, $20 of products of your choice all shipped FREE) very soon. I can't wait until you get all your goodies!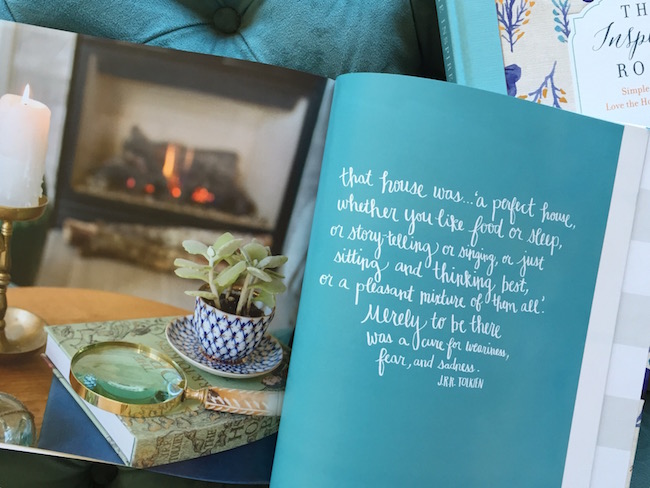 Here's another freebie for you, you can get this hand drawn downloadable quote for FREE! Check it out in various sizes and in more colors here.
Would you help me out and share this post with a friend who would love this deal and please let them know before it runs out? I'd hate for anyone to miss it and the sale is over Sunday. This book makes a perfect gift for brides, moms, sisters and friends and if I can say this myself, it truly has one of the most beautiful covers I've ever seen. It glistens and shimmers with copper foil leaves :).
Click the link below to place your order, remember that you'll get the counter spray and dish soap but the book is no longer offered through this promotion.
Here are the details for how to get your free gifts:
1. For first time Grove Collaborative members, click this link here to sign up. You'll receive the Caldrea Luxury Set for free when you sign up and spend $20 or more on your first order (order whatever you want or need anyway like paper towels, TP, etc.).
2. Answer 4 quick questions about your home that Grove Collaborative will then use to customize your products — this takes under 30 seconds!
3. Adjust and finalize your basket of products to suit your household needs by adding or removing items (but be sure to keep your freebies!)
4. Confirm that your order reaches at least $20 to receive this offer. That's easy to do because Grove offers so many products you love and use everyday.
5. Click Finish & Pay and place your order.
*Offer expires July 17th. Please note that sadly Grove currently does not ship to Canada, Hawaii, or Alaska

OK, back to writing my planked wall post so I'll have that up shortly :).
*This post is in partnership with Grove Collaborative and contains affiliate links.