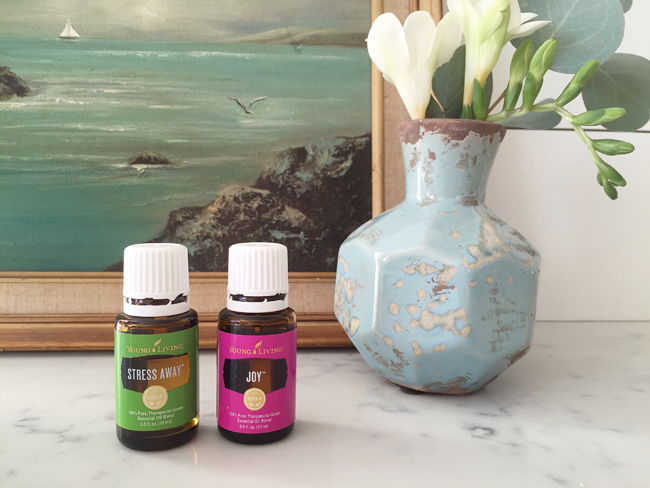 Soft lighting, soothing scents, gentle music, sitting down to a nurturing meal, touchable textures and a tidy clean house speak my love language. I absolutely crave an atmosphere that can inspire all the happy feelings at home. A sense of well-being, warmth and coziness, comfort, joy, health, inspiration and positivity are always on my list of goals for a new year.
Fresh, clean, healthy and yummy smelling scents in my home make me feel happy and energized. For the past couple of years I've started every day by placing a few drops of my favorite essential oils into my diffuser. I love that daily ritual!
In honor of the new year (and of course our little mini-series on Hygge), I'm happy to share my own special Hygge-inspired blend of essential oils, below.
Use a few drops of Young Living Stress Away with a few drops of Young Living Joy (adjust the ratio to your liking, you can use more or less and it's still great!). Your whole family will thank you because your house will smell AMAZING.
You can order pure essential oils and diffusers here (I'm happy to help find answers to any questions you might have!).
We've been ridding our home from harmful chemicals (a great goal for 2017!), so these plant-based products and natural home scents have been life-changers.
Diffusing is a ritual that gets me up and going in the morning, makes my house smell so good and keeps me happier all day.
What are some daily rituals that help you keep the mood up in your home over the winter? Please share some ideas in the comments. 
Come take a sneak peek at our new Instagram!
Get inspired to greater health, joy and well-being in your home in 2017! My girls and I would love for you to join us behind the scenes for our family adventures in healthier home-making. Come get a preview of our new Instagram account called Pure & Lovely Living (follow us on Instagram @pureandlovelyliving) where we'll be sharing our family's tips for ditching toxic chemicals and our daily adventures in creating a happier, healthier home.