Hi friends! I'm here with a bathroom update today for the Makeover in A Month series. Several of my blogging friends and I put ourselves on a timeline, each to begin and complete a room makeover in our own home by the end of this month. Isn't it amazing how fast you can work when you have a deadline?! Kind of like how quickly you can clean your house when company is coming over (heheheh). Alas, we don't have visitors much these days (thanks RONA) so I guess we'll resort to making up our own deadlines. :)
My project is this simple makeover in our basement bathroom. I've been wanting to refresh this space for FIVE YEARS, but so many other things felt more pressing so I kept putting it off. But now we're going to get it done in a matter of days! YIPPEE! I am grateful for a deadline. It helped me to let go of coming up with the perfect plan so I could focus on the most reasonable options for this space. It sure is fun to see what a difference these simple changes are making in this room already!
If you're just catching up, or like to scroll back and forth like I do to see the before and progress, look below at where we started.
UPDATE* Click here to see the FINISHED REVEAL!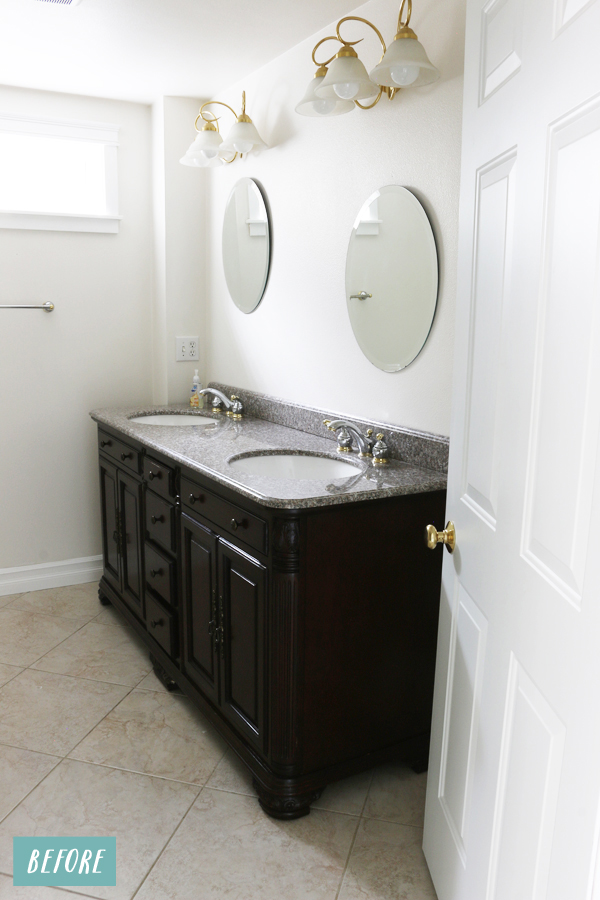 Last week I showed you our freshly painted vanity in this post. The dark shiny wood vanity and dated silver and brass faucets and hardware were not doing this bathroom any favors. The milk paint was like magic in how it transformed the vanity.
This week we had our brand new faucets from Kingston Brass installed. I mean, can you even believe the difference paint and new faucets made? I AM IN SO LOVE with the changes already! I feel like we are going to have a totally new bathroom. And we aren't even done yet!
I love the vintage style faucets, they are so cute! They are great quality, too. We also installed new matte black hardware for the towel rod, a robe hook, a toilet paper holder, and toilet handle (all from Kingston Brass). I LOVE how cohesive it all feels now! I'll share more of these updates in our reveal and upcoming posts.
Next up, we will be painting the stencil on the wall (so curious how this will turn out, haha, stay tuned :). Then we'll be hanging the mirrors, removing the old lights and installing these pretty white powder coated lights from Barn Light Electric!
Click here for reminder of our design mood board too!
I'm pretty excited to see this room coming together. :)
UPDATE* Click here to see the FINISHED REVEAL!
Visit the other Makeover in a Month Bloggers to see the progress on their spaces!
Miss Mustard Seed
My 100 Year Old Home
Thistlewood
Have you been working on any simple makeovers at your house during this pandemic?