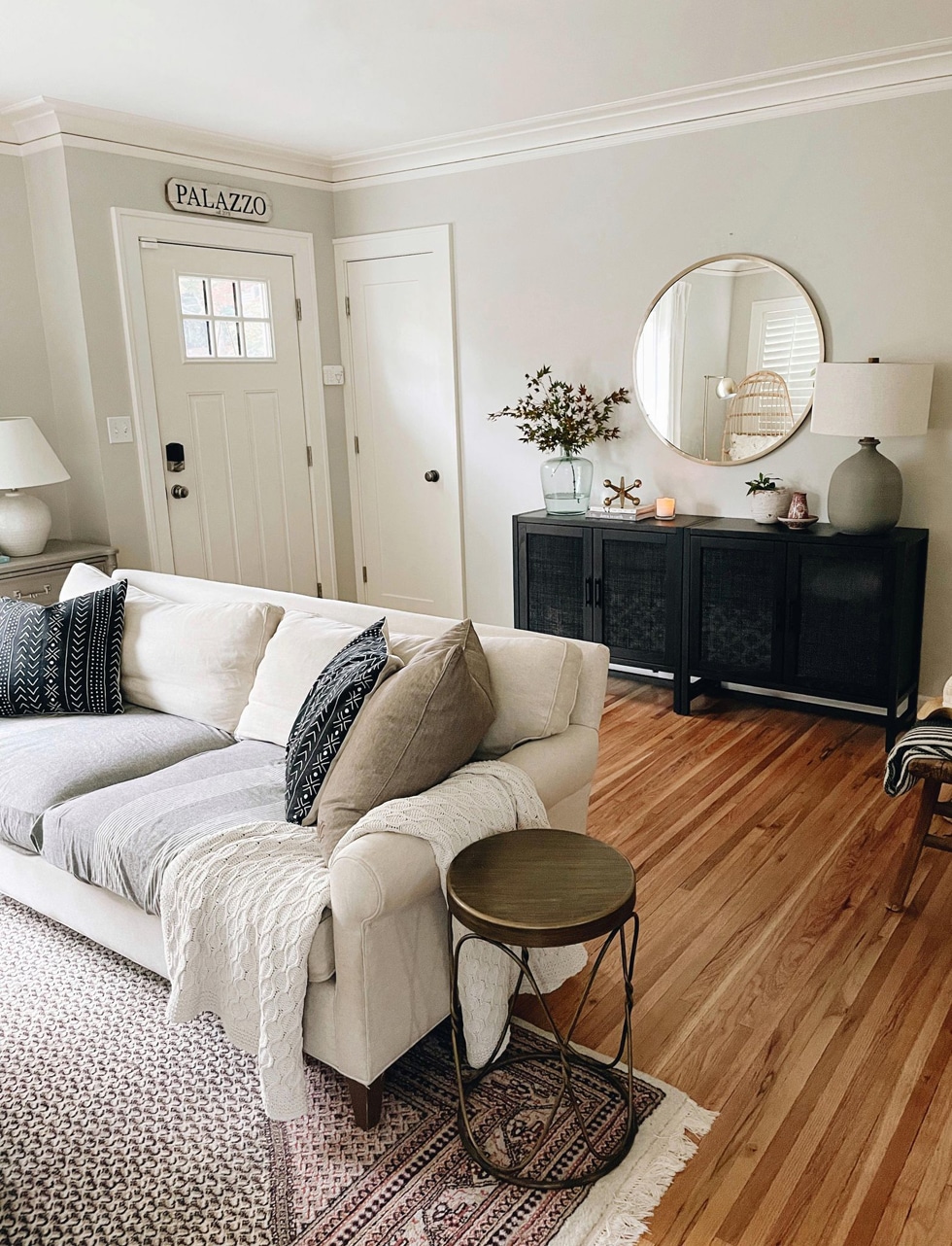 Hi friends, it's Kylee here! As promised in my last post, I'm here to show you a bit more of our entry space and share how we created an entry when there wasn't one!
We just walk directly into our living room upon entering the house so I really wanted to design a space that was purposeful and welcoming for when guests come to our home.
While there were many arrangements that this living room could have, I knew right away I wanted to use our sofa to create distinction between the spaces. By placing the sofa with its back to the entry, it creates a feeling that the living room and the entry are two separate space. While some might say this "cuts off" the room, I disagree! You can create this distinction in a number of ways depending on the size of your room. Utilizing furniture is a great choice, but something as simple as having two rugs, a statement light, or adding a special wall treatment (wallpaper anyone?!) to the entry can add to the illusion of separate spaces.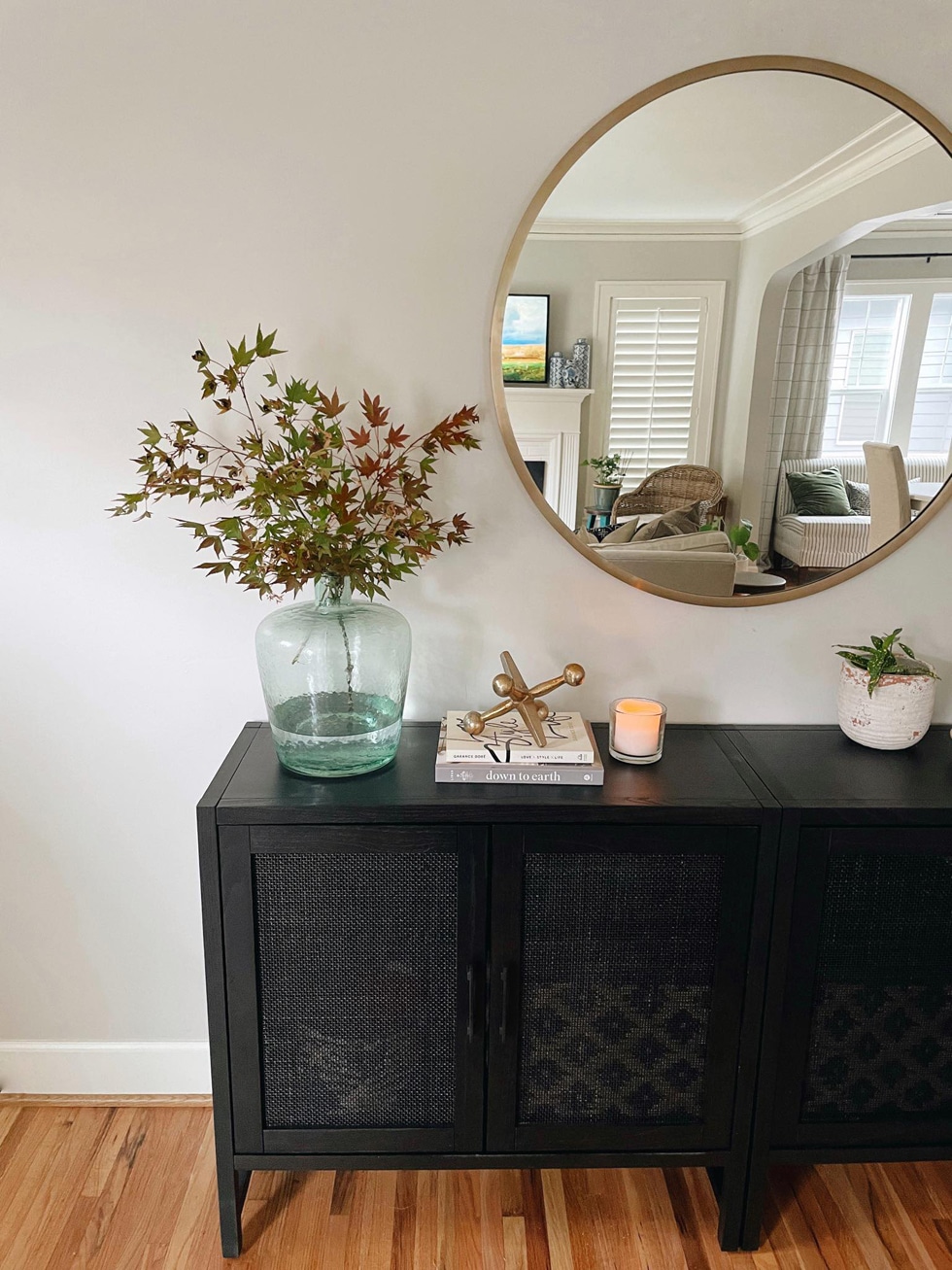 A console table, a chest, or a cabinet is another great way to define an entry space. It allows for a spot for dropping off keys, a place to add a lamp for ambience, and is the perfect surface for adding some decorative touches. If you don't want to take up the valuable floor space, a narrow bench or a wall shelf could do the trick here! My last entryway was a very narrow hall and used a super shallow shoe cabinet (similar to this one) and it was great!
In my current space, having a piece that doubled as storage was important to me. Entries can turn into a clutter magnet so having these cabinets has been a lifesaver! Inside the cupboards I've got a basket for mail, dog leashes, scarves, hats, and blankets.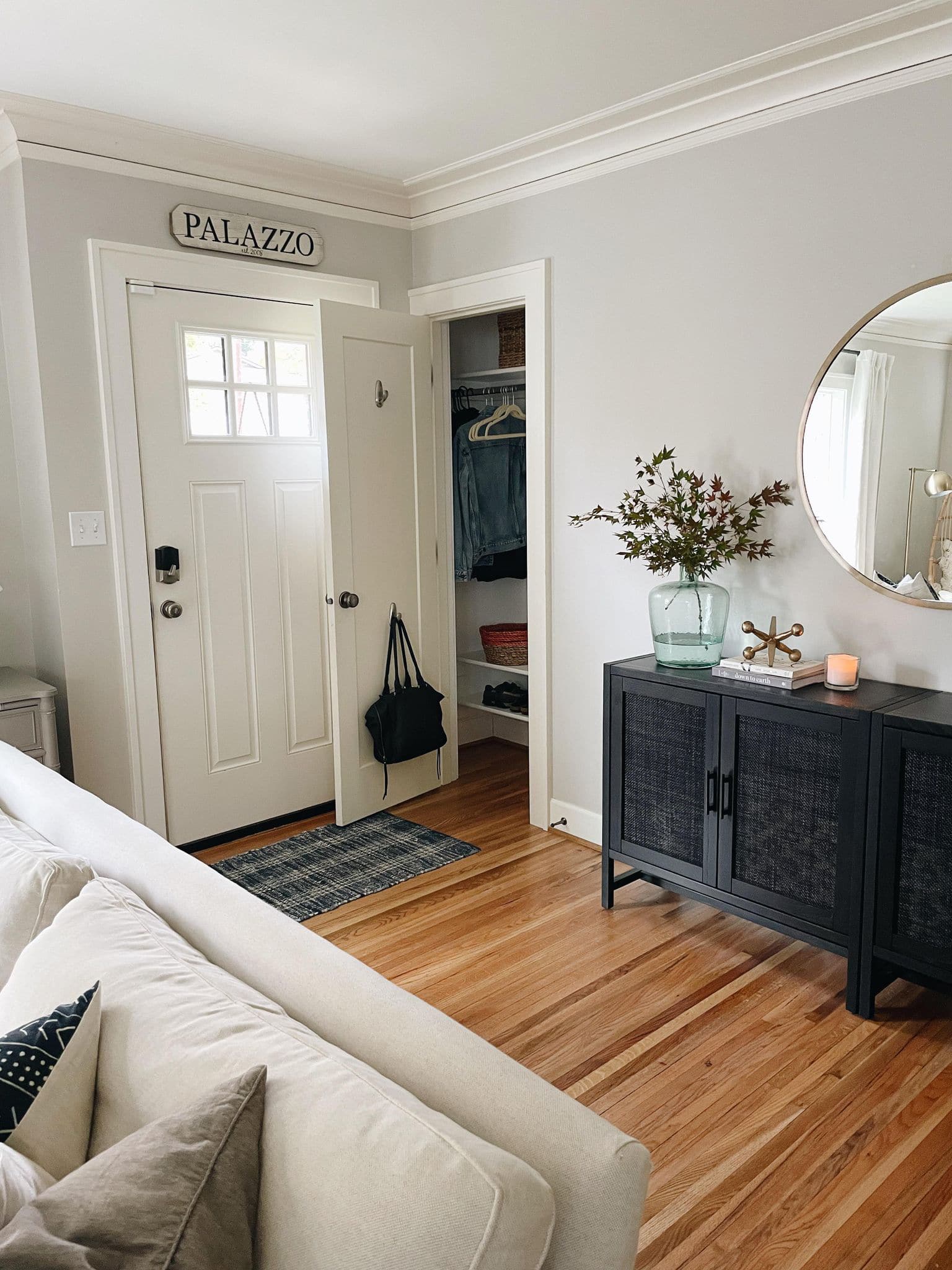 Another practical entry must–a clear place for coats, shoes, umbrellas…whatever one may bring in and need to remove. I'm lucky enough to have a coat closet, but hooks or a coat rack work just as well! If I didn't have a closet I would probably put a hook rail right there on the wall. I love this coat rack for a small space (the white/natural color is currently sold out at West Elm but I found it here!).
My last home had an entry hallway, but no coat closet so we had lots of hooks for people to put their coats! Most of the time it was full of our coats, but we would take some of our items up to our bedroom closet when people came over. And that's another tip for you—before your guests come make sure there are empty hooks or hangers and that your closet/hanging place isn't stuffed full! It's so much more welcoming when there is space to accommodate your guests' items.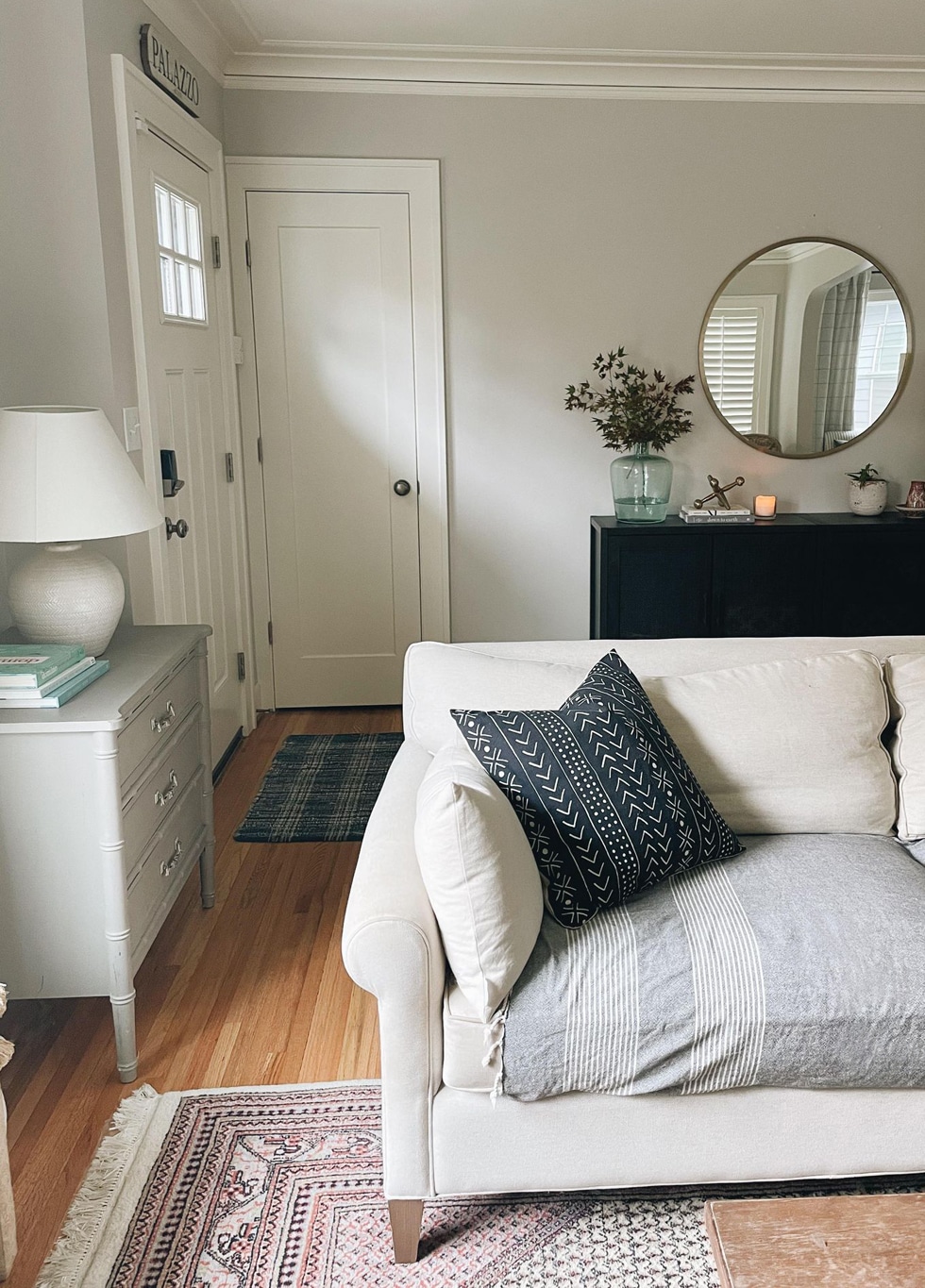 Whether you have a dedicated foyer or not, treating the entry as its own room and decorating as such is valuable for creating a space that is welcoming and really sets the tone for your home. Adding a mirror to your entry not only looks fab, but it also reflects light (making your space appear bigger!). Plus, having a place for that "last look" before leaving the house or welcoming guests is quite practical.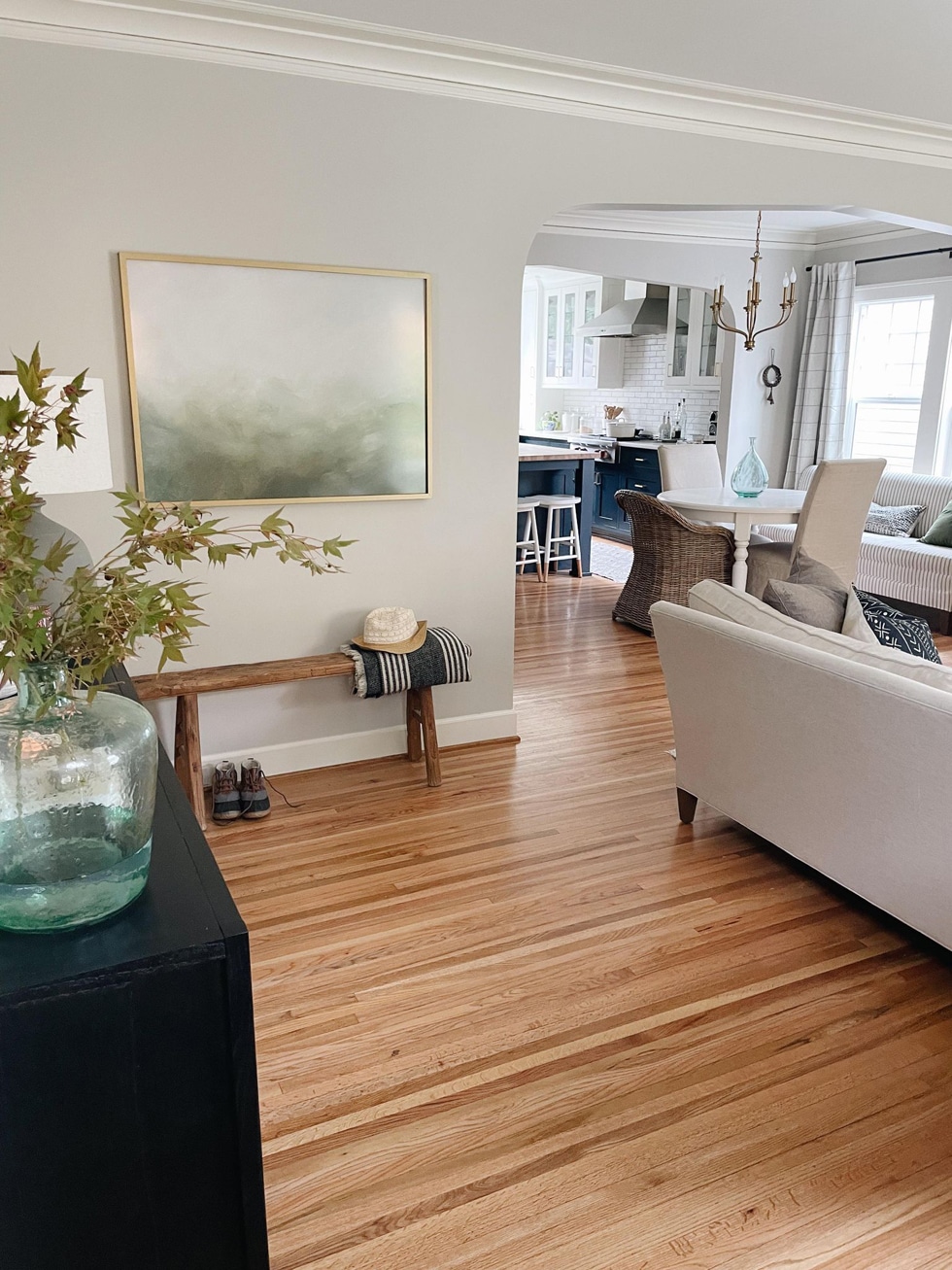 Adding art and plants or flowers is a welcoming and homey touch and a chance to show the personality of your home upon entry. Don't be afraid to go big or bold here!
Thanks for letting me share my tips and entry with you here today! Feel free to follow me on Instagram HERE (I love sharing behind the scenes of my home, life in Portland, and recipes).
You can also see all of my past posts on the Inspired Room (including my whole house tour) right here.