You all know I feel I'm a bit lacking in the craft gene department. Yet in a cruel twist of irony, I've always been drawn to crafts and enjoy the idea of them immensely.
The honest truth is that most of my crafting attempts over the years have resulted in burns, near amputations, lacerations to my eye, frustrations, and at the very least, a few choice words muttered inside my head (I'm polite and self-controlled like that). And almost all of my attempts end up in the landfills (or out in my garage). Sad, but true.
In spite of the pain and emotional suffering I've experienced in crafting, my failures have taught me a valuable lesson about myself, I am not patient enough to do anything very complicated by myself. And knowing that fact about myself keeps me from wasting my time with projects that I know will not have a happy ending or at worst, will result in my untimely demise.
That pretty much rules out any project that involves hammers, knives, nail guns, sewing machines, or power tools of any kind. With my track record, I avoid most weapons tools like the plague. You cannot be too careful. As I like to say, "safety first." Better to avoid the dangers entirely and leave those projects to the professionals (notmentioninganynames TDC).
Once we figure out what we are not good at, we experience a new sense of confidence and freedom to just say no to complicated crafts.
So if you are like me and have a few issues surrounding crafting, you'll appreciate the kinds of crafts I DO try to make. It is STILL possible to craft as long as you focus on the simple, doable, less life-threatening kinds of projects. And once you find a craft project that really works for you, you can just keep doing it. Over and over. And over. Why tamper with a good thing? Perfect your craft. Heh heh.
I've been making Mason Jar candles as far back as I can remember. I use them for every.single.holiday, party and season on earth. Why change? That is the beauty of this craft. The jars always have a filler in them and always have a small votive. Always the same, yet always versatile. Most of the time I just use Epsom salt as filler in mine. It looks like a candle sitting in snow in the winter, and a candle in the sand in the summer. Use your imagination.
You cannot fail with this project. The only way to mess this up is if you try to get all fancy (like my friend Emily from Remodeling This Life reportedly did) and use a red candle to spice things up. If you light that red candle, you'll end up with what can only be delicately described as a horrific accident inside your mason jar. White candles always work. Red, no. See how easy this is? Stick with me, kids.
Yes, you can branch out and use small rocks or candy or cranberries instead of Epsom Salt as a filler. Those are approved and fail proof variations.
Because I have been a blogger for three years now, it has occurred to me that perhaps I should exert a little more effort and give my old standard craft a little update.
Every good blogger knows you have to have something new to talk about every day fairly often to keep people admiring , impressed with,  reading your blog. I don't cave in to the pressure to out-do Martha or all the bloggers in the universe (because that is totally hopeless), but this year I decided I really should get my craft on, a little bit, for the holidays and all. I didn't want to go all crazy and try something completely new, so I opted to stick with the classic Mason Jar, with a somewhat rustic country feel but still festive touch.
So, without further ado…
Behold my new Christmas 2010 Mason Jar:
aka The Jingle Bell Jar. Yes, I know that title is amazingly clever. Think about it.
How to make a Jingle Bell Jar
Follow all of the instructions for a regular Mason Jar Candle, except wrap the mouth of the jar with jute twine strung with a few jingle bells. If you are a perfectionist, glue the twine down in perfect rows. Otherwise, go for my more unintentionally lazy haphazard look. If you want to really knock yourself out, you can stick some snowflake brads (show in the top photo, found at the craft or scrapbooking store) in the twine and spray with glitter. The end.
If I had all my Christmas decor out, I could have hung small Christmas balls or ornaments from the jar as an option as well! I might try that later.
Here is my Fall into Winter version:
The Cinnamon Stick Mason Jar.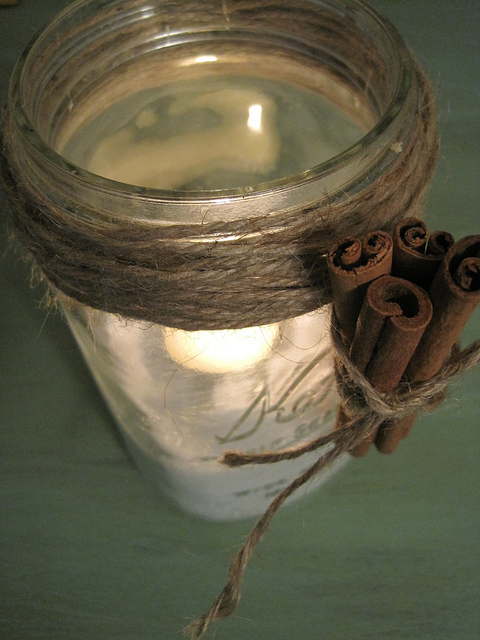 For lovebirds:
Key to Your Heart Mason Jar
perfect for Valentine's Day, anniversaries or housewarmings or anytime, really….
And, a sneak peek one in my upcoming summer collection (I've always wanted to say that):
The Starfish Mason Jar.
You'll be seeing this one again in all its glory this summer.
Now I'm just showing off.
I'll stop.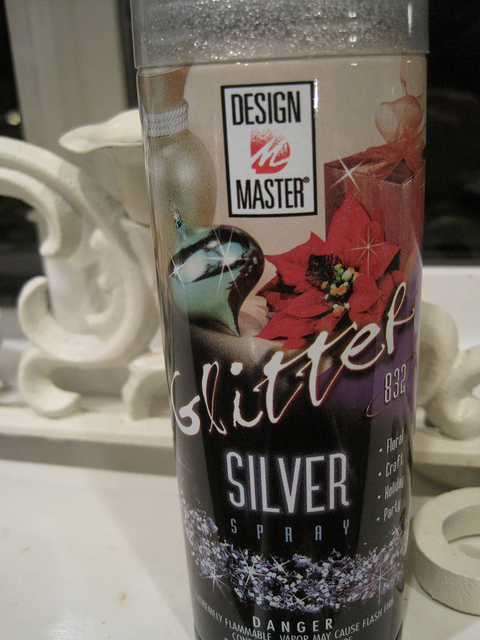 Coming soon, glitter is my new BFF and I've got plans for her.
Related post:
DIY: Glittery Snow for your Mason Jar and Candles 
Click on the banner below to visit my seasonal & holiday gallery!