I love to reuse what I have.
I am trying to be as frugal as I can be.
Here is what this wreath looked like before (sorry for the pathetic photo).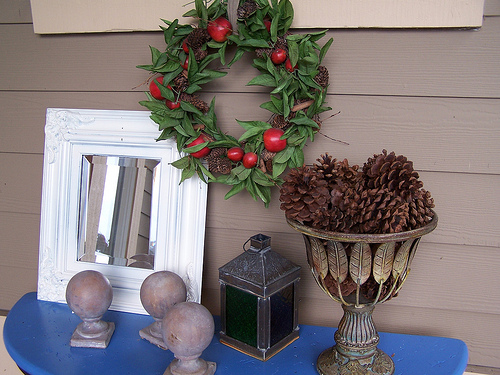 I put it out in the garage a year ago and forgot about it. I have had this apple wreath for years and years and while it is cute, I was getting tired of it.
This year it got a little holiday makeover with some green Christmas balls and a touch of coastal as an accent, just for fun. So easy, just pulled the apples out and stuck in the ornaments. Would I ever do anything if it was complicated? I think not.
After Christmas I'll pull the green ornaments out and voila, the wreath will be de-holiday-fied.
Yes, for those of you who are observant, I have already moved my plate I showed you yesterday. Nothing stays the same around here for long.
Are you getting tired of seeing that one little corner of my dining room? Ha! Yeah. I took new photos showing off my paint from other angles and I'll post 'em soon, I promise.
Oh, I also revamped another wreath for over my mantel, I'll show you that too!
Linked up to Thrifty Decor Chicks' before and after party!
Happy holly-day!