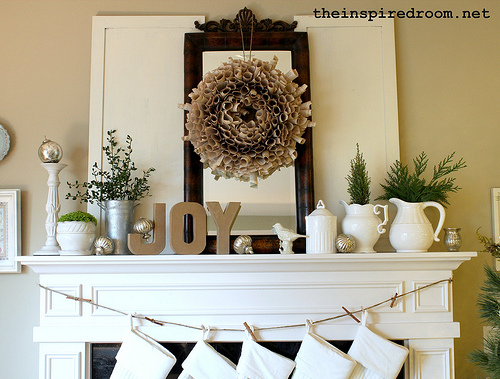 Well, the sun never came out (hello, Washington in December!) but in spite of the rather dreary day, I got a few pics of my Christmas mantel. While in our dining room I added pops of red this year, in this room I decided to go with a more simple palette of  just green, silver, white and brown tones. Our family room is loud enough without the added contrast of color! I need visual calm!
I mixed quite a few shapes and textures for my mantel again this year. Lots of shine and texture from mercury glass, some roughness from the letters and the metal flower bucket, I added a little sheen and curvy shapes with the white pitchers and brought in some softness with my quilted white stockings. There is lots of great natural texture from the green foliage and the awesome shape of the book page wreath layered on the textured mirror finishes it all off!
Done!
I'll pull back and show you the tree and some other festive corners of the house on Monday!
And because I get emails and comments daily now asking to see more photos of Jack (Ha! He really needs his own fan club), here is a little behind the scenes of us trying to get him to pose with his Santa hat.
Easier said than done.
We couldn't even get it ON his head because he grabbed it first.
We really tried to get it out of his mouth and on to his head. Really. We tried.
It turned into a tug of war. His favorite game. We eventually got the hat out of his mouth, but we struck out on him wearing it.
Maybe by Monday we can get him to pose with it on his head. Maybe. Or not.
Thanks for stopping by to check out my Christmas mantel!
Can't wait to have you over on Monday!
The 2011 Christmas Home Tours @ The Inspired Room start at 6PM PST Monday! Here are some of the details on when and how the party works!

*I'm linking up this mantel post to parties at Hooked on Houses and Southern Hospitality!