Tabletop & Mini-Container Gardens
You probably know my DIY limitations by now, I don't like to spend a lot of time fussing with complicated projects inside or outside. I like to have fun in the process (and mostly, I'm just itching to enjoy the finished product!). That means any DIY projects I attempt can't take too long or I lose interest and end up distracted by other things. Just being honest with you, am I the only one who is like this? Eeesh. I'm like a two-year old.
So, the perfect type of gardening project for me is basically a five minute small container garden.  The other cool thing about these gardens (and the freshened up pallet garden I shared yesterday) is you can have them even in a very small space, and they are perfect for renters too since you don't have to own or dig up any ground!).
Today I'm sharing five of my own 5-minute mini-gardens!
I'm so in love with these little gardens, I can't even tell you. They make me smile every time I see them. Most importantly, I smiled the whole time I was making them too. No melt-downs, break-downs or any unsavory words were uttered. No half-finished projects left for months because I ran out of time to complete them. Five projects that were all fun and no stress. 
5 Minute Garden Idea #1:
You cannot go wrong with this adorable little garden in a pot filled with Corsican Mint (which smells divine!!), and embellished with a wire topiary ornament. CAUUUUUTENESS, right? Right. It probably took 2 minutes. Tops. Took me longer to photograph and blog about it.
And if you don't have a little wire topiary thing, try something you DO have. A little porcelain bird or critter of some sort would be just perfect perched in the mint. The pot is from Lowe's.
5 Minute Garden Idea #2:
So you don't have any ornament for your pot? Fine. Don't use one. Just as cute without it. This is just a puff of moss (I think this one, above, is called Emerald Isle Spikemoss) in a pot. No ornamentation required. One minute. My pot came from Lowe's.
5 Minute Garden Idea #3
This is a little terrarium I got from West Elm when I was at a gardening event at the Seattle store. But you could use any sort of glass jar if you didn't have one like this.
This weekend I filled my container with dirt and rocks, another soft little "Stepable" type creeping plant (which I believe is called "Scleranthus biflorus, but just look for any cute creeping Stepable plants at your garden store)an adorable little metal chair I found at a local garden store and voila, my terrarium garden was born. Sweet, huh? I might keep this one inside.
Three minutes, people. That is all this takes!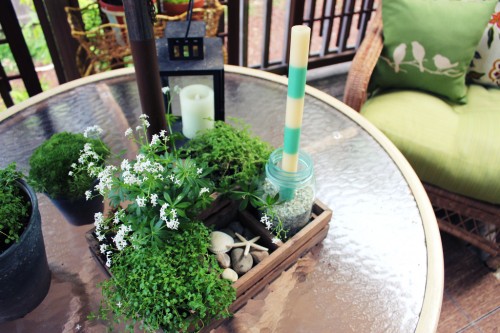 5 Minute Garden Idea #4
This is a garden in a crate. I found my crate last year at my local garden center, but you might find something at a thrift store or flea market or in your garage. You could use a tool box, an old wood drink crate, just about anything to hold your garden! You can put whatever plants you want or other cute things in it.
I had a few random little plants like another of the Corsican Mint and Sweet Woodruff, some rocks and starfish and a blue mason jar with a summery striped candle. It doesn't really matter what it is, if it is cute going in, it will make a nice little arrangement. Don't overthink it, it should only take a few minutes.
 5 Minute Garden Idea #5
Last year I put together this little fairy garden in a wood box. This year I freshened it up with some succulents and some flowered grass that will bloom year after year (if I can keep it alive!) called "Victor Reiter Sea Thrift." It took five minutes last year to create this little garden and to freshen it up this  year took like two minutes. Again, you just don't want to over think it.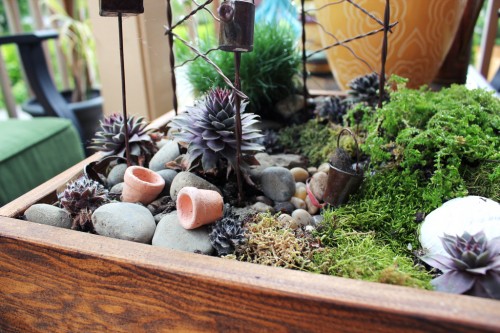 BONUS: 5 Minute Garden #6
Teacup Garden!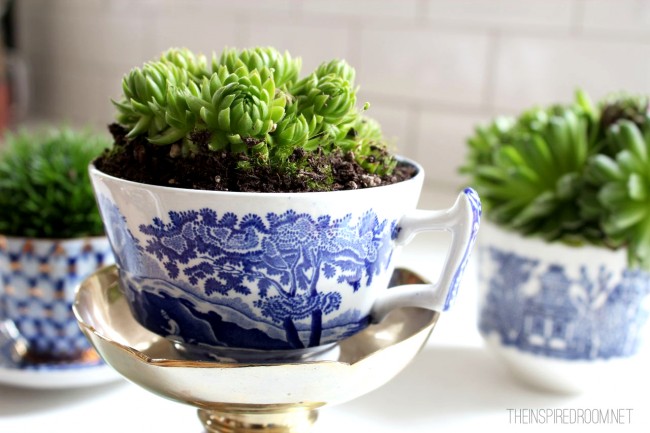 Don't worry or stress too much about keeping these little gardens alive. I do not have a green thumb so it is all experimental for me but that is part of the fun.
Most of these plants are pretty hardy if you keep them from completely drying out. Keep them out of direct sun, maybe under a porch roof or under your table umbrella. If it is super hot, just bring them inside and put them near a window. Keep them a little moist and they'll probably be happy. If a plant eventually dies, you maybe lost $3.99. That is like a cup of coffee that you drink in five minutes!
These might be "5 minute gardens," but they should last ALL summer or beyond. Many of these little plants will come back next year too! If I can do this, anyone can. So, get out and enjoy some gardening! You'll enjoy it, I promise.

So, what do you think?
Are you intrigued by these 5 minute gardens? They are so whimsical, fun and easy to make! I hope you enjoyed seeing them as much as I enjoyed making them!
linking up to Thrifty Decor Chick's Outdoor Spaces Party