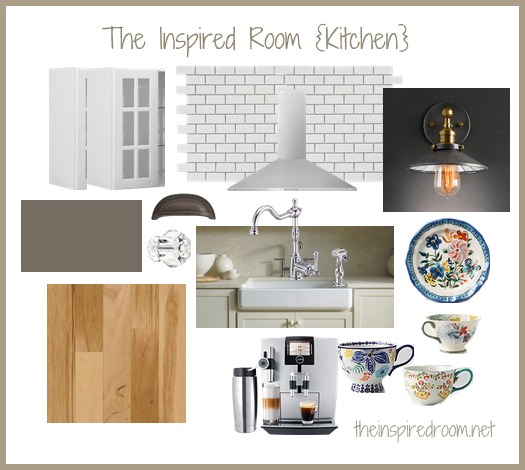 Kitchen Inspiration Board
Hello, friends! Hope your week is off to a great start! As I mentioned in my last post on my new kitchen wall sconces, I've been finalizing decisions and basically just waiting for my one new cabinet to arrive which will signal the actual beginning of my kitchen ideas coming to life! YAHOO! So basically, I'm waiting. Not a fan of waiting, but it will be worth it, right?
But I know NO ONE likes to wait. I'm getting emails like this:
"Please let us see what you are planning for your kitchen…..this is taking too long!" –anxious reader
Ha! Tell me about it!
Why can't we just wrinkle our nose and our kitchen could be done?  I am trying to keep you in the loop on decisions so you can follow along, but in case you are just jumping on board or missed my posts (here is the kitchen project category with all the posts, so far), let's review now that you can see my inspiration board! WHOO HOO! It always helps to visualize, doesn't it? I highly recommend if you are doing a room makeover to pull all your ideas together into one design board! There are lots of ways to make an inspiration board, but this one was made in Polyvore.
Before we talk about the individual elements, remember that my floors are the existing hickory wood floors similar to what you see in the inspiration board. Since I was not changing the floors, they were the primary pattern and non-negotiable item in the room.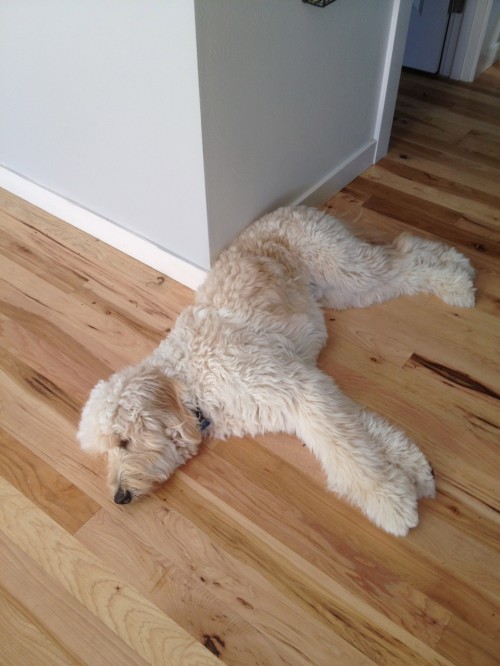 Do you ever think about your floors being one of the patterns in your room?
The pattern or grain in floors or countertops is often referred to as "movement" and mine have a lot of that! My wood has a distinct grain so that really helps define and narrow down the other choices I am making. Plus, the floors are a beautiful light color with deeper brownish grain. The wood color itself was something I had to take into consideration as well.
In my old house I had beautiful wood counters, but tiled floors. I chose the wood because I wanted to balance out the hardness of the existing tile floor. In this house, most of the natural wood will be focused on the floors, although I may add an island with wood top but that is all still to be determined (and budgeted for, ha!). More on how the floors impacted choices in a future post.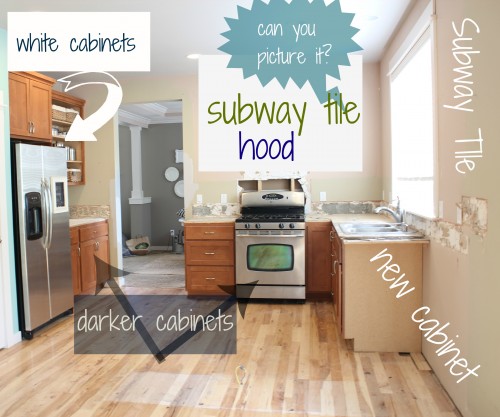 As I talked about here, I decided on subway tile for my walls. Not only was it a pretty economical tile, I consider them classic in style. I could get fancy with the wall tile (glass, or choosing a color or distinct pattern) and end up tiring of them later, so I decided simple white subway tile will always be fresh and pretty. Since I've liked it for as long as I can remember, I think the risk of tiring of them is pretty minimal.
In that same post I talked about how my cabinets will be two toned, which in my kitchen means the lower cabinets (most of my cabinets) will be a color. Right now I'm thinking a medium brownish gray (see the sample on the inspiration board, just below the white cabinet) but don't quote me on that. I've been known to change my mind. :-)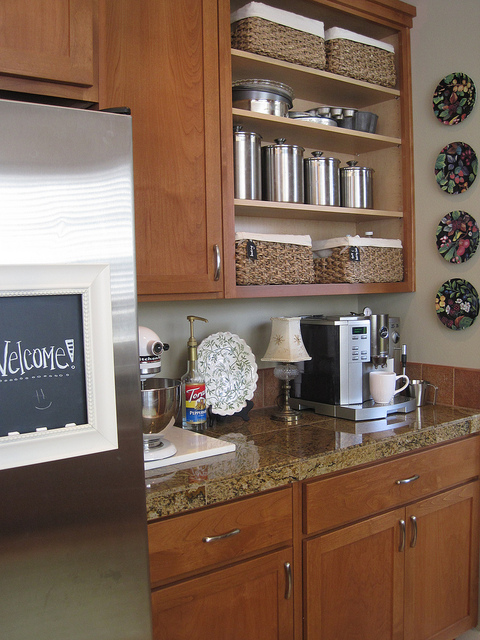 The upper cabinets (which are above my baking counter and refrigerator, you can see it in the photo above) will be white and the lower will be the brownish grayish color still to be determined. The subway tile will go all the way up as a backsplash and around the wall in the whole kitchen area as well.
I shared details on my sink and faucet here. The sink is a bit more modern styled traditional apron front sink and my faucet is the same style (just a different brand) as the one I had in my last kitchen. For this kitchen I'm going with a bit more modern but still traditional design.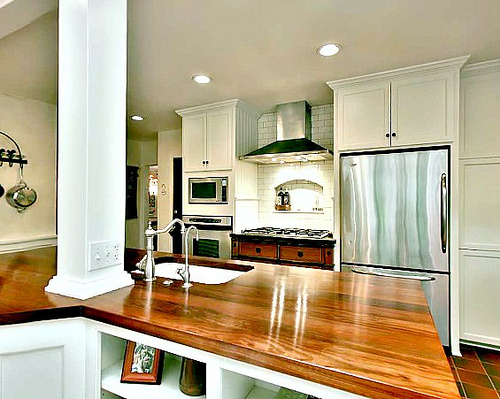 My ventilation hood will be similar to my old kitchen (above), just a little bit smaller scale. I will share more details on the exact hood in a future post.
The hood is the only new "appliance" I'll be getting for this kitchen, the existing dishwasher and stove will remain. I loved getting new appliances in my old kitchen, but the budget doesn't allow for a new stove or fridge right now. Sadness.
And yes, in my inspiration board you will see colorful Anthropologie dishes to spice things up, and a cool little coffee brewer kind of like mine. I'm hoping to sneak in an open shelf for the Anthro dishes to the right of the sink, above the dishwasher. I'm planning a new coffee station on the counter to the right of the sink to free up my baking area with more counter space!
Speaking of counters, what did I decide on?
Ah, don't want to keep you hanging, but I'll have to share all the details in my next kitchen update post because right now we are heading out to dinner. One of the inconveniences or joys of having your kitchen torn apart, depending on how you look at it! I will tell you that they are shades of white and I am SUPER excited about that, more details to come!
So can you picture it so far?