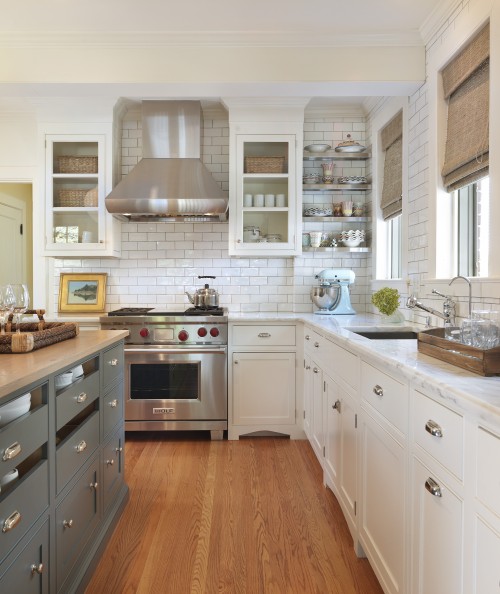 Kitchens: Subway Tile & Two-Toned Cabinets
I love subway tile. It is classic, always-chic, and affordable (can be, anyway). I have a special fondness for floor to ceiling, or counter to ceiling, subway tiles.  A subway tile wall really makes a great statement!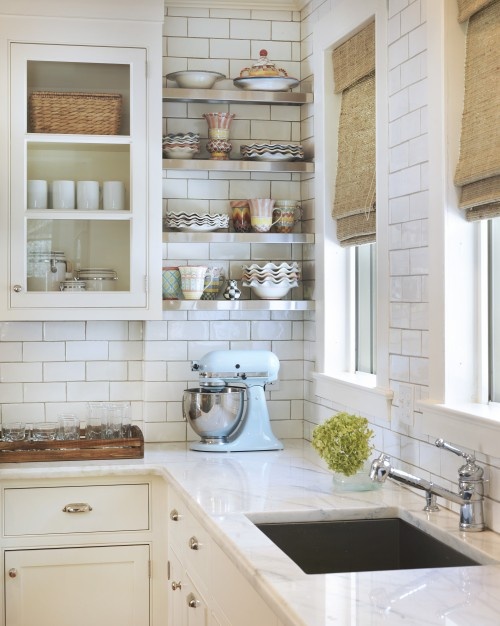 White subway tile is especially beautiful, IMHO, paired with pretty colors and wood or textural accents for warmth and contrast. And while many prefer white grout for a crisp modern look, I actually love seeing a narrow grout line in a soft gray or taupe.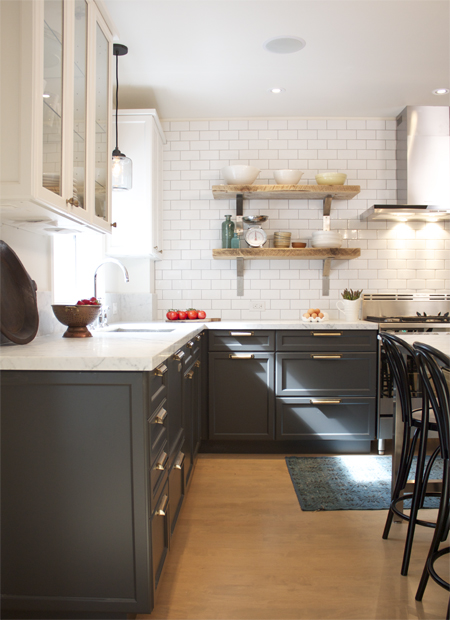 If you've read my blog for awhile you might have guessed this, but there WILL be subway tile in my kitchen makeover!! Yes, indeed! I've MISSED it so much! I mulled over many other options for my backsplash before making up my mind, but in the end, simple classic white subway tile won out as the perfect complement to my highly grained multi-toned casual hickory floors.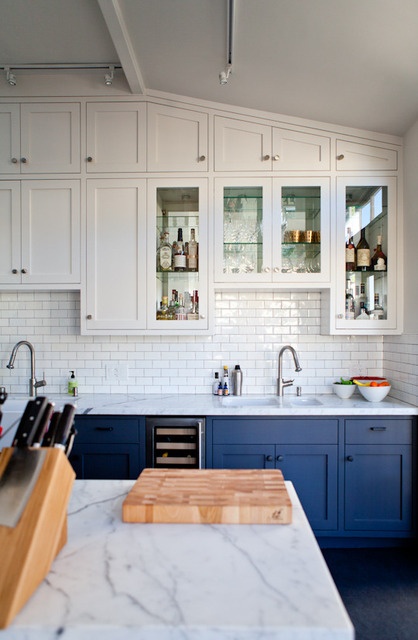 I'm pretty excited because the subway tile will not only add a new dimension of texture and personality to my kitchen, it will lighten and brighten the entire space! I can't wait!
You might have also noticed that these kitchens not only feature subway tile, but they have something else in common: two-toned cabinets! While using two different colors of cabinetry might be a current trend, I have always liked the look and find it visually appealing when done tastefully and sparingly (I used a wood cabinet and white cabinetry in my old kitchen). I think it is a classic look for that "collected over time" style, which I never grow tired of!
I plan a little "two-tone" element in my updated kitchen, as well! But in case you are wondering, my main cabinetry color will NOT be white this time! More details on my choices and inspiration board coming up soon!
Happy Monday everyone!
Need more kitchen ideas? Here are some other kitchen posts you might enjoy!
My kitchen remodel is complete! Come see how it turned out!