Just popping in with a tasty summer drink recipe and to let you know that the blue mason jars you might have seen in my house tour are the new limited edition vintage inspired Ball Mason Jar! So cuuuute and USEFUL!
You can find them at Target, I just got another box today because you can't have too many blue mason jars. That's what I think, anyway. And I don't want to have to wait another 100 years until they release them again, just in case.
You used to have to go spend a fortune on vintage ones if you wanted blue jars, but no more. At least for now! They come in a box of six so you'll be all set for drinking glasses too!
I love them using them for vases or my famous "mason jar decor" too!
Today the sun was out, YAY, so I made THIS refreshing summer drink. Of course, it tasted SO MUCH BETTER in the blue jar. Right? Looks cute and tastes delicious — that's a win win.
Best of all, it's easy to make AND it won't add unnecessary calories, sugar or artificial colors to your diet. WINNING!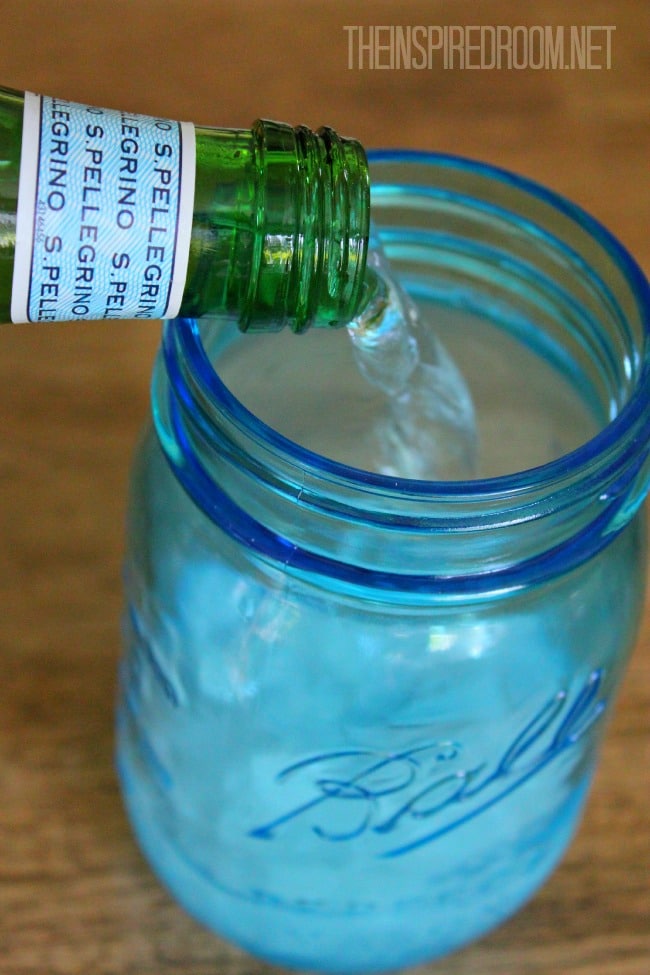 Fill blue mason jar with a few ounces of crushed ice. Or use frozen blueberries. Or both! I LOVE frozen blueberries!!! YUM!
Pour cold San Pellegrino mineral water over the ice or berries. Add a few squeezes of fresh lime juice, a mint leaf (and a lime wedge if you want!) and a stripey straw.
Refreshing & pretty & oh so fun.
And you can try variations according to what you have on hand or like — it is tasty with some frozen cranberry juice, too! Really, you can put whatever you want in it. You can even buy the flavored San Pellegrino drinks, but sometimes they are a little sweet for me.
As long as you drink out of a blue mason jar, it is going to taste and look real fancy — like you are on vacation!
Enjoy!
These Mason Jars were sent to me by the Ball Jar people! But I did go out and buy more for myself, they are that awesome!