Christmas Front Porch
This post is in partnership with The Home Depot, but the ideas, photos & porch are my own!
I love decorating the outside of my house for Christmas just as much as I love decorating the inside. I think it is so fun to come home to a beautiful front porch, and it is a gift to everyone who drives by or comes to visit! Some years we just get too distracted (or cold) to do much outside, but I always miss it if I don't make the effort.
This year I decided to make it happen! I really wanted to add a little "festive rustic fairytale feel" to the porch. It is fun to come home and feel like I've arrived at a vacation getaway for the holidays, an escape from the ordinary. As usual, I wanted to keep it simple, so I found a way to get the look I was after without going overboard and making things too difficult.
Here are the three elements I decided would bring my Christmas porch the look I was hoping for!
1. Festive Lights
2. Natural and Rustic Greenery
3. A DIY Fairytale Wreath Chandelier
I found some gorgeous natural greenery at The Home Depot, which was perfect for setting the rustic and natural vibe I love around my front door. I ordered two strands of this garland and hung them together to give it more fullness. I love how gently it flows around the door.
I can't get enough of cute little trees! This little burlap wrapped tree is so adorable. I love that it has just a little touch of snow on it!
I LOVE real wreaths because they not only look beautiful but also smell INCREDIBLE! I was so pleased with these wreaths. They add texture and fullness behind my gold reindeer and add the most delicious scent to the porch.
With icicle lights hung on the two exposed sides of my porch, you feel right away like you've entered a magical place at Christmastime.
Battery-operated candles are one of my favorite inventions ever! Of course I adore real candles, but wherever safety is an issue, battery-operated ones are perfect. I love tucking them in here and there in greenery or pinecones for that warm glow without the risk of real flames.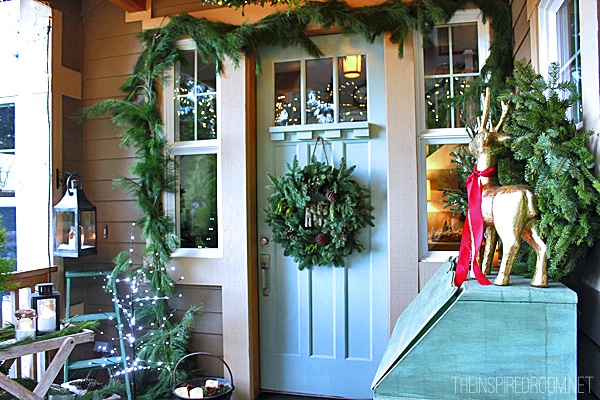 I use plant hooks from The Home Depot (in their garden section) to hang lanterns. I think it gives my porch such a pretty look and brings some of the decor and candles up higher for more interest.
The adorable little pre-lit stick tree is so whimsical! I would love to have more of these for around the house. They are a fun addition to the real greenery and poinsettias on the teacart. And one of my favorite Christmas decorating DIY projects ever (next to my birch bark monogram wreath!), is my fairytale boxwood wreath chandelier! I'm head over heels in love with it!
The chandelier is so charming, magical, and eye-catching as you walk up to the porch! It sets the perfect festive mood for my porch and makes such a beautiful statement around our lantern.
I peek outside at my porch a million times a day to see how pretty it looks.
Tomorrow I'll show you how we made the wreath with more pictures and a simple tutorial, so come on back because I know you'll love making one too!
>>> Click HERE for the simple tutorial! <<<
We will definitely make one every year from now on!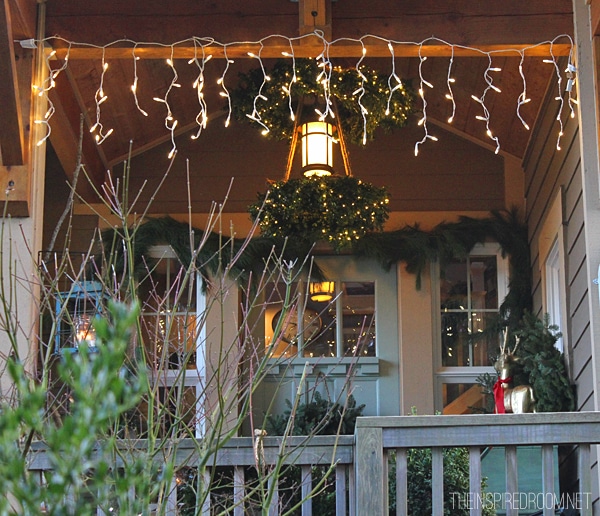 Thanks for coming by my festive front porch!
See you tomorrow!
The Home Depot Source List (I ordered everything online, except the Poinsettias!):
24 inch mixed green wreath (behind reindeer)
Boxwood Wreaths 30 inch and 24 inch
White Pine Garland 25 foot garland (doubled around door)
Lighted Twig Tree
Warm light icicle lights
Variegated Poinsettias {via The Home Depot, our local store}