This post and giveaway is sponsored by FilterEasy
Greetings! Happy first day of summer. We often think about the need for some extra "spring cleaning," but who wants to do extra cleaning in the summertime? Anyone? Not me. But I do like to keep my house clean if I can, so five minute cleaning is a game changer in the summer!
In the summer our house tends to get dustier. Plus when the sun shines through the windows you can see all the dust and grime more clearly, am I right?
Five minutes might not seem like enough time to clean an entire house, but I'm always amazed by how much fresher everything feels overall if I do a quick five minute dusting on a regular basis. 
If I see a spot that can be dusted or wiped off in five minutes or less, I just do it. On the spot. I also post a list of five minute cleaning task ideas so other members of the family can help, too. Even little ones can help with some of the easier dusting tasks. They may not do it perfectly (hey, I don't do it perfectly either), but it's a good opportunity to teach kids about housework (and have some affordable help, too).
Today I'll share a list of five often overlooked but dusty spots in our house that we clean up in five minutes or less. Add to it or make your own dust-busting list. Divide up some tasks among family members, so you can enjoy a cleaner house AND time off this summer! (Also, be sure to enter the FilterEasy giveaway at the bottom of this post!)
Five 5 Minute Dust Busting Summer Tasks
1. Lamps and lampshades
Lampshades and lamps collect dust and cobwebs. We might remember to dust off the console or end table since it's so visible, but if we happen to look more closely at the lamps and shades, ACK! Dusty. If your lampshades aren't easy to dust with a cloth, you might want to vacuum them with a brush attachment. Sometimes I'll even take a fabric lint roller and run it over the shade to pick up any stubborn lint.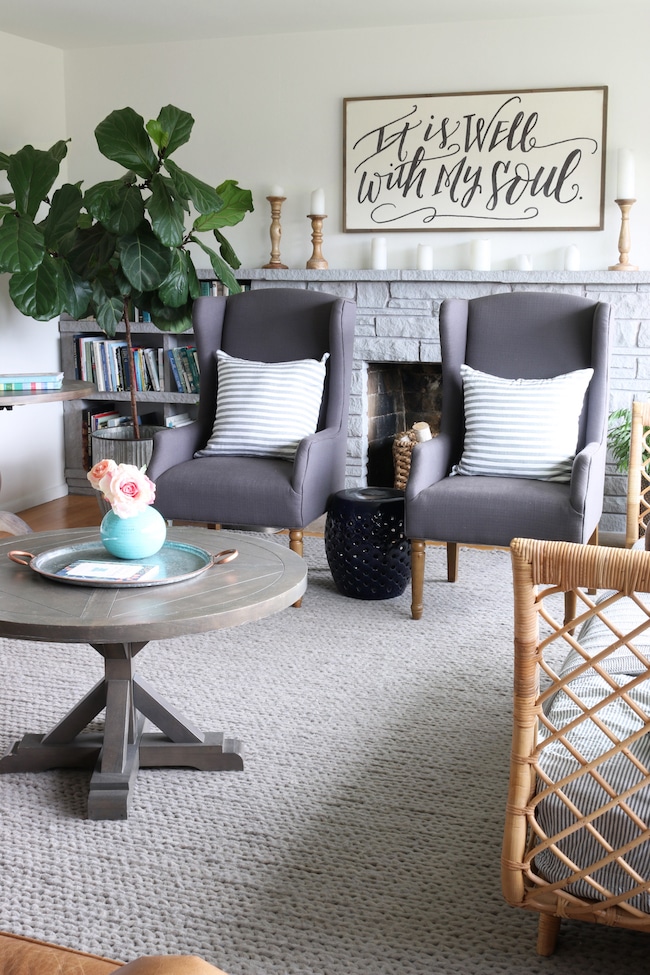 2. Table legs and chair legs
The legs or lower frames of chairs and tables often have a coating of dust. Even though it's such an easy task, I often forget to dust there so it helps me to remember if I combine this task with vacuuming. Furniture dusting is a great task to give the kids right after you vacuum. Dust is smelly and not good for us, so a good vacuuming of the carpet or area rug followed by a quick dusting of the furniture (tops and bottoms!) every week will keep your house feeling fresh.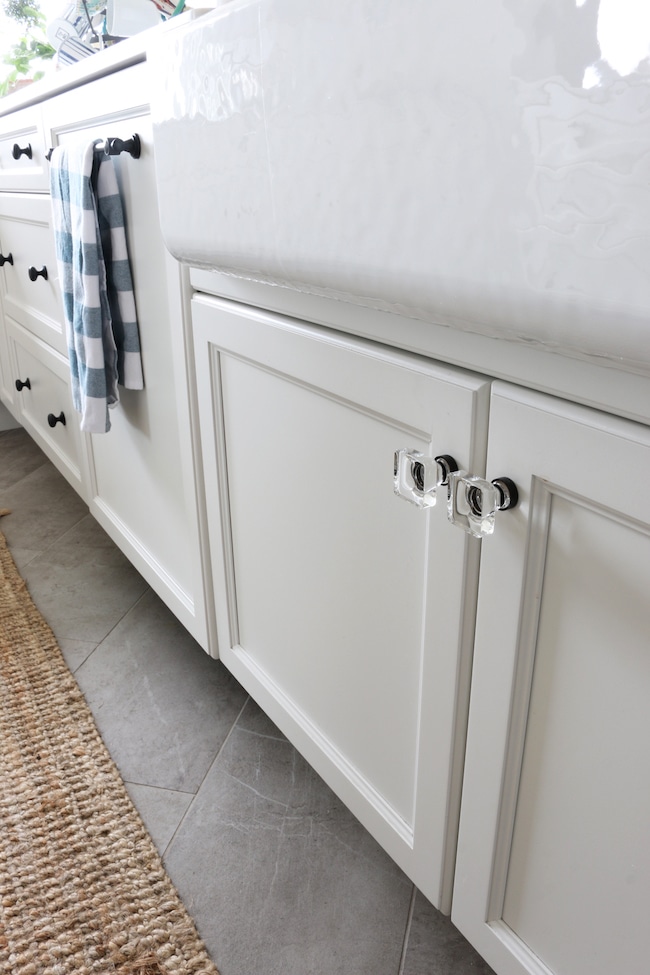 3. Cabinet doors
I am a stickler for a clean kitchen. I really don't like a sticky kitchen :). But if you cook in your kitchen like we do, for a clean kitchen you'll need to do more than just wash the dishes. Cabinets will become a grimy mess pretty fast.
If you have flat cabinet doors, wiping them off isn't terribly challenging (so keep cabinet door style in mind if you are adverse to cleaning, ha!). But if I have five minutes I can keep my shaker style doors (with extra trim detail) quite clean. To me, it's time well spent for the beauty of a shaker door.
To clean cabinet trim, I just grab a dry or sometimes slightly damp rag every now and then and run it around the molding of each cabinet door and the face of the cabinet. I haven't needed to resort to this yet with my new cabinets, but cotton swabs can help get the corners of the molding cleaner if there is any build up.
Now, don't tell me trying to keep it clean is why you don't want a white kitchen. :) My dark cabinets needed those five minute cleanings, too. Cabinets that hide grime can only fool us for so long. I find it's still best to clean darker cabinet doors just as often as I would the white ones to avoid a build up of hard to clean grime. The more we procrastinate cleaning, the worse it gets.
Related Post: How to Clean a White Sink (3 Secrets – Without Harsh Chemicals)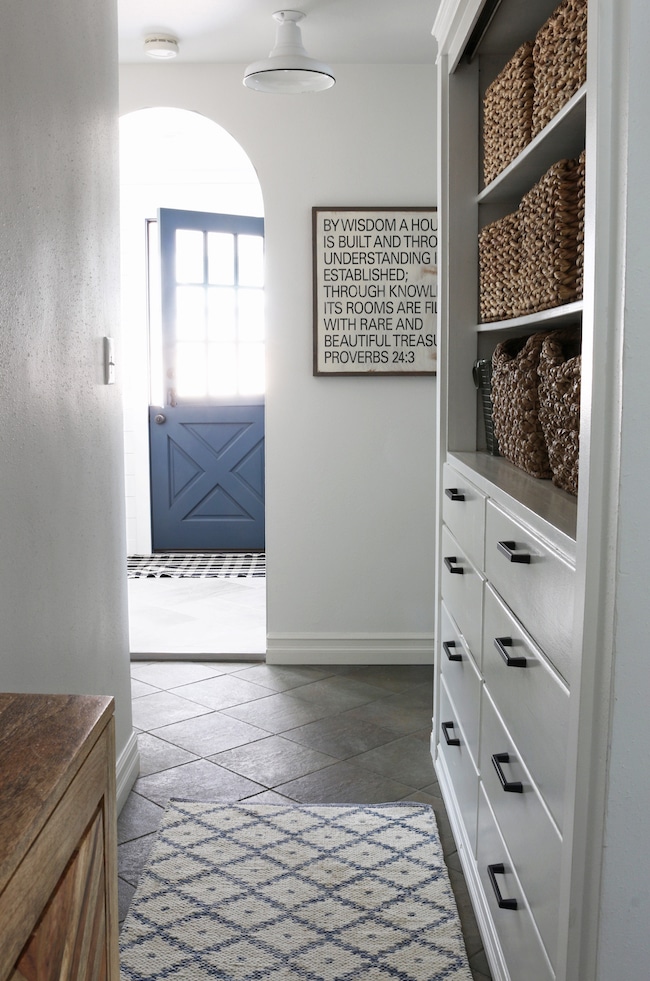 4. Baseboards
You guys, with two fluffy (but non-shedding, thankfully) dogs plus boys and doors and windows that are often open in the summer, our floors and baseboards need those five minute dustings quite often. The other day when Courtney was moving we pulled that hall cabinet out from the wall and BLECH! Behind the cabinet the moldings were quite a fright. But with less than five minutes, they were clean as a whistle.
Give your kids a summer job keeping up with the baseboard dusting, kids are lower to the ground or at least more agile. :) My kids used to love that job for some reason!
Tip: We also use a Roomba to take care of a lot of the dust in our house and on the floors with minimal effort on our part.
Related Post: How I Keep My House Clean with Dogs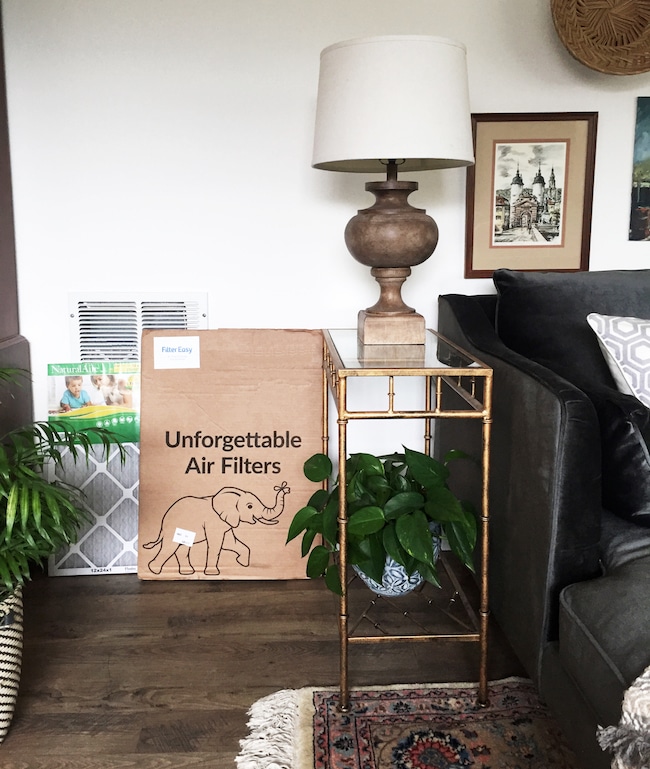 5. Air Filters
I do much less cleaning if I can cut down on dust in the first place. One way I figured out how to dust less is by replacing the filters in our HVAC system (heating, ventilation and air condition system, including the air return vents) regularly. I've shared before that to make this process easier and more affordable, we order from a subscription air filter service called FilterEasy.
Honestly, before I knew about FilterEasy, I hardly ever would remember to change our filters. Ugh. That photo above was what I found when I opened one of our air return vents years ago. Gah! So embarrassing. I'm sure FilterEasy created this service for people like me :).
You can see how much dust collected in that filter. Dust can cause expensive problems for your HVAC systems, not to mention increasing the allergen and dust levels in your home.
Even on the rare occasions when I would head out to get replacement filters, I wouldn't remember what size of filters I needed. Trying to guess the right filters wasn't my favorite way to spend a day.
FilterEasy offers a super convenient ordering process that you only have to set up one time. The subscription service costs less than purchasing filters at the home improvement stores and you can order from home.
You simply add in how many filters you need, the sizes (they even offer custom sizes), what level of allergen protection you need and how often you want to change the filters. It's recommended that you change filters every three months, but if you have pets or allergies you might want to change them more often. Air filters are then sent directly to your door from FilterEasy on a regular schedule.
It takes about a minute to change a filter once your shipment arrives, so it's all really easy and convenient. FilterEasy saves energy, money and hassle (and you'll enjoy a cleaner home, too). I definitely recommend trying out their service (it's risk free, you can change your order or cancel any time).
What are some other five minute dust-busting tasks that you would add to my list?
What summer jobs do you give your kids?  Let's share ideas in the comments. 
Happy First Day of Summer!
Related Posts:
How to Clean a White Sink (3 Secrets – Without Harsh Chemicals)