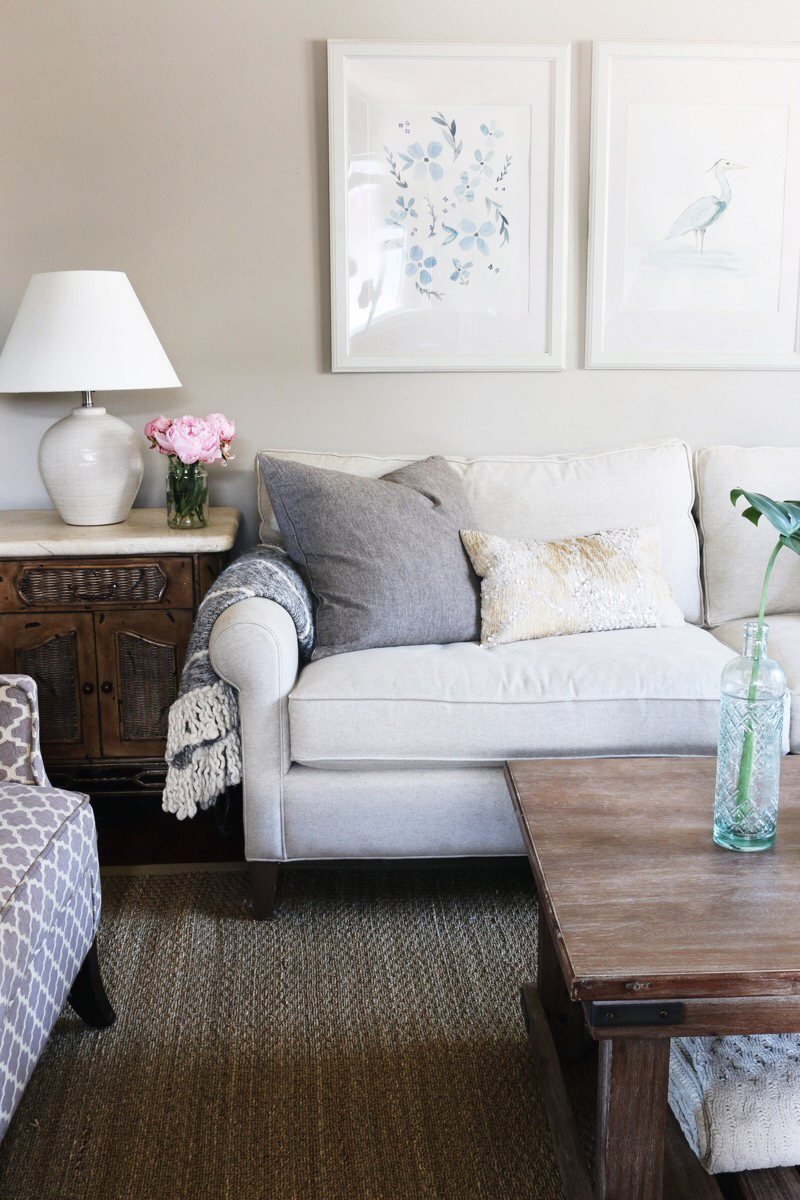 Hello! Long time no see, friends. In case you don't remember me, I'm Melissa's oldest daughter, Kylee. I know I have said it before, but I always have excellent intentions of popping in here more often to update you on my townhouse progress, but life happens and I get behind.
Probably the best and easiest way to keep up with me and the townhouse is on Instagram. As usual, it's been awhile since I've blogged, so if you're new around here or forgotten about my townhouse, you can catch up on my past posts here!
Today I am here to catch you up on the latest with my red leather couch saga (you can read the earlier part of that story here). The day has come (well, it came 7 months ago!) that I finally won over my husband and we GOT A NEW SOFA!!! I've left my "couches" behind. I have actually graduated to calling my new one a ~sofa~ (much more elegant sounding, no?). This room has definitely been a space that has been evolving over time and will probably continue to do so.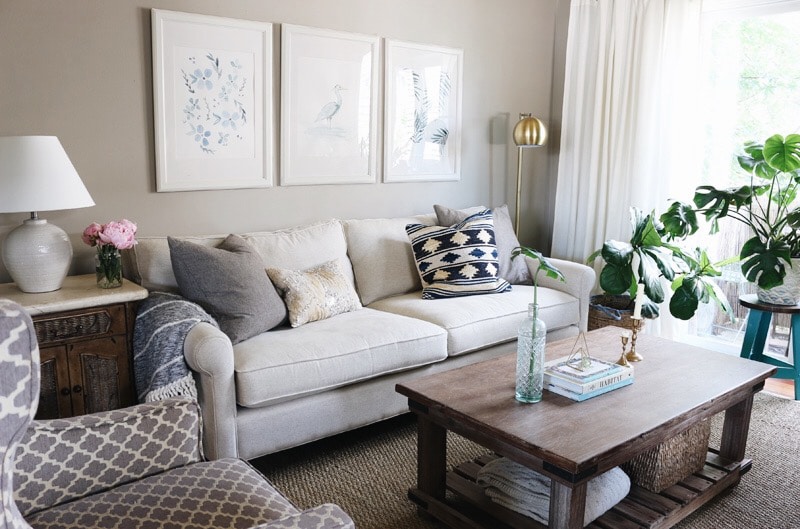 We had a friend who happened to need couches, so we made a deal with him that if he would help us get them out of the townhouse, then he could have them! He took the bait and we got them out the same we got them in, by removing the sliding door and dropping the couch down over the balcony. Yeah, not fun.
It was quite terrifying (and we had less help than we did when we moved them in) but risking life and limb to move them was worth it. The red ones are now happily living at his apartment where Lance can go visit them whenever he'd like! ;)
I wish I could say that picking out a new sofa was easy. After so patiently living with the giant, red beasts for all those years, I was anxious to get something new. Believe it or not, Lance and I tend to have *very* different preferences when it comes to furniture. Shocking, I know! Hahaha. But I do believe in compromising on such things since we both have to live with them.
After many, many (too many) months of deliberating and even living without a sofa for awhile, we finally came to an agreement. We ended up with this pretty one, which I love! The compromise came into play with the color. I tend to be practical, so I probably would have chosen something a little darker. Our dogs basically rule the house and you may have heard, it rains sometimes in Seattle, meaning muddy paws are a thing.
Lance was surprisingly very, very, very set on getting a light colored sofa. But, like I said, I try to compromise :). Most of the time we throw a similar colored blanket over the cushions that can be washed. We've had the sofa for about 7 months now and there have actually been no real issues yet (quick–knock on wood!!).
We decided just to get the one sofa, even though we previously had two. We didn't want two matching ones anymore and couldn't decide on whether or not we should get a second one in a whole different style or just get a chair or two. We are still deciding, but in the meantime, we have borrowed a few chairs from my mom.
I have the HARDEST time picking out art. I'm very picky and usually I want them to have some sort of personal meaning. So after years of using wrapping paper as filler art in those frames above the sofa, I finally just decided to paint my own art!  Once I find something I love or if I get tired of these I can easily change them out and didn't waste tons of money on something just to fill them.
You can shop my space with the arrows below!

I realized that I didn't take great pics of my pups for this post! I know how much you all love the doodle pics, so I will leave you with a collage of Bella and Leo, enjoying the new sofa. Most of these are from my Instagram, where they frequently appear (especially in my stories!) so feel free to follow me there to keep up with their antics ;)
Quick note: If you missed the chance to vote on our rug designs yesterday, we'd love your help to help make get our rugs into production! Only the top ten designs will get into production, so every vote counts. It's SUPER easy to vote, you don't even have to choose which rug to vote for. You can vote for all three of our designs via the links in this post. We had so much fun designing our rugs. Thank you so much for your help.
Until next time!