Home for the Holidays Blog Tour with Balsam Hill
Hey friends! Happy Monday after Thanksgiving to you! You do know what that means, don't you? No, it's not just time for the stretchy pants. It means you can start to go crazy adding Christmas trees in every room and no one should look at you funny.
***UPDATE*** See my full Christmas House Tour here!
I actually put up several trees around the house just before Thanksgiving. I don't have my whole house decorated (ha, not even close) but the trees made the whole house so festive for our family gathering this past weekend.
I just love how magical Christmas trees make a house feel.
Right before our guests arrived we set up this lovely Balsam Hill European Fir Tree in our living room.
We are looking forward to both our tried and true and new traditions this year. We still love keeping our family tradition of cutting down a tree from a tree farm every year, but it's fun to collect pretty trees we can enjoy for many Christmases to come.
My favorite thing about having beautiful artificial trees is that you can put them up early in the season and enjoy them longer! (And, no needles and sap end up on the floor.)
I love beautiful and realistic this tree is! I love its shape and that the branches have a light color under the underside, just like a real tree cut from the forest. It's so pretty.
I generally keep our Christmas decor simple and uncluttered, but I do love to set up little trees all over the house. I sometimes don't even decorate them, I think they are pretty as they are or with just white lights!
Especially in our kitchen I felt like a more streamlined and simple approach worked best.
We prepared a very tasty Thanksgiving dinner for twelve in our kitchen this past weekend! This was our first Thanksgiving in our kitchen. If you missed our remodel, you can find it here. These little trees made food prep and family time in the kitchen extra special and cozy. If you follow me on Instagram, you may have seen some of our family festivities in my Instagram stories!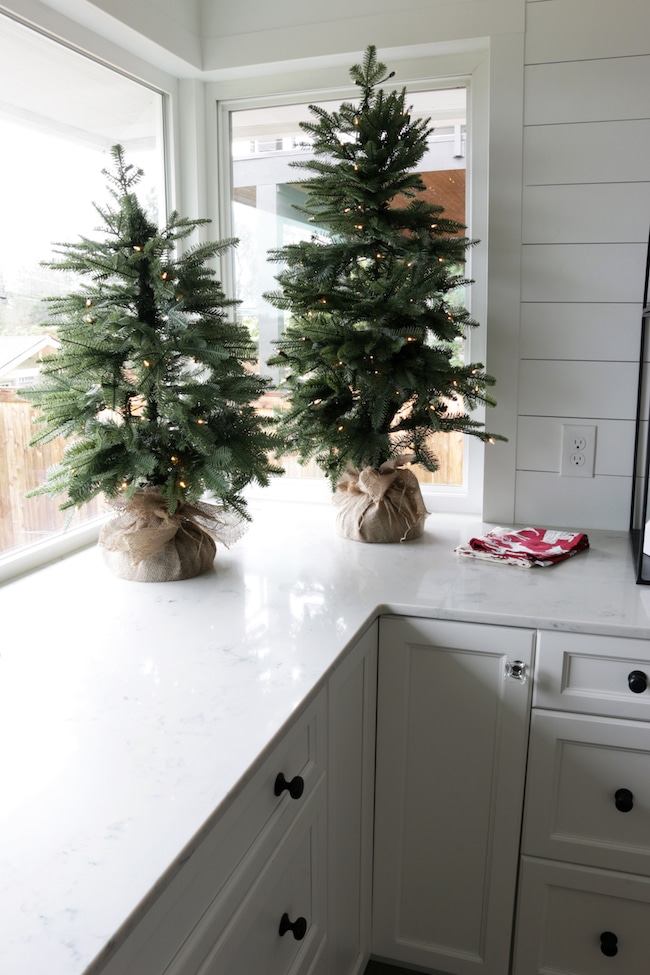 I thought it would be fun to have stockings for our guests this Christmas, so we hung these Chunky Knit stockings on our hooks in the guest room. Aren't they cute?
For the past few years we've been doing a fun gift exchange with family and friends where we draw names and gift categories. Then we head off to a mall or shops together and each person looks for a gift within a designated period of time. At the end we meet up for dinner and do our gift exchange! It's just a different twist on a white elephant party or gift exchange, but we've enjoyed it.
This year I think I'll bring these stockings for people to stuff their gifts in so we don't have to buy or bring wrapping supplies!
We'll be using our Forest and Sea ornaments this year, too, but I really love these gorgeous ornaments (these are called the French Country ornaments). Each one is so pretty and shiny like mercury glass. I love all the shapes and textures. They definitely add a sparkle to our room.
Galvanized Tree Collar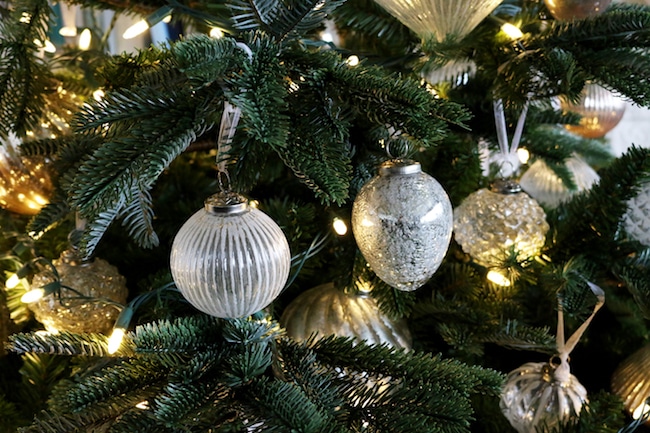 Thank you for stopping by, friends!
So how many Christmas trees do you plan to have this year?
***UPDATE*** See my full Christmas House Tour here!
Now you're invited to visit the beautiful holiday decor from the ladies joining in on the Balsam Home for the Holidays tour! These bloggers always inspire me.
Courtney – French Country Cottage
Ashley – The Handmade Home
Marian – Miss Mustard Seed
Karianne – Thistlewood Farms

Sources:
Chunky Knit Stockings

Galvanized Tree Collar
30 & 42″ Balsam Fir Tabletop Trees
Other sources:
Log Holder (black shelf on kitchen counter)
Similar wood bead dining chandelier
Guest Room Wood Beaded Chandelier