Bedroom elements on this design board in partnership with Serena & Lily

Hey friend! So as I mentioned the other day, we're doing a little switcho chango with the design of our master bedroom. It's a small room but it's been fun to reimagine it! I was very happy with it as it was for the past couple of years, it really worked for the season we were in. But I'm just so ready to do to start pulling the house together even more, design-wise. I remember this phase at my old house and it got really exciting to start connecting the design dots, so to speak :).
Anyway, you saw the wall color this week. It's a very soft, subtle grayish kind of bluish tone that I love. In a way this new direction reminds me of our last bedroom. So I guess this new look is not so new, it's actually a reflection of my one true heart, a look I've always loved. I love so many looks, but I do believe I have one true style that speaks to me the most. We can talk about that another day!
Today I thought you might enjoy a little peek at our design board, since it will be another couple of weeks before my bed arrives. So for years, literally YEARS, I've been telling you we planned to get a new bed so we could give my mom back her bed. We ended up with hers when we moved, and she moved, and it was just too far to get it back to her.
Anyway, I've been looking the right bed for a long time. I haven't bought a bed for decades, mostly because I'm super picky about them. I like upholstered beds but crossed most of them off as the fabric, style or shape didn't work for us for a variety of reasons.
The one bed I continued to come back to for a long time is a lovely wood cane bed from Serena & Lily. I love that it is unique and not like every other bed out there. I adore the style! I love the warmth of the wood, the cane detail, the classic timeless shape. It's a great scale for this little room. And, I love that it has a footboard, too, so our blankets (and our pup Lily) won't fall off the end of the bed at night. It's the little things, you know?
So that's the bed that I ultimately decided had to be mine! We chose the rug because I'm obsessed with the whimsical pattern, it will hide stuff, and it will add additional softness to the room.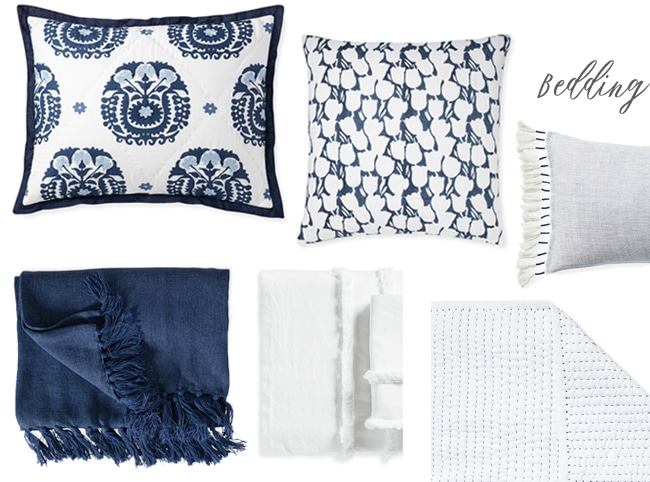 Standard Shams / Euro Shams / Linen Throw Blanket / Fringe Sheets / Chambray Tassel Pillow / Stitched Quilt
The bedding is mostly white, with pretty details like blue stitching on the quilt and fringe trim the sheets, but we're also going to incorporate bolder patterns through pillows (these standard shams and these Euro shams). I LOVE changing pillows in a room, so I am excited for all the possibilities this room will give me to be creative through the seasons.
So, now you can see the design direction I'm going in here! It all feels like a dream to me, I'm loving how the design is coming together. I can't wait to show you the makeover in a few weeks.
Redesigning my room really has inspired me to keep listening to my heart as we work on our home. In fact, working on this room has already has motivated me to make a few other design decisions around the house that also reflect what I love most.
As much as I love the result of remodeling, most of all I enjoy pulling the house together so every corner starts to feel like home. It takes time and patience, but it's all worth it to me.
Is there a room in your home that you're inspired to make some changes to this spring? Let's chat in the comments!
There is an awesome Friends & Family Sale right now, so if you've had your eye on any of their pieces like I have, it would be a great time shop!


Don't forget, I'll be on Facebook tomorrow 9-noon PST answering paint questions!