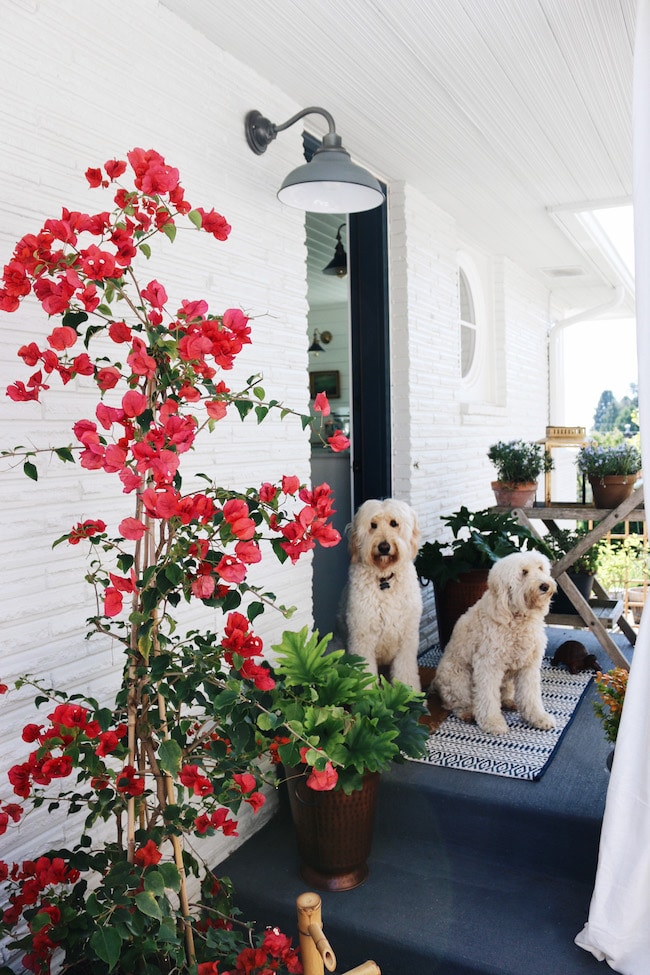 Dutch Door source and FAQ
Greetings, friends! I've been wanting to get back to talking about our exterior and patio projects for such a long time. Good news, though, we're finally nearing the "finish line!" That's not to say I've done everything I want to do yet, that would take a few more years! But we're just about to be "finished" with what we started, and even completed things we didn't originally plan to do.
Makeovers don't start with an "after shot" so I want to share what led up to the upcoming reveals by offering a peek into the thought process and stages of our projects, too. So over the next couple of days and weeks you'll be brought up to date on what we've been doing, get some sneak peeks (be sure to follow me on Instagram, too!) and lots of good ol' after shots coming up, too!
2020 UPDATE: This update post was in 2018! Click HERE to see the latest of our house in 2020!
This has been such a crazy story with unexpected twists and turns and delays, so I really don't even know where to begin!
But I've never shown you the back of our house, before or after it was painted, so we might as well start there. This is where a big part of the makeover took place, so you'll be seeing this side of my house quite a bit in the upcoming weeks!
Here's what the back of our house looked like the day we moved in.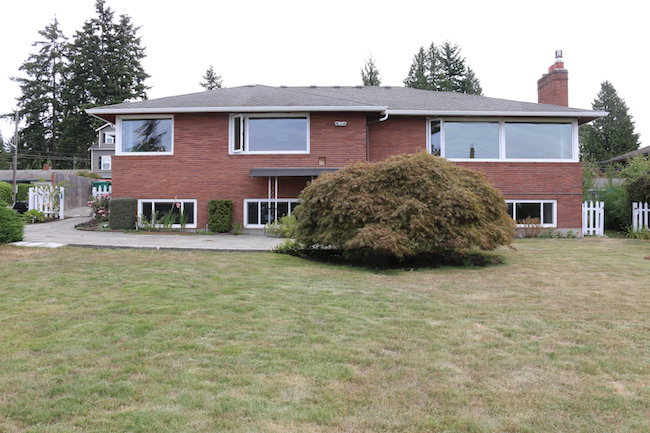 So when we bought this house, it was a fairly typical looking brick rambler. It wasn't the style I ordinarily  would have thought to look at, but the Seattle housing market was (is) crazy so we were looking at nearly everything.
The previous owner of this house had told us 'you are going to love living here'. She was right! We do.
There were things we knew we would want to update, but it was solid and well-maintained! This is the kind of house where you just feel happy to be in it. It's filled with glorious light and a wide view of water, trees, sky and mountains as you look out the back of the house. The property has beautiful blooming trees and the sunsets are spectacular. And, we are within walking distance of a beach (on Puget Sound)! We really couldn't ask for anything more.
All in all, this house had quite a bit going for it from day one. Yet even so, these types of houses in our area are sometimes torn down to build something new and more grand (when we moved in there was actually an empty lot next door, the house had been torn down. But now there's a big house!).
Even though I'd personally rather preserve structures when possible, I understand that remodeling an old house can be difficult and very expensive. Building new often makes more financial sense and offers people the chance to get the features, views and square footage they want. But for us, we're ok with our modest home! In fact, we love modest :).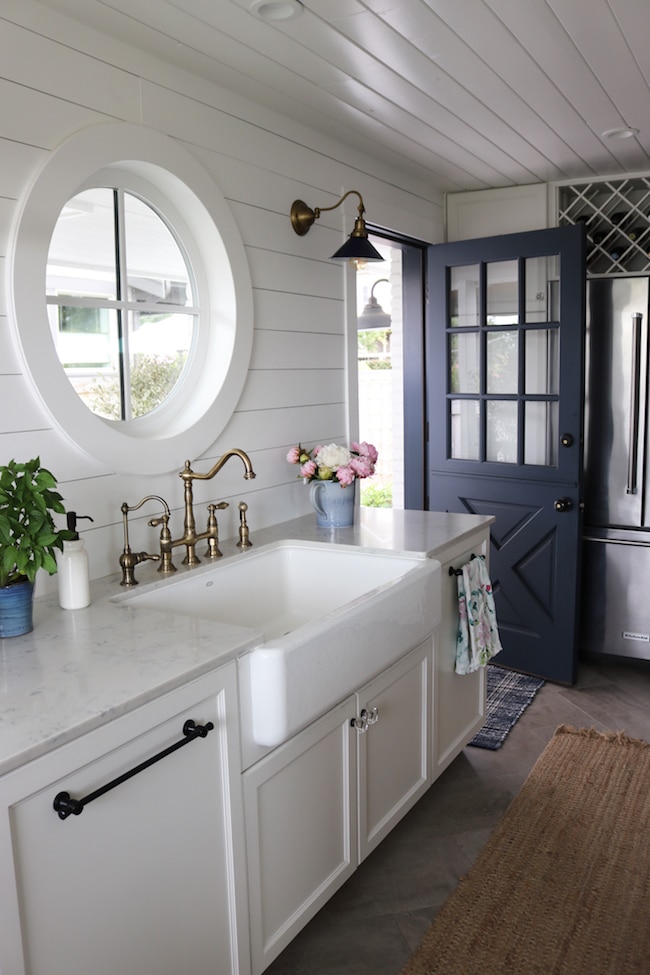 While the footprint and basic elements of our house remain primarily as they were, it's been fun to watch how a transformation has taken place in other ways. I often say at heart she is still the same 'ol gal she always was, she's just starting to look and feel a little more updated and rejuvenated. Or dare I say spunky. May we all feel that way as we age, right?
There are so many ways to transform a house inside and out, but there's nothing quite like the transformative power of paint.
You may already know we painted our exterior brick white (as I've showed the white brick from the side yard ever since we revealed our kitchen last year). It's made such a difference in the feel of our home! We love it.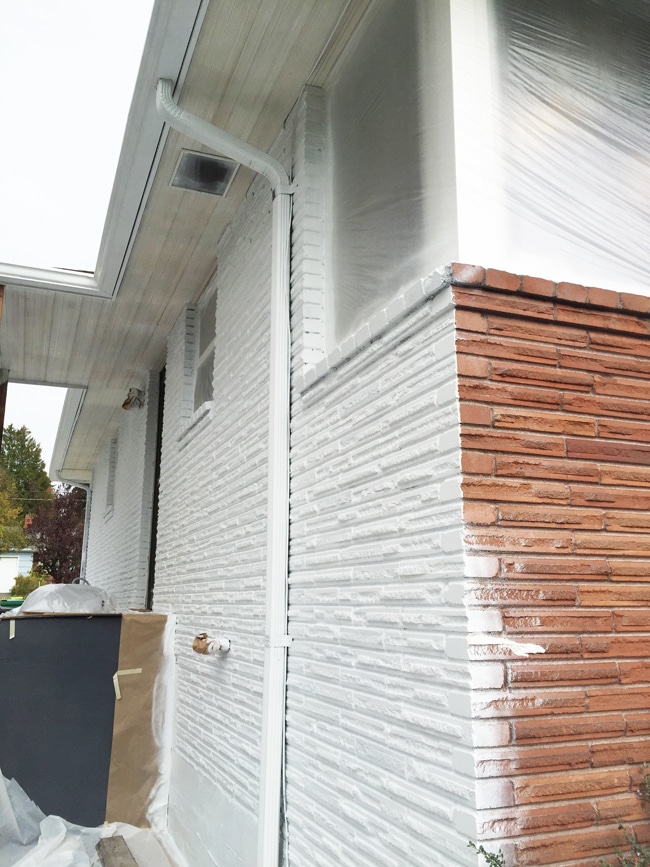 I know some people get very sensitive about painting brick, or worry that it isn't a good idea to paint brick, but we have ZERO regrets even two years after painting ours. We've had no trouble at all with the paint. It still looks fantastic! I expect the paint to last for years to come. It's Sherwin Williams (Reserved White).
Like any painted house, of course, eventually it will need another coat of paint. Yes, that's the beauty of NOT painting brick, you don't have to repaint it! But if you don't like the brick you have, why live with it for years and years just so you can avoid having to repaint it years down the road?
I kind of think you should love the home you have, you know? ;) I've lived in a couple of painted brick homes and I've always loved the look, so we took the plunge and are so glad we did. White brick makes this house feel like home.
Now, there were quite a few other things I knew we could improve at the back of the house. Some we could change right away, some in time. I did not "love the awning I had" so I was very happy to see that go before we got the house painted. (I'd also love to relocate those electrical boxes, but that will be a project for a future time).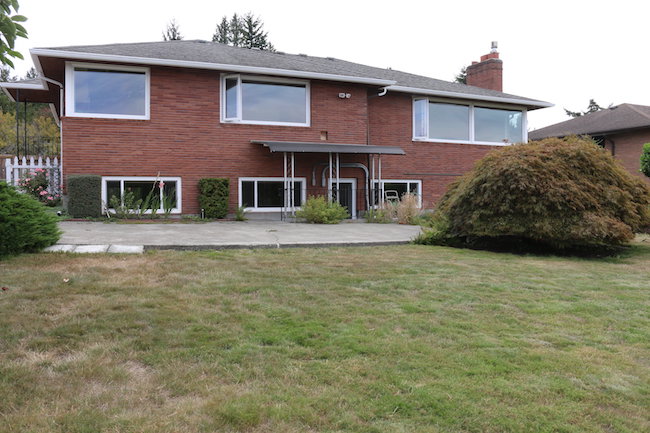 So once again, this is what the back of the house looked like the day we moved in.
And this is what our house now! Two years ago it became a cleaner, fresher painted white brick house (Reserved White by Sherwin Williams)!
UPDATED PHOTO 2020: Click here for details on our Trex Deck
We are very happy with how paint transformed our home! Yet the exterior projects didn't stop with the paint (can't stop, won't stop!).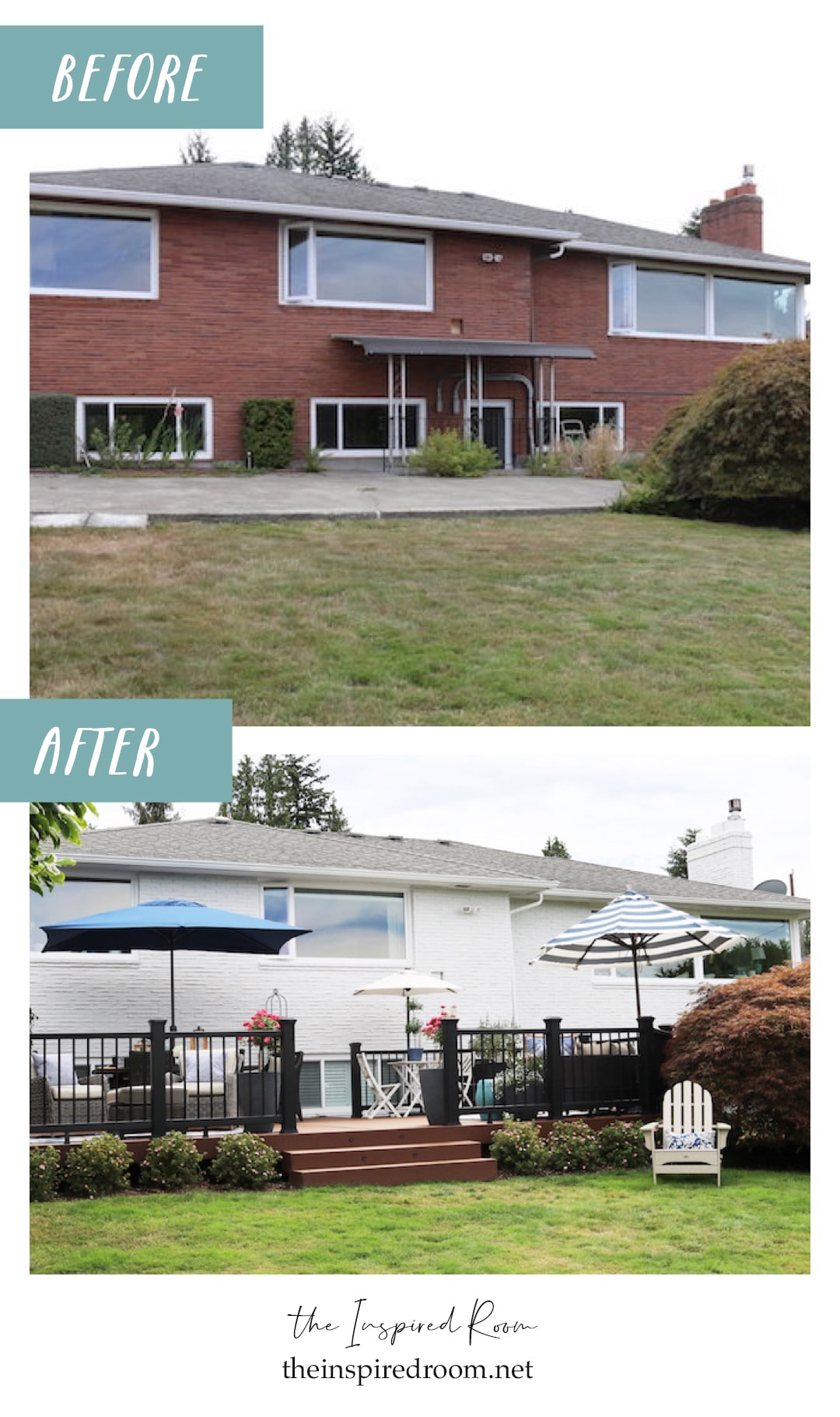 Click HERE for more before and afters of our home (2021 update)!
So in addition to catching you up on the completion of the side yard projects, I'm super excited to show you all that transpired this winter around the back of the house, too!
Stay tuned, friends, more to come … (find POST TWO on our outdoor projects here!)