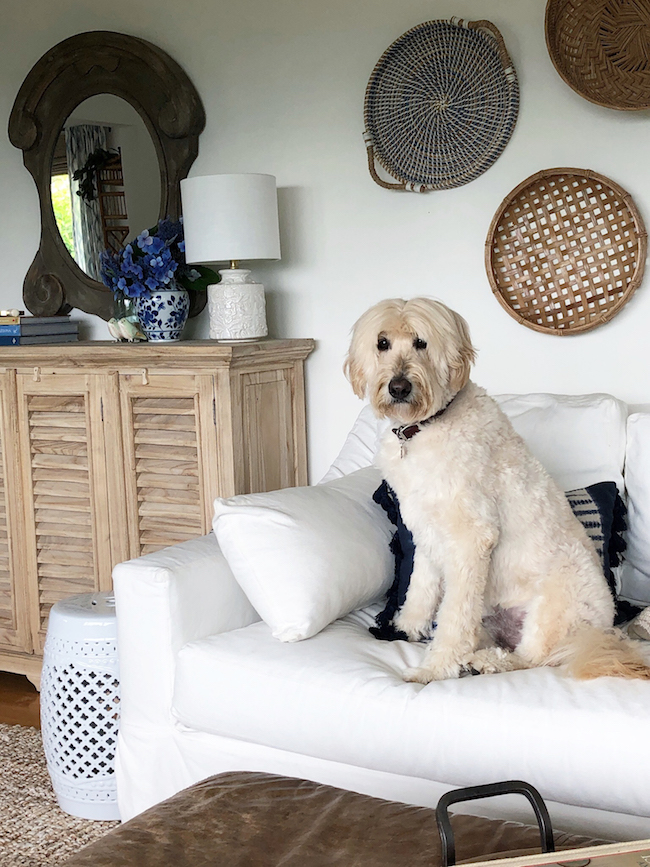 If you struggle to find enough storage in a small space like I do, today I have some small space tips and tricks for you!
This post is in partnership with World Market
This question comes up every year when we start talking about decorating for the seasons:
Where do you keep those decorative items that are fun to have for each season, but that you don't want to keep out all the time?
And, how do you keep limited storage areas and closets from being overwhelmed by clutter?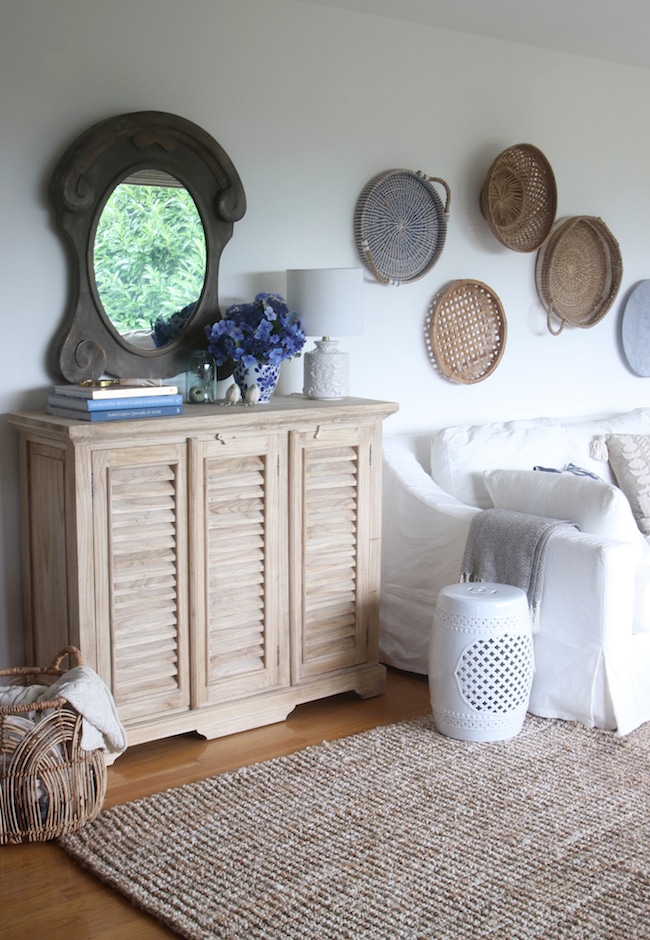 More style with more storage is my motto when it comes to furnishing rooms in my home. The minute I saw this coastal style cabinet at World Market, I LOVED IT and wanted to bring it home with me.
It's not only got a look I love, but the size and style is flexible enough to be tucked in anywhere in my home. Plus, I knew it would serve a couple of purposes! That made it a no brainer purchase.
By the way, World Market is having a furniture sale between now and September 3, so be sure to take a peek! You'll find so many fun things on sale (click here to shop and be sure to use coupon code FURNDEAL30 for 30% off regular priced furniture for your living room, dining room and office!).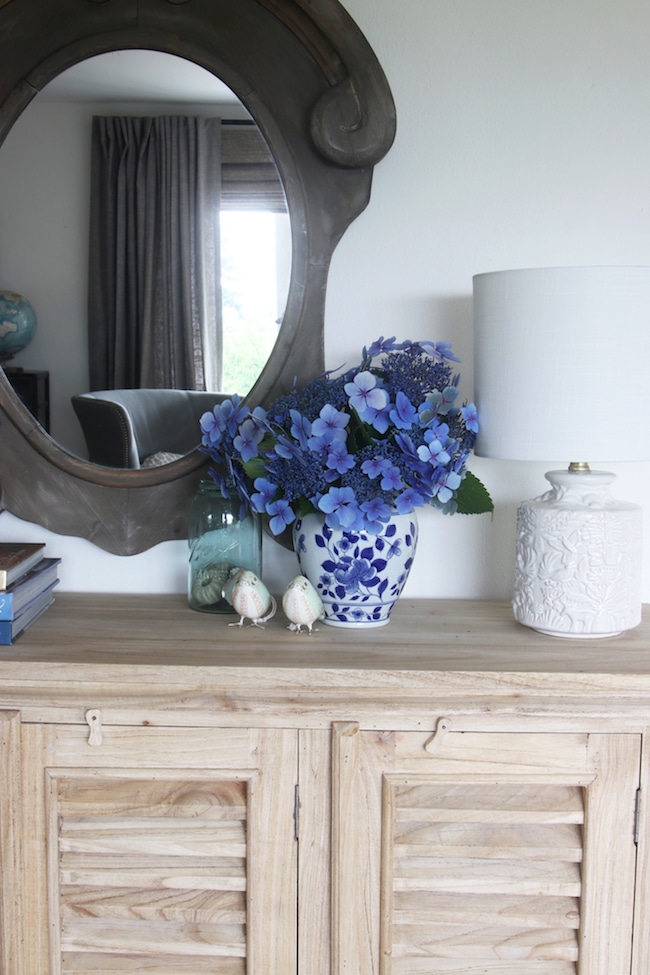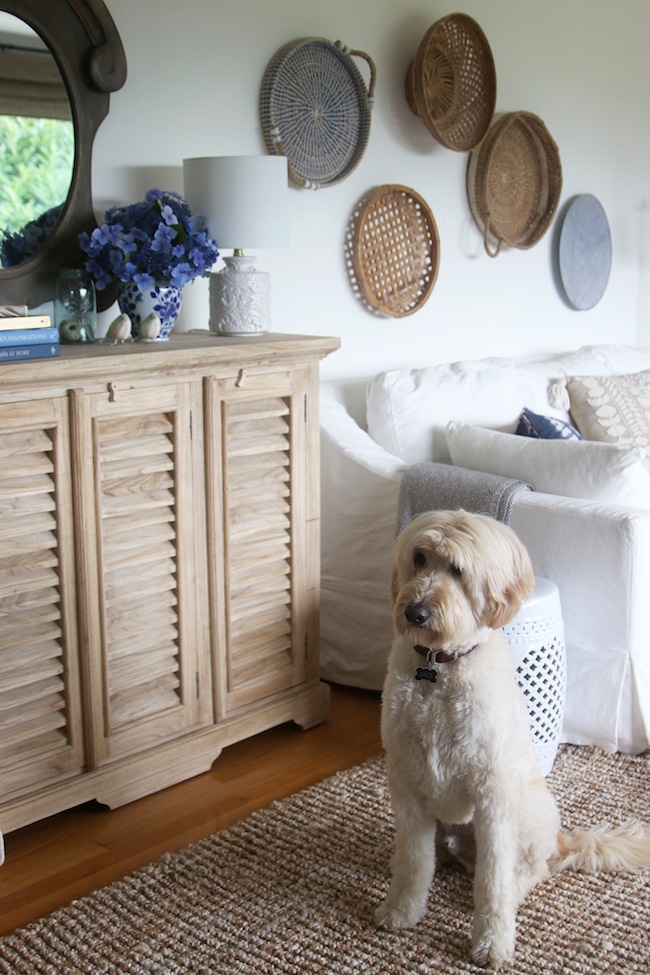 Some people decide to go more minimal or simplify their style because they just don't have enough room for extras and no tolerance for clutter!
I get it! I like keep things simple, too. But I also like to make room for what I love (see what I did there? I talk a lot about the process and mindsets for simplifying and decluttering in my book Make Room for What You Love!).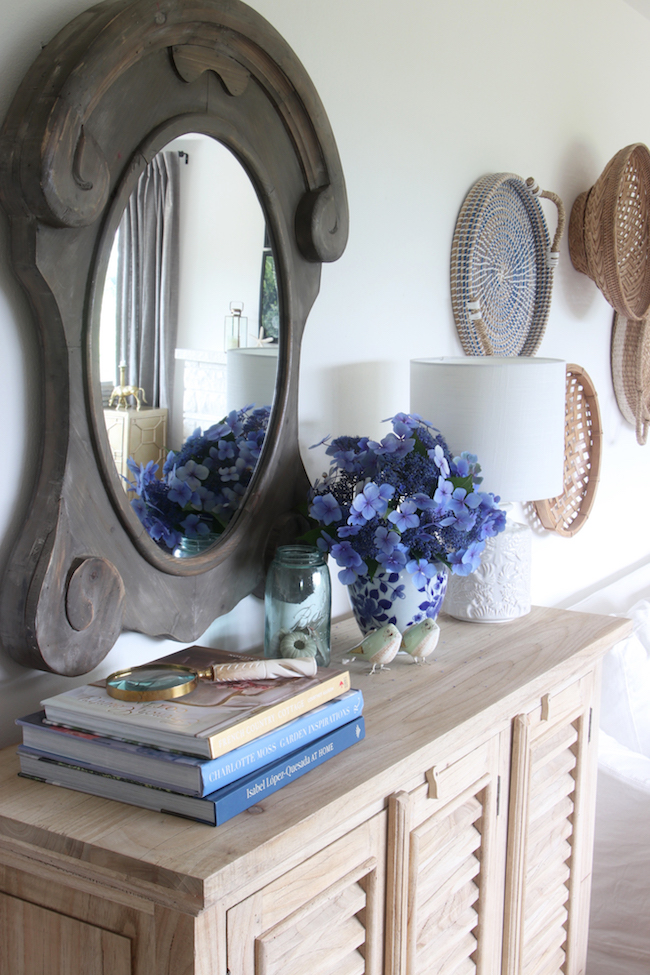 I don't store or even use a lot of seasonal specific items, but I do find it therapeutic and enjoyable to change up the decor as the seasons evolve.
My problem is that if I put that kind of stuff far away (as in, I bury them in the garage or shed or attic or stuffed in a closet) I will never use them. My garage is usually a scary place where you'd never ever want to go to find your festive cloth napkins right before a dinner party.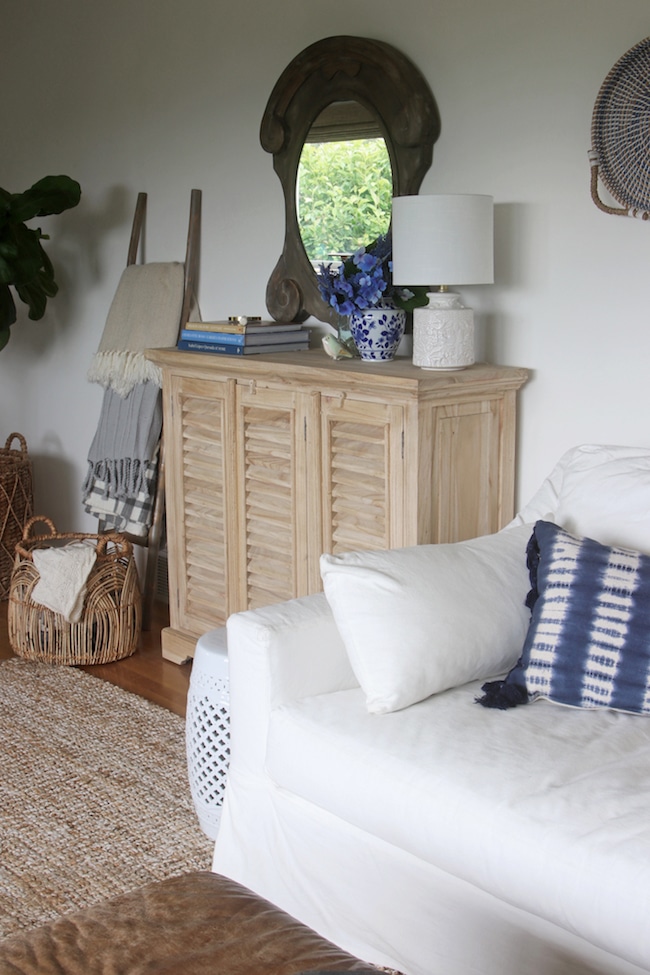 That's the main trouble with hanging on to too many things you like. Where do you put them? Why bother to keep pretty accessories if will be too hard to find or difficult or stressful to get them when you need them. Right? They just turn to clutter and no one wants that.
So my small space solution for organizing seasonal and decorative accessories is to utilize baskets, small cabinets, dressers, and nightstands in every room.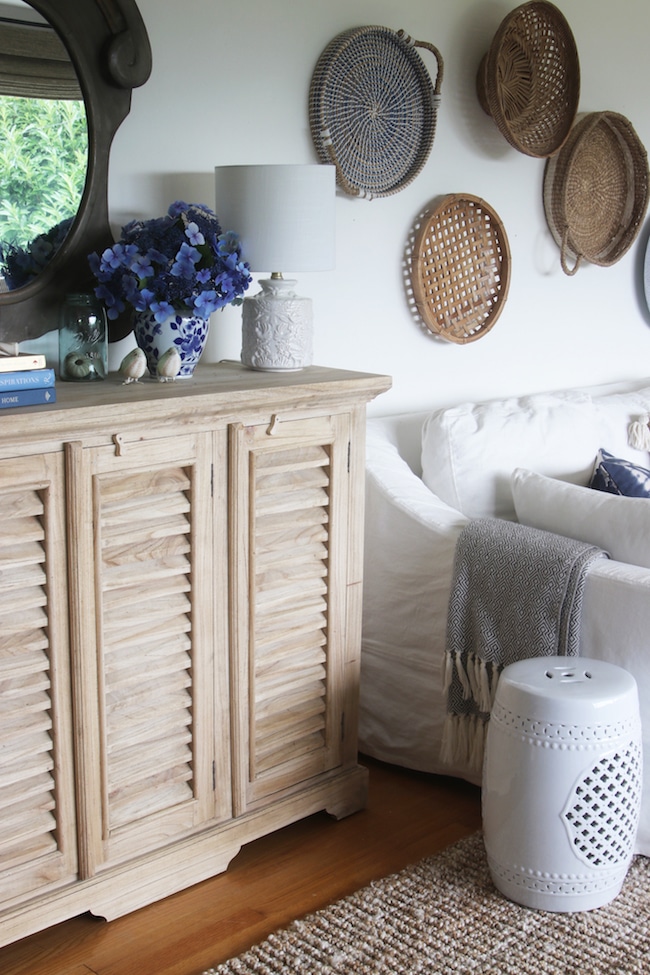 In order to have a cabinet taking up space in any room, I think it must serve at least two purposes. One, the cabinet must add style and possibly add a useful surface to the room. It can hold a lamp or be used as an end table, for example.
Then I also give each cabinet a designated storage purpose. Cabinets also become clutter catchalls if they don't have a defined purpose. Once you know what the purpose of the cabinet is, you make that purpose a rule you won't break.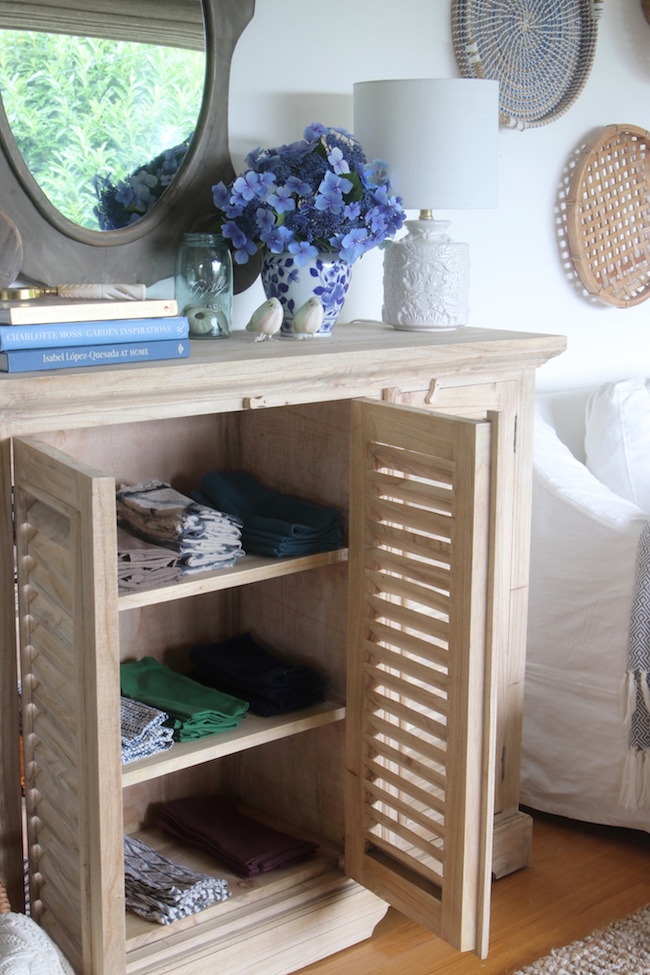 I love to have fun setting dining tables all year round, so of course I end up with lots of table accessories I want to hang on to. That means I have to find convenient places to store various cloth napkins, placements, dishes and other items for the table or I'll never use them!
My new cabinet is primarily being used right now as my cloth napkin cabinet. I would love to get even more napkins, now that I have this convenient cabinet to store them in! And, maybe I'll even have more dinner parties.
My dream is to have stacks and stacks of pressed cloth napkins ready at all times. I may need to hire a housekeeper just for that purpose since I never iron anything, LOL! A girl can dream.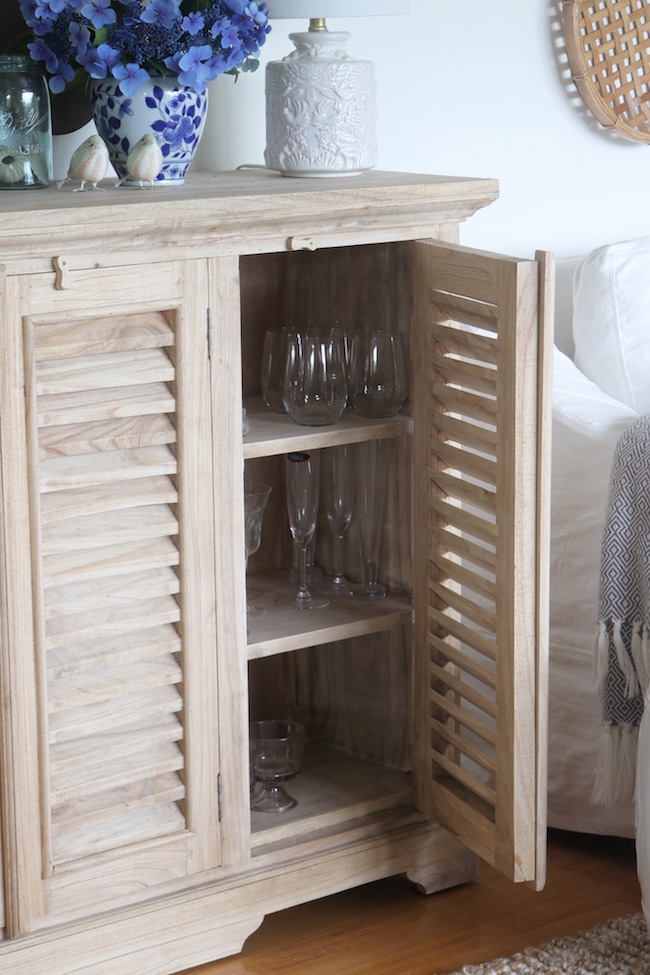 For awhile I kept my napkins in a different dresser, but when we moved that dresser from the living room to our guest room, it no longer felt right to keep napkins in there. Mostly I didn't like having to ask guests if I could come in their room so I could set the table! That was inconvenient for everyone. Now that dresser holds guest sheets and towels, so it makes sense.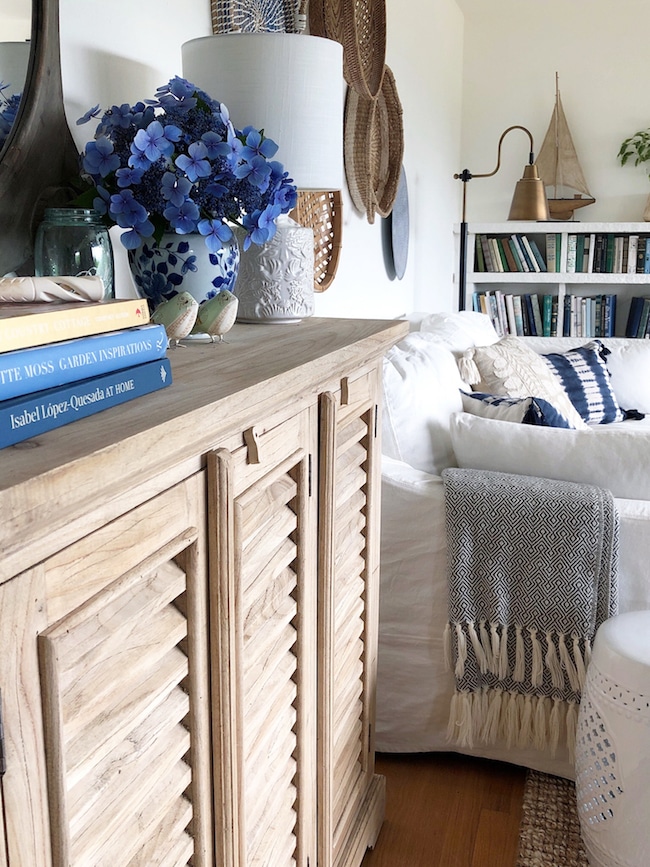 I've used all of my cabinets in different ways in different homes. That's another reason I love to use them for small spaces, you can move them around and tuck them into different rooms to suit your current needs. You can mix and match styles, so don't worry about that. And if you move to a new home? Your stylish storage pieces can come with you!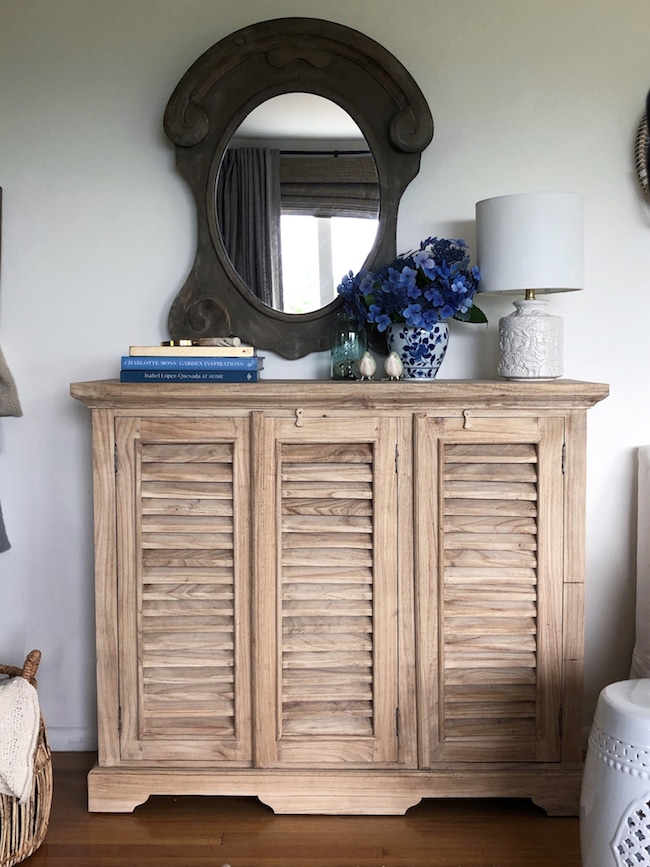 Where do you store your fun seasonal items?
Small Space Tips from World Market
Shop by Room: Small Spaces at World Market


---
These furniture pieces in my home / my daughters' homes are on sale:
My gray glass door dining/media cabinet
My daughter Kylee's wood desk (as seen here)
Courtney's drop-leaf small space dining table (as seen here)
My white/wood macrame stool with tassels
My shutter cabinet (from this post)