Happy July, friends! Thank you so much for all of your kind words in my post about our new door color. We love it, it's making us happy every day! With all of the flowers blooming in our yard this time of year, I'm enjoying the weekly ritual of keeping the lantern filled with a fresh bouquet. It's such a fun way to decorate for the season. If you don't have a wall lantern or no room for one, any lantern will do. Set it on the porch or on a table somewhere inside the door to welcome guests in!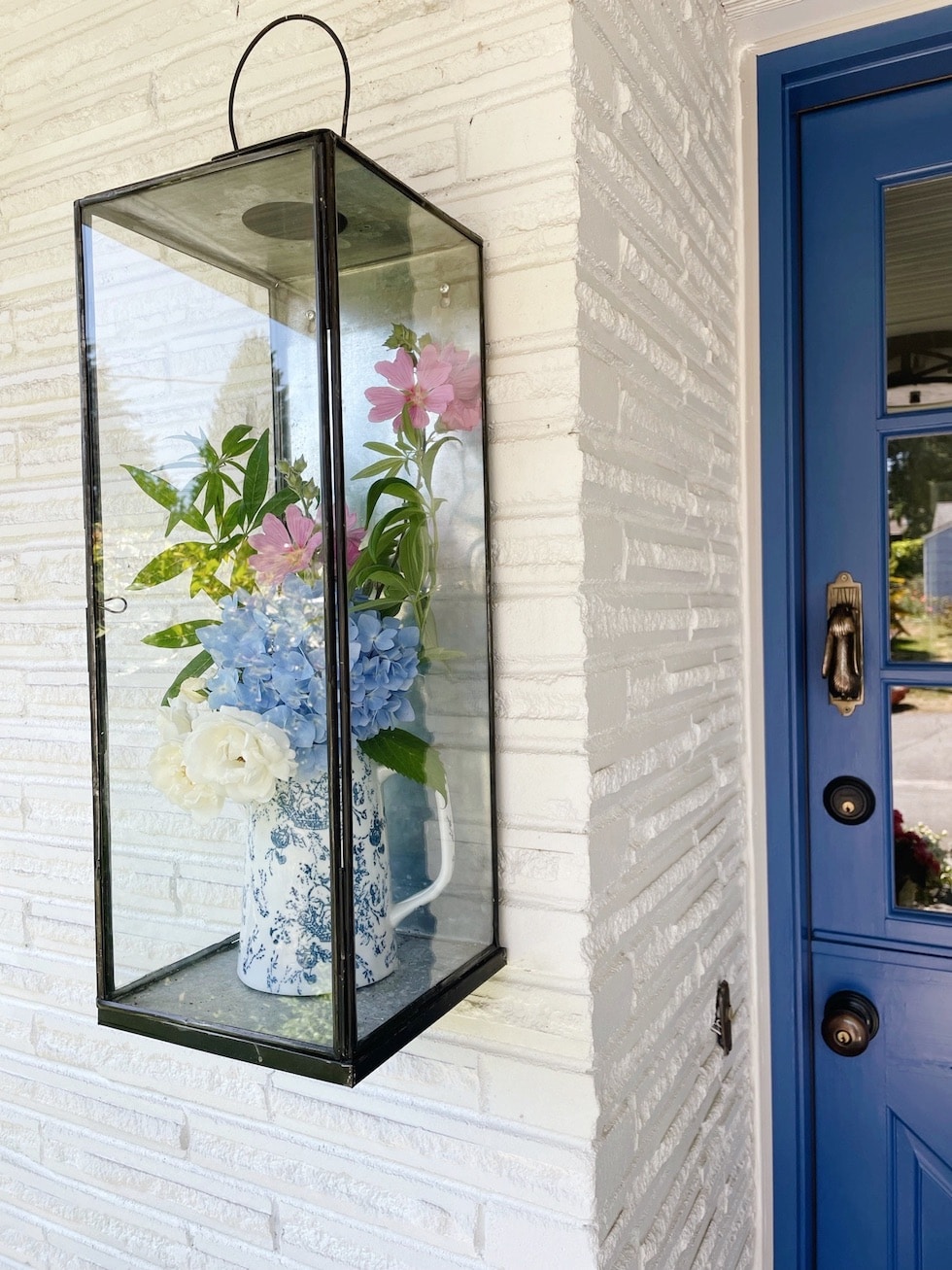 As with most simple pleasures I've found this therapeutic activity really only takes a few moments of the day. Yet it brings so much joy! It might have seemed to me at first that I wouldn't have time to keep up on changing it out regularly (as I have often failed with things like changing out my Christmas chalkboard scene in a timely way, so we end up looking at the same holiday quote all through spring, for example! Ha!).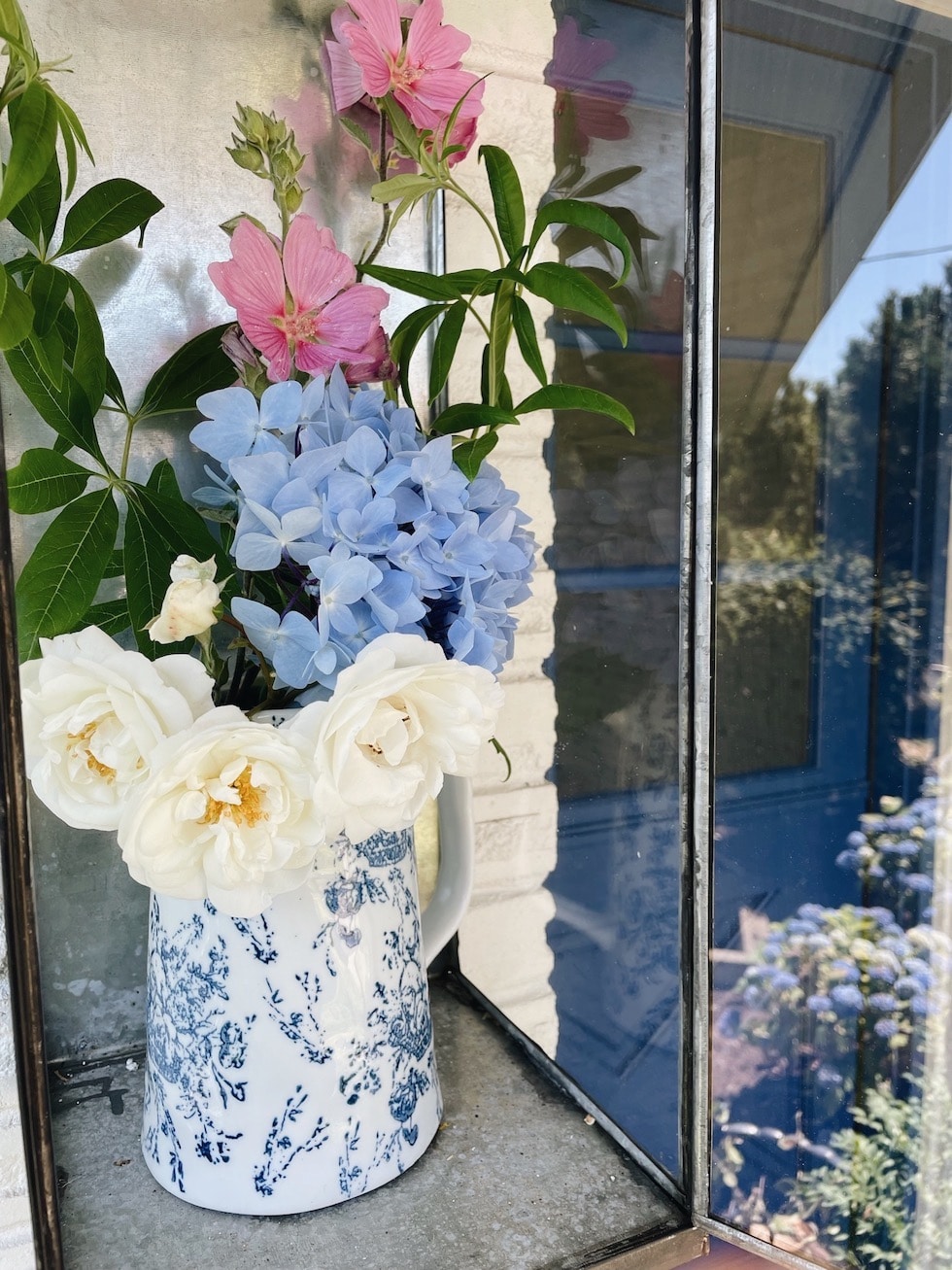 Happily I've found with the lantern that it's more a matter of getting in the habit and being prepared than it is about the time. Now as I head to my garden to check on all of my plants and flowers in the mornings, I know to just snip a few new blooms every few days to arrange in the lantern. Then all I have to do is refresh the water and put the flowers in. It doesn't have to be perfect, fresh flowers are always pretty, you don't need to be an expert floral designer to do this or have any special skill.
If you don't have access to enough fresh flowers in your yard or don't want to change out them out as often, I would suggest getting a few faux blooms or stems or accessories for each season. Then if you find you don't have time to switch it often, you won't have to worry about plants wilting and you can enjoy one display for months! I plan to do the same for the in-between times so there is never a lull in my decor at the door.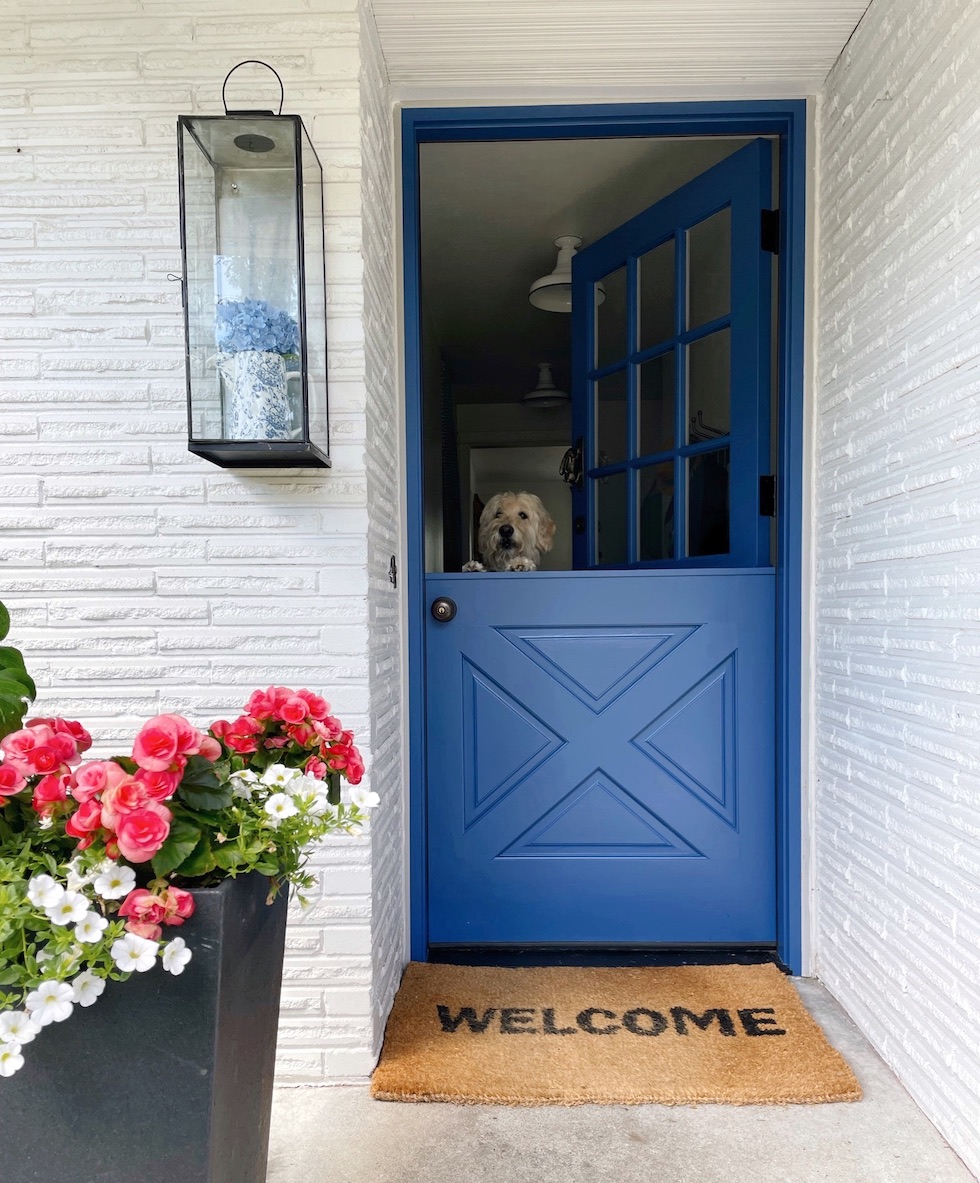 Now that I'm more regularly changing the lantern flowers I'm realizing it would also be easier to switch out the vases, vessels and accessories on a whim, too, if I gathered some creative options in advance. Being prepared would make it even more fun to get creative! I've had my lantern for awhile now and have enjoyed changing the look for every season just with whatever I happen to have on hand, but so far I haven't planned out or gathered items in advance specifically for that purpose.
It's always fun for me to decorate on a whim with what I have on hand. I love to be carefree about decorating, but I know some creative people probably plan out all of their displays and seasonal decor long before they need them. They probably have the perfect seasonal items ready to go for months, or at least they may work specifically on a certain display until they get it just right.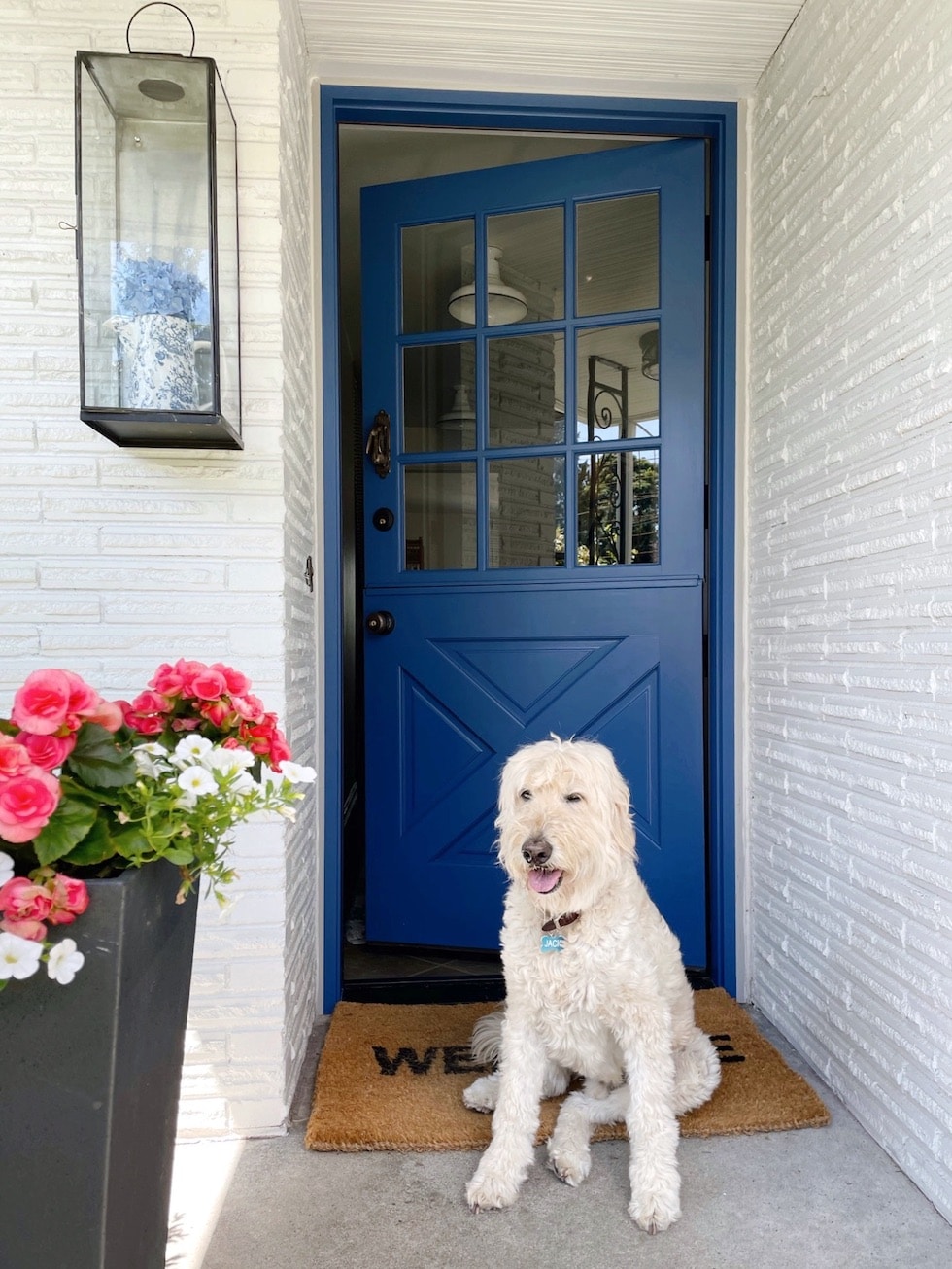 I'm usually far too spontaneous to get that organized with decorating. I love a more casual look anyway. It's fine. Let your personality shine, whether you're more laid back or like to make a big splash with your seasonal decor, what matters when it comes to style is that you're comfortable with it. Be yourself! That's your style. Don't feel intimidated by those who set the bar so high! Set the bar where it makes you happy.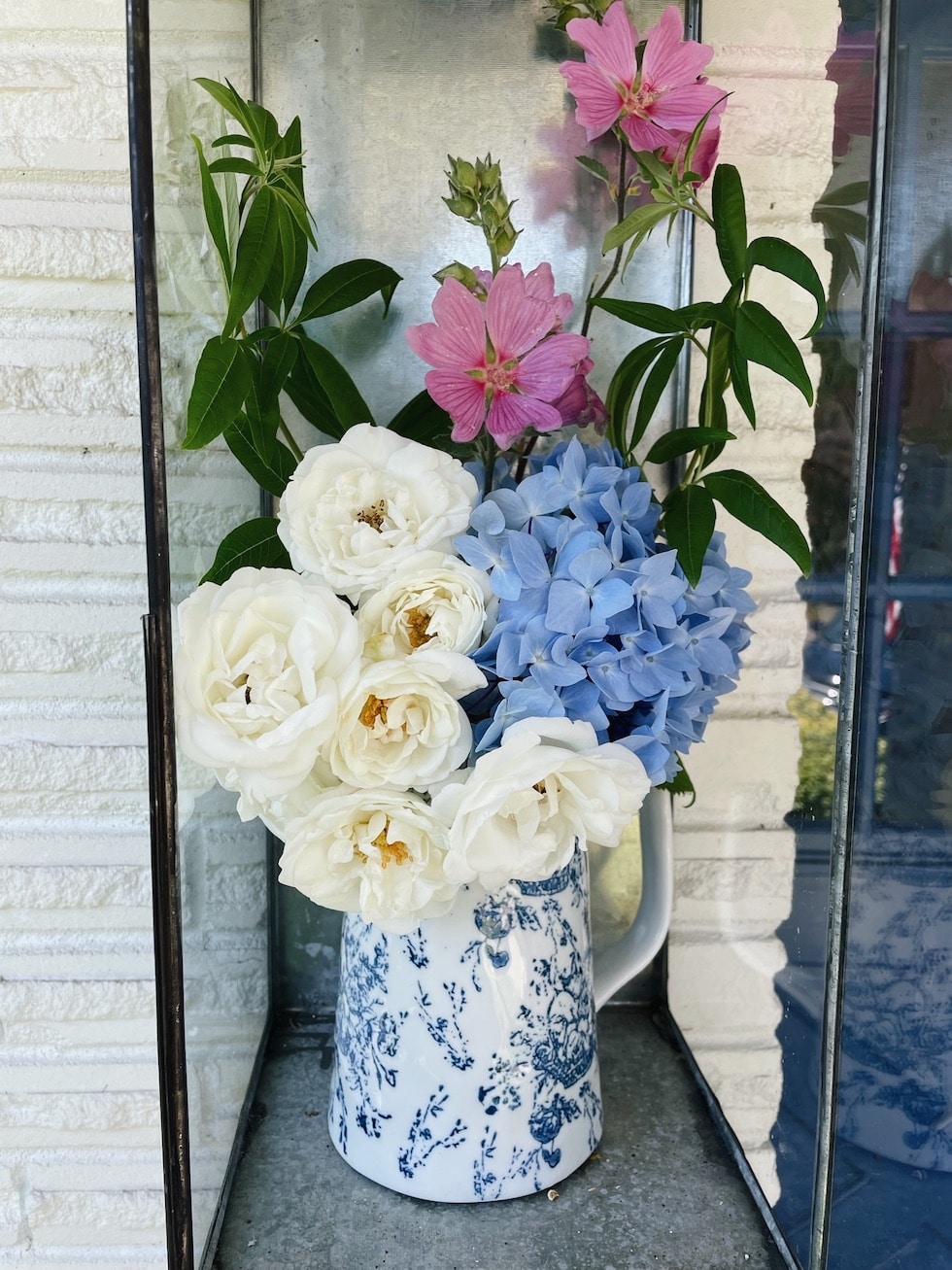 While I find that being spontaneous and feeling okay about imperfection is so freeing to me, now that I know I enjoy decorating this lantern so much, I do think it would be fun to look for things I want to use for decorating it and have them on hand, ready and organized. Maybe that's setting the bar too high, hahah, but then again, I'd be able to more easily "decorate on a whim using what I have." :)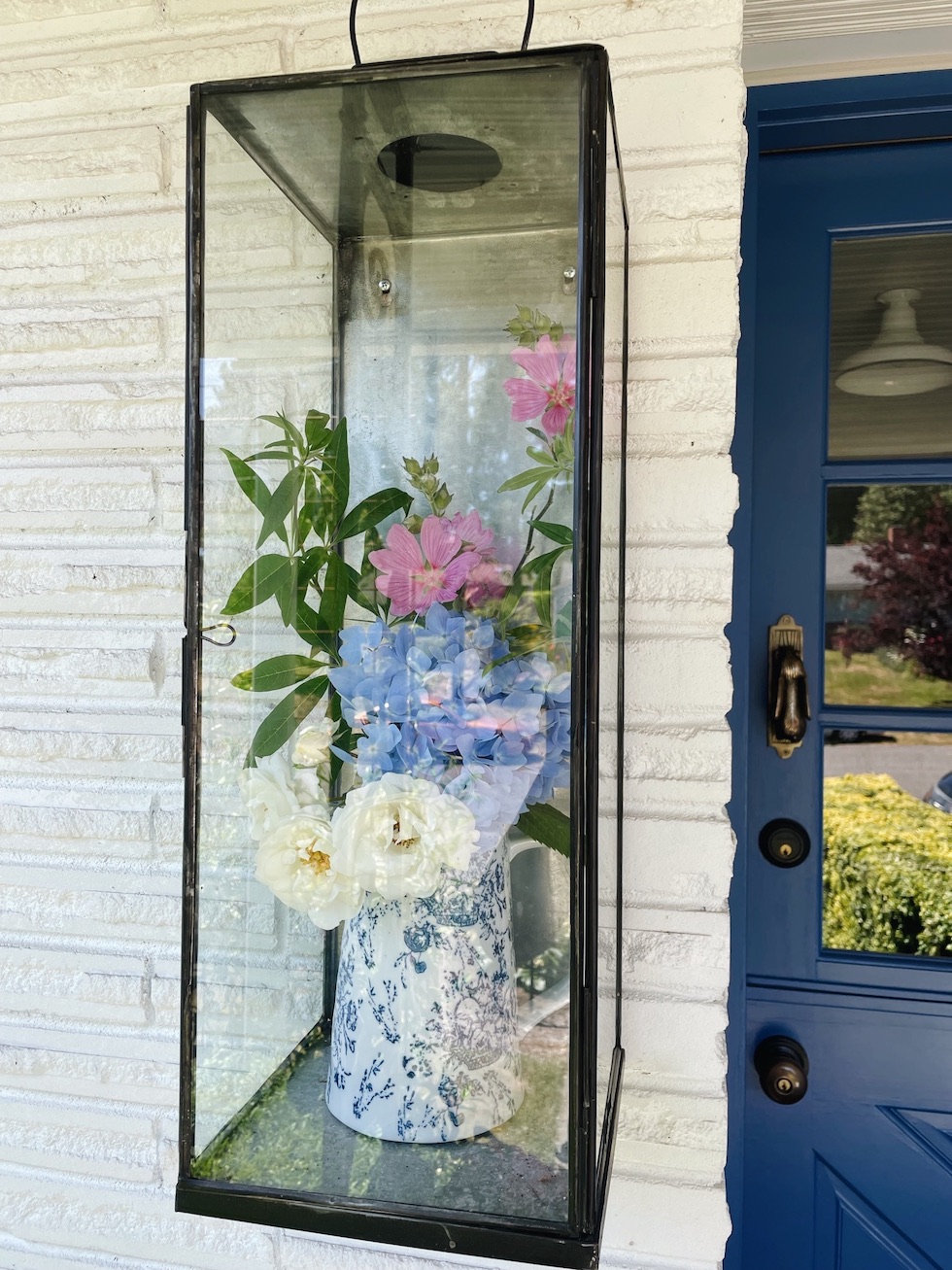 I may rummage around in the garage and cabinets to see what I can find, maybe I can find some more vases and containers. Lately I have been thinking about how much fun would it be to go to a flea market (or anywhere) to pick up some cute and seasonal accessories that are just the right size and shape! I haven't been to a flea market in a long time. Have you? I did quite a bit of second hand shopping for art during the quarantine, I need to show you more of the pretty art I got! Shopping for art kept me feeling inspired during that long season at home.
Happy weekend, friend!
Find more inspiration:
If you missed our door makeover before & after post with all the details, click here.
I've shared many different simple seasonal looks for my lanterns here.
Get inspired for summer decorating here.
Sources:
Similar Lantern that could be hung on a hook
Door paint color: Blue Suede Shoes Benjamin Moore
Brick paint color: Reserved White Sherwin Williams (see more about our brick exterior painting here)
If you missed our door makeover before & after post with all the details, click here!