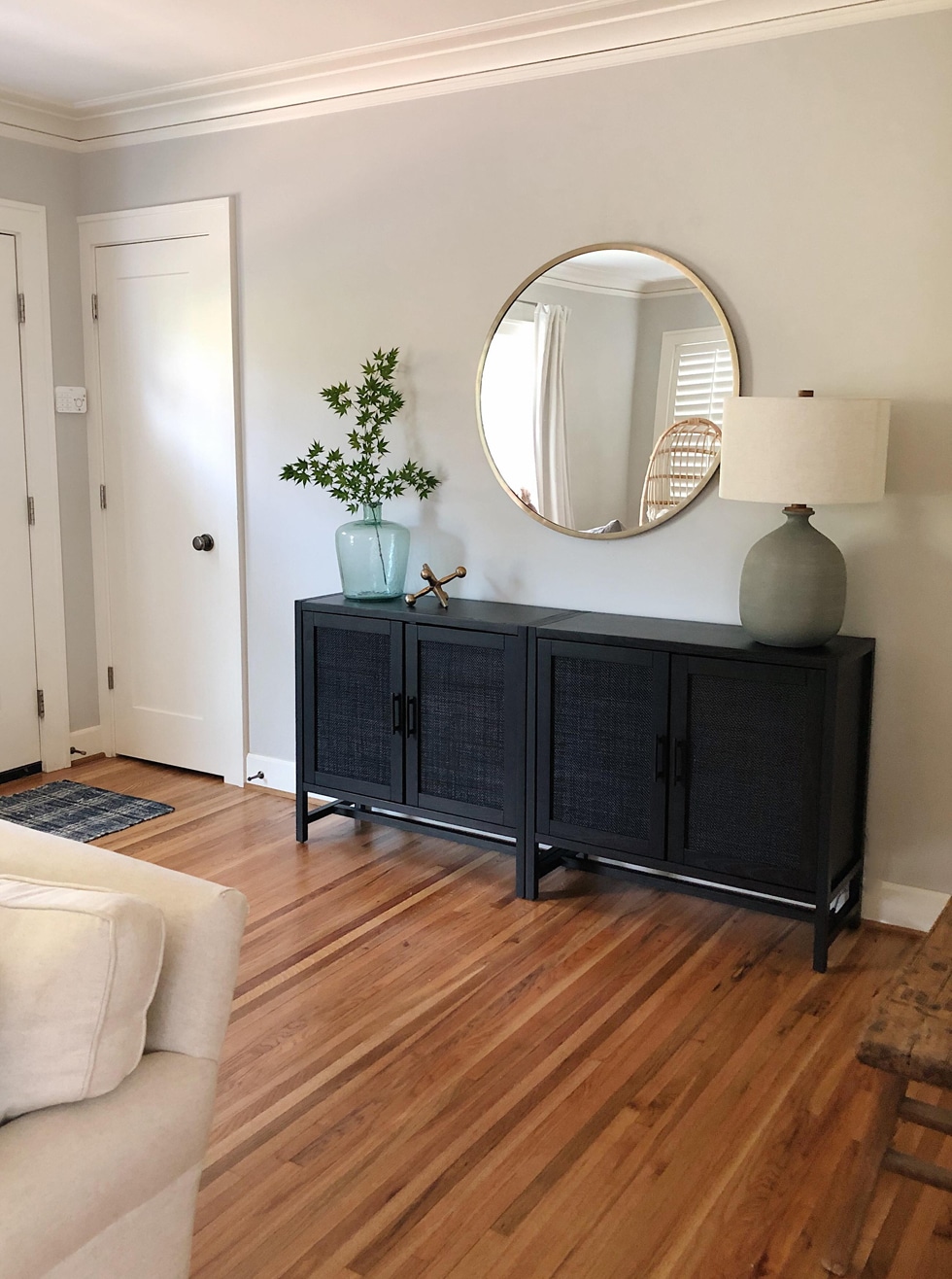 Hiii! Kylee here today. This week I've been cozying up my entry space. I have some art on the way and am considering eventually painting the walls and doors. I will share more of this space with you soon, but for now I wanted to show you my new cabinet! My original plan for this wall involved a bench, but I underestimated how long the wall was so the bench I had just looked small. So, I began hunting for something more substantial, preferably with storage.
In my hunt for the perfect entry piece, I had my eye on several similar black pieces that I loved (I'll do another post sharing some of my favorites soon!). The only thing was that to get one as long as I wanted it was going to cost at least a couple grand, which I was (begrudgingly) prepared to do.
During my search, I stumbled upon this cabinet that had the vibe I was going for, but it just wasn't long enough. Suddenly I had a realization!
I could double them up! Buying two of these cabinets and pushing them together cost me less than $500 (1/4 the cost of similar pieces I was about to buy!). Plus, if I ever get tired of it I have two smaller pieces I can use in a different way. They also come in white, natural, and brown so they'd fit in with any style. It actually comes in a 3-door version as well that would be perfect for a tv or for a smaller space.
This is the piece I was originally leaning toward and it looks SO similar. Of course, the arches are cute, but not worth $1500 to me :) Moral of the story: think outside the box!
Update: looks like the cabinets I bought have sold out since writing this post! You can click the button on the listing to be notified when they are back in stock, but I found a couple other options that could work as well:
These glass front ones have several color options. I bet you could even swap out the knobs for a more custom look!
I love that this similar one has a bottom shelf for styling!
This natural wood one has super cool scalloped doors.
Another wood option!
Here is a brown cabinet with woven panel doors.
Here is a blue cabinet with an open shelf and two doors.
Here is a longer carved wood cabinet.
---
If you're just catching up, here are a few recent posts related to Kylee's Move:
Kylee's Cape Cod Style House (first few photos!)
Styling Glass Kitchen Cabinets (Kylee's House Update)