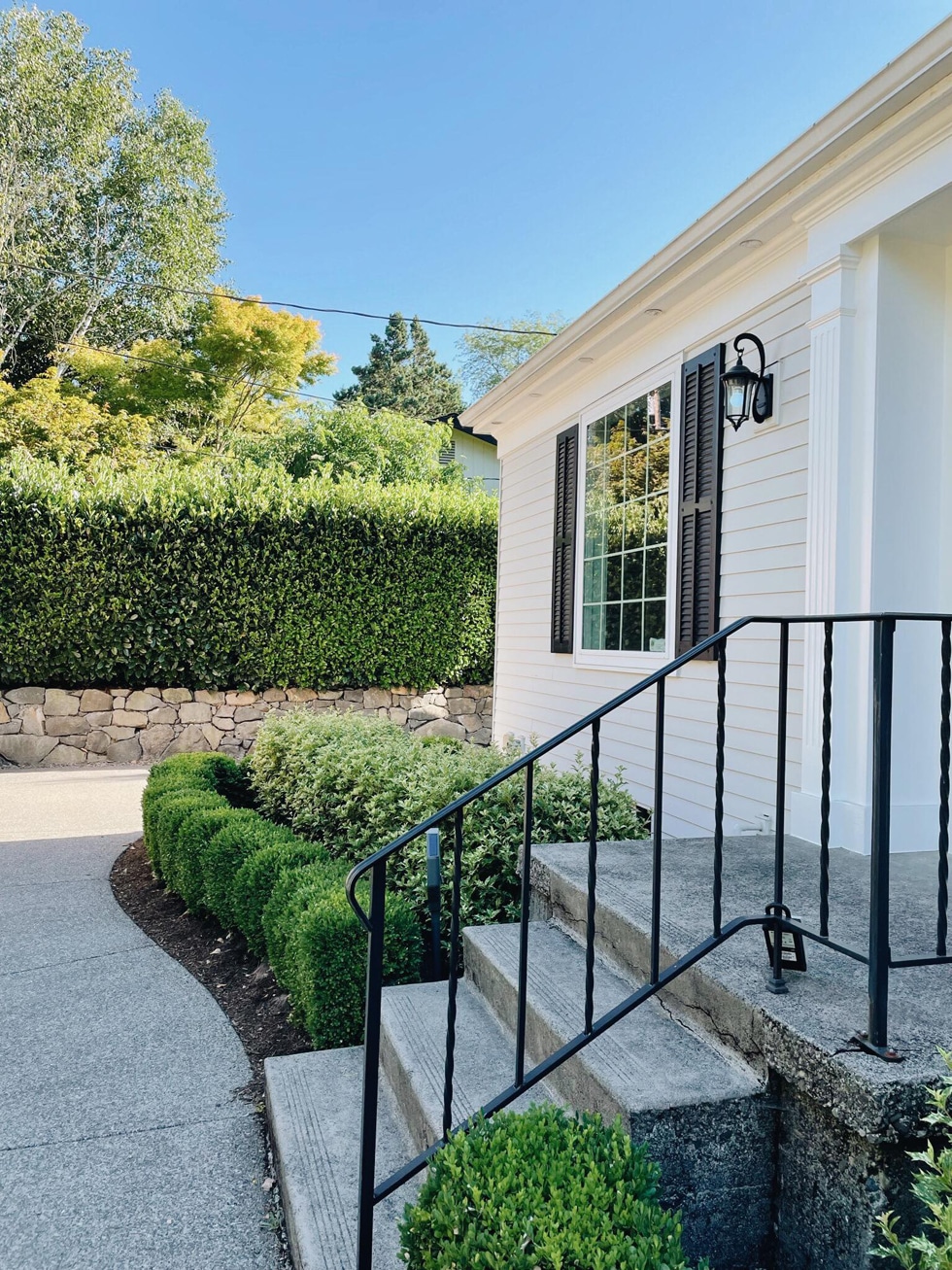 Hello! It's Kylee here to show you some more of our new home! Just a few weeks ago we moved into our new Cape Cod style home (or just a cape depending on where you live!). To be honest I still can't believe it's really ours! While we owned our townhouse for years, this still feels kind of like my first real home. No shared walls, a yard to take care of, more rooms than I know what to do with…am I a real adult now? How do I pick a lawnmower? When does one prune the bushes? So much to learn. ;)
I shared a few peeks of our new home here, but today I wanted to give you more of a full empty tour!
(Update 2022: you can see more photos of our home since we've settled in a bit here!).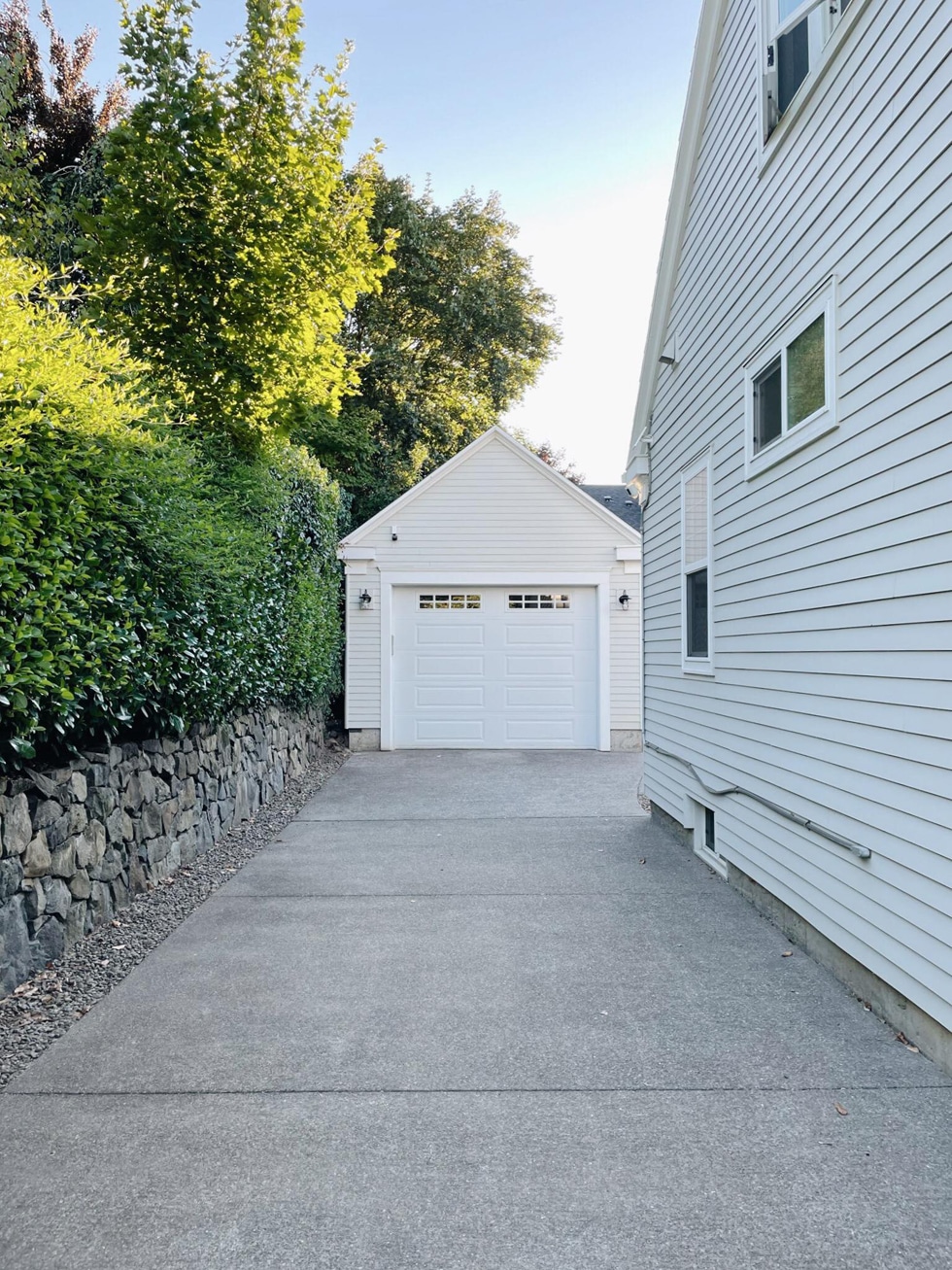 I've always loved the look of a long driveway that leads to a set back detached garage, so that's one of the features we loved about the home!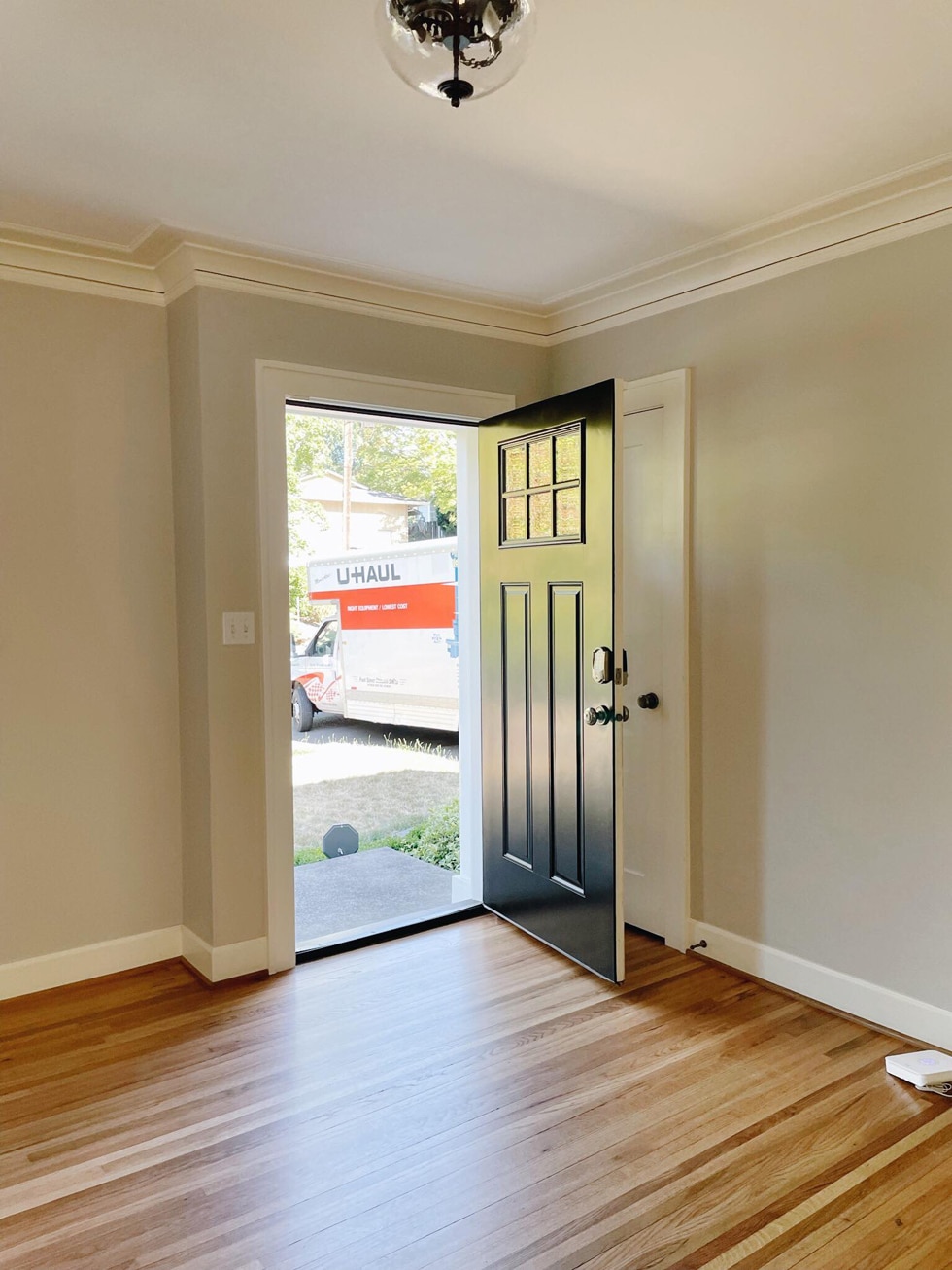 You enter the house directly into the living room, so one design challenge I am working on right away is creating a welcoming, entry that will *feel* like its own dedicated space.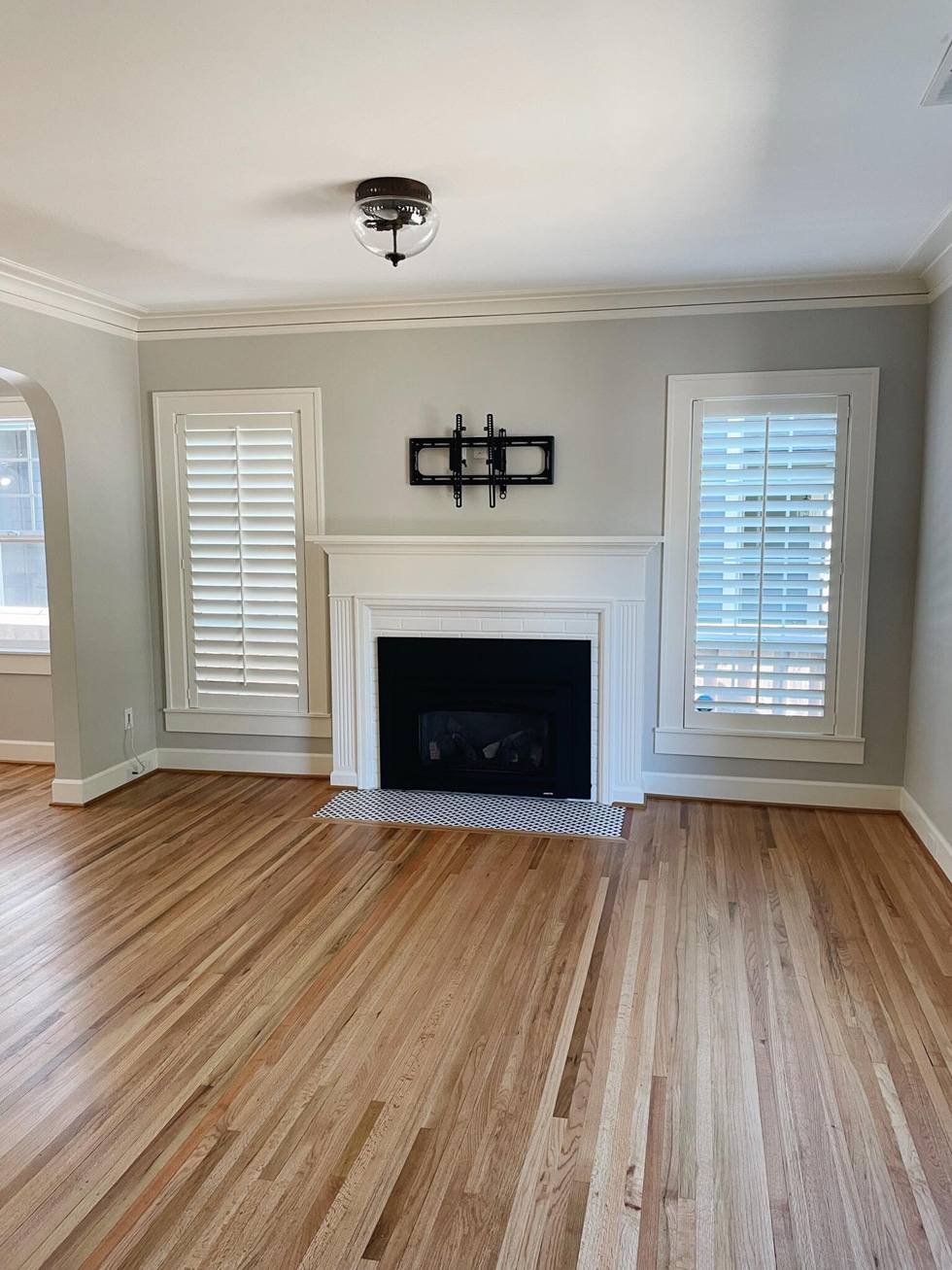 I can't wait until it gets chilly enough to use the gas fireplace! We loved having one in our previous home and are looking forward to having one again.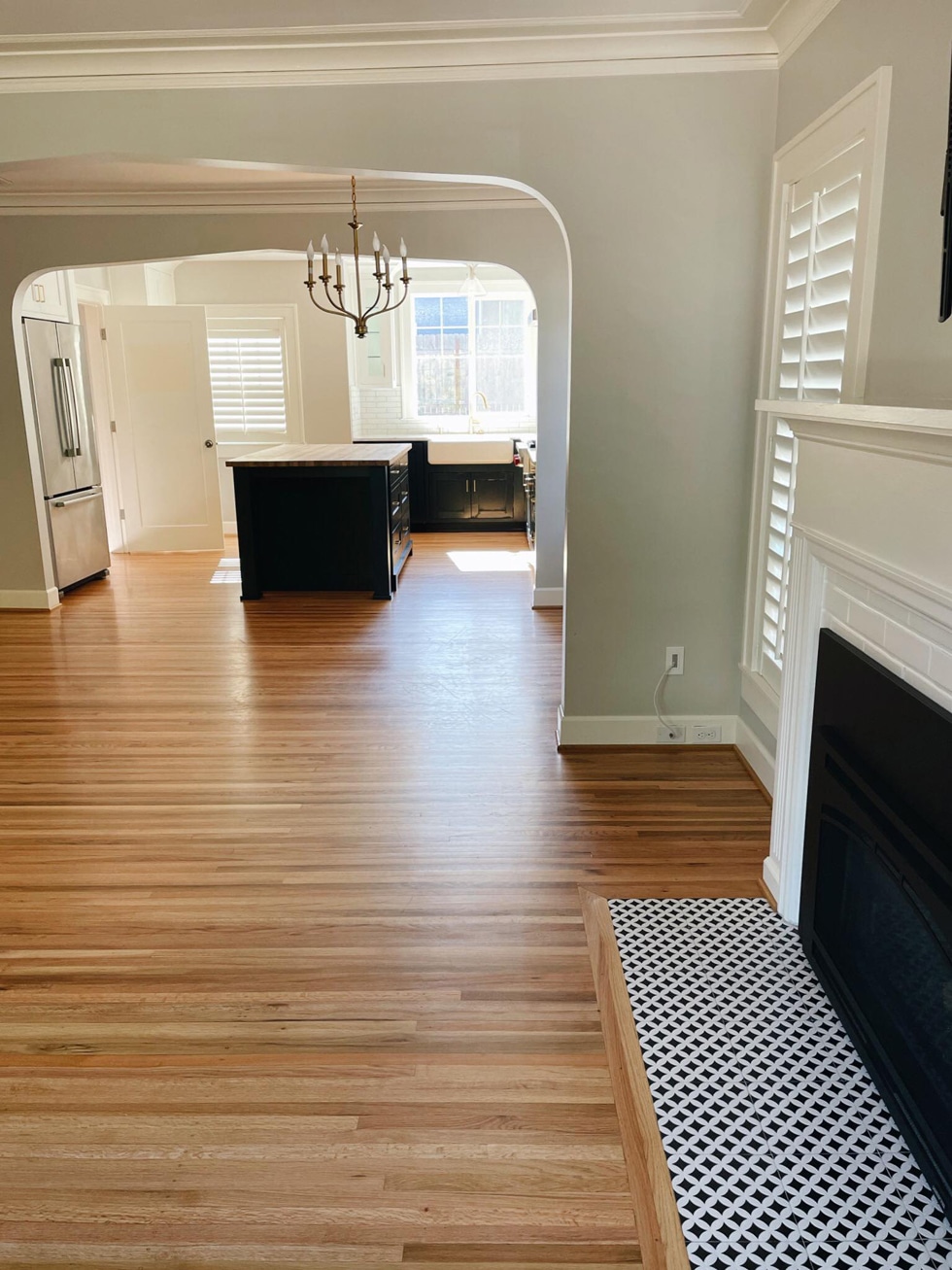 From the living room you can see into the dining room and kitchen, After years of eating around a kitchen island, it looks like we actually need to get a dining table now! The double arches make my heart flutter and I just love how this space is open, but still feels like individual rooms. While we looked at houses that were all different styles in terms of how open they were, there is something about homes with more unique floor plans and lots of rooms that feel so cozy and homey to me.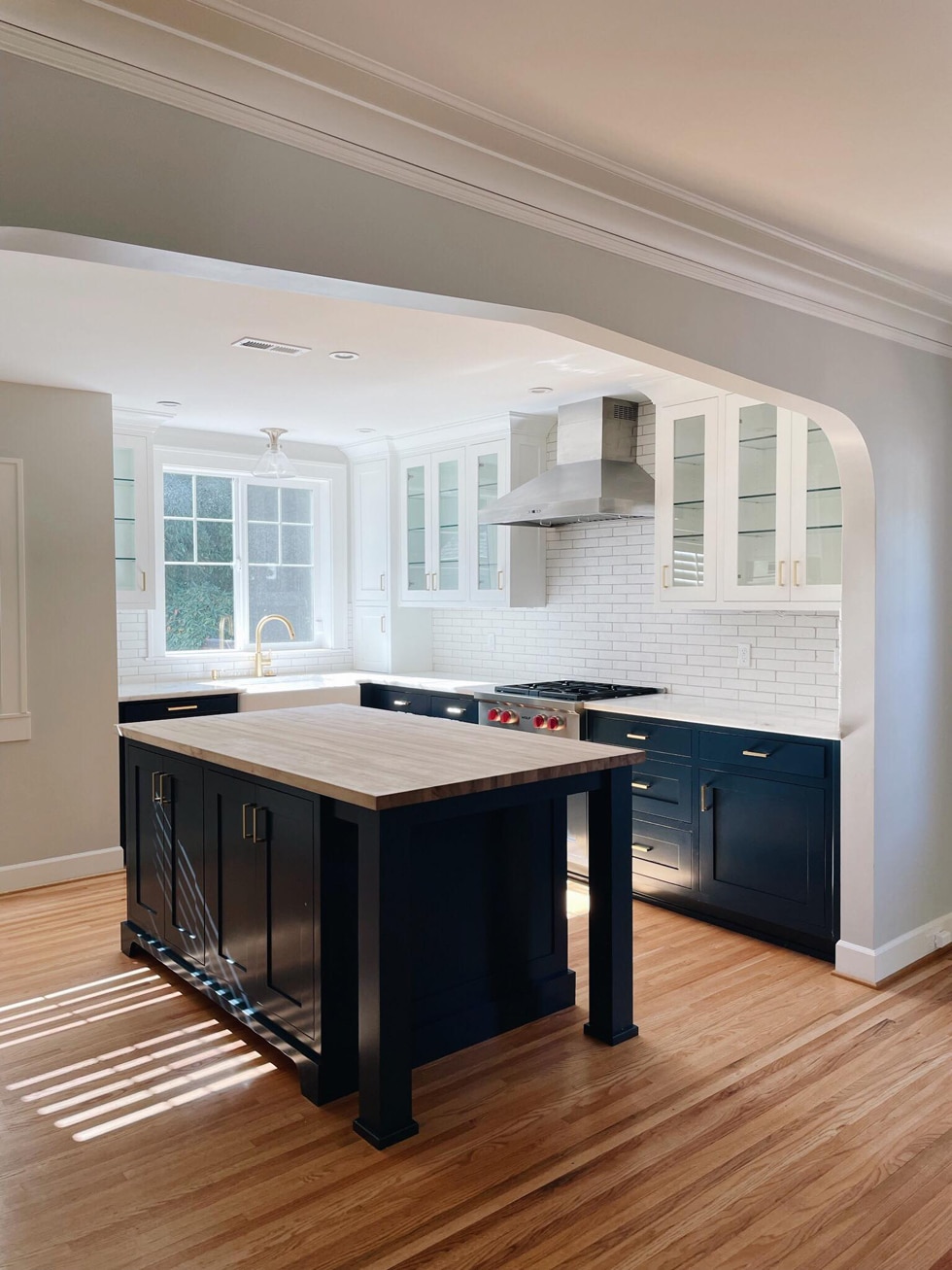 I'm still a bit shocked that we ended up with a such a beautifully remodeled kitchen. We saw lots of homes in our house search and even the remodeled ones usually had quite a few features I wouldn't have chosen, but this house has so many things I would have picked for myself! The housing market was brutal and after months of searching and losing homes (I shared more about that in this post) it was looking like we were going to have to lower our expectations and started to accept that a remodel may be in our future.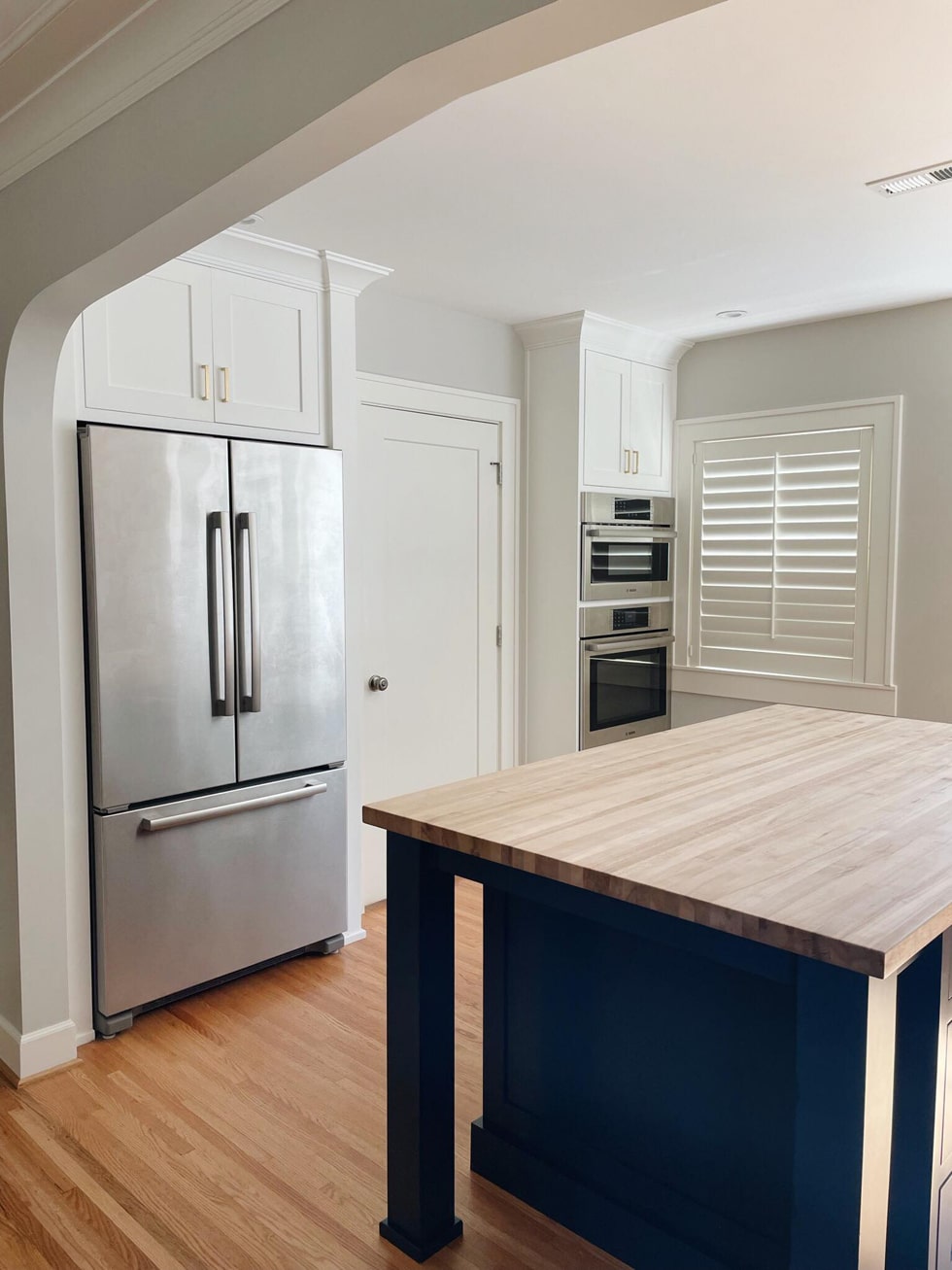 But, we got so lucky with this house! We'd noticed it when it was first listed, but it went pending right away (of course!). Then a few weeks later we happened to be visiting Portland and saw that the sale had fallen through and it was back on the market! So, we walked into an open house and fell in love and hoped that due to the circumstances, we might actually have a chance. And we did have a chance! We weren't the only offer, but we were able to get ours accepted!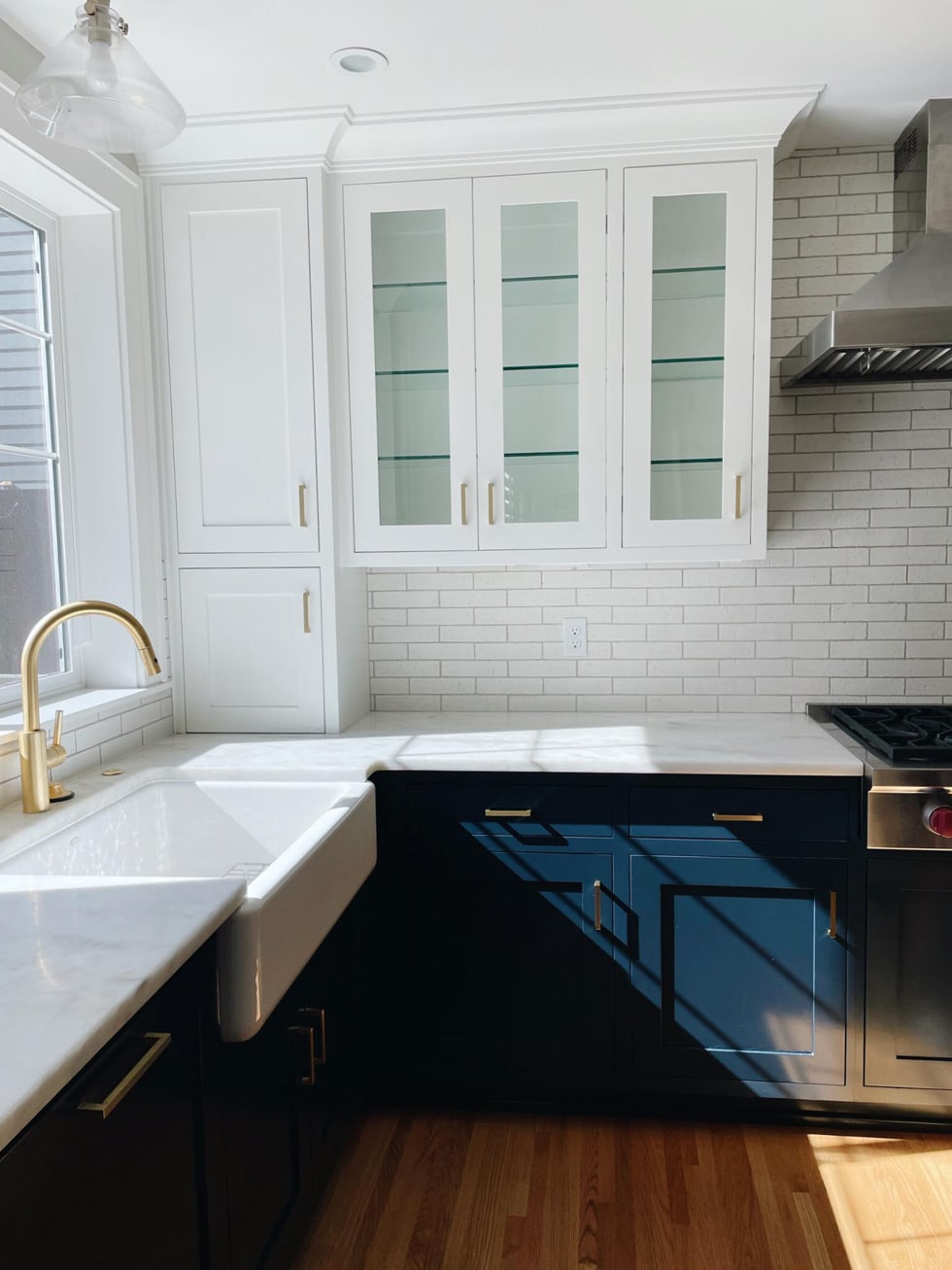 Overall, I love everything about the kitchen–the marble counters, the butcher block island, the paint colors, the light that streams in…I spend a lot of time cooking in here and it's been bringing me so much joy! I may change the light above the sink and maybe eventually add some pendant lights over the island, but for now it's perfect. Oh and in case you missed it, I already wrote a blog post about how I filled those glass front cabinets! You can read that post here (I also shared some of the kitchen sources in that post like our cabinet paint color).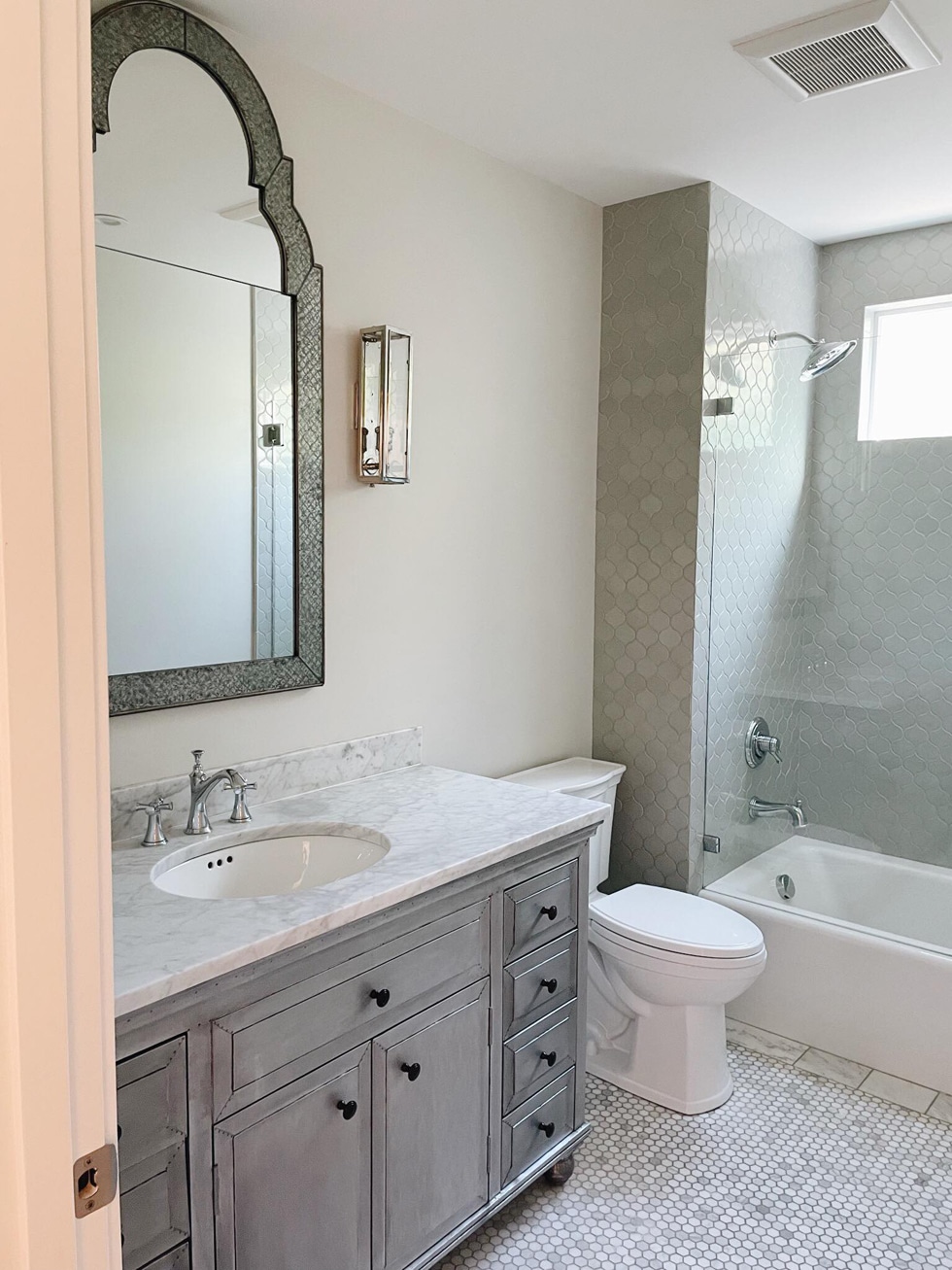 The house has three bathrooms and every single one of them was done so nicely! This one might be my favorite in the house because of all the gorgeous tile! This is the bathroom on the main floor between two bedrooms. I will spare you photos of the bedrooms, because they're really just two boxes. We will be using one for a home office and one as a guest room! I'll share those when they're looking cute. ;)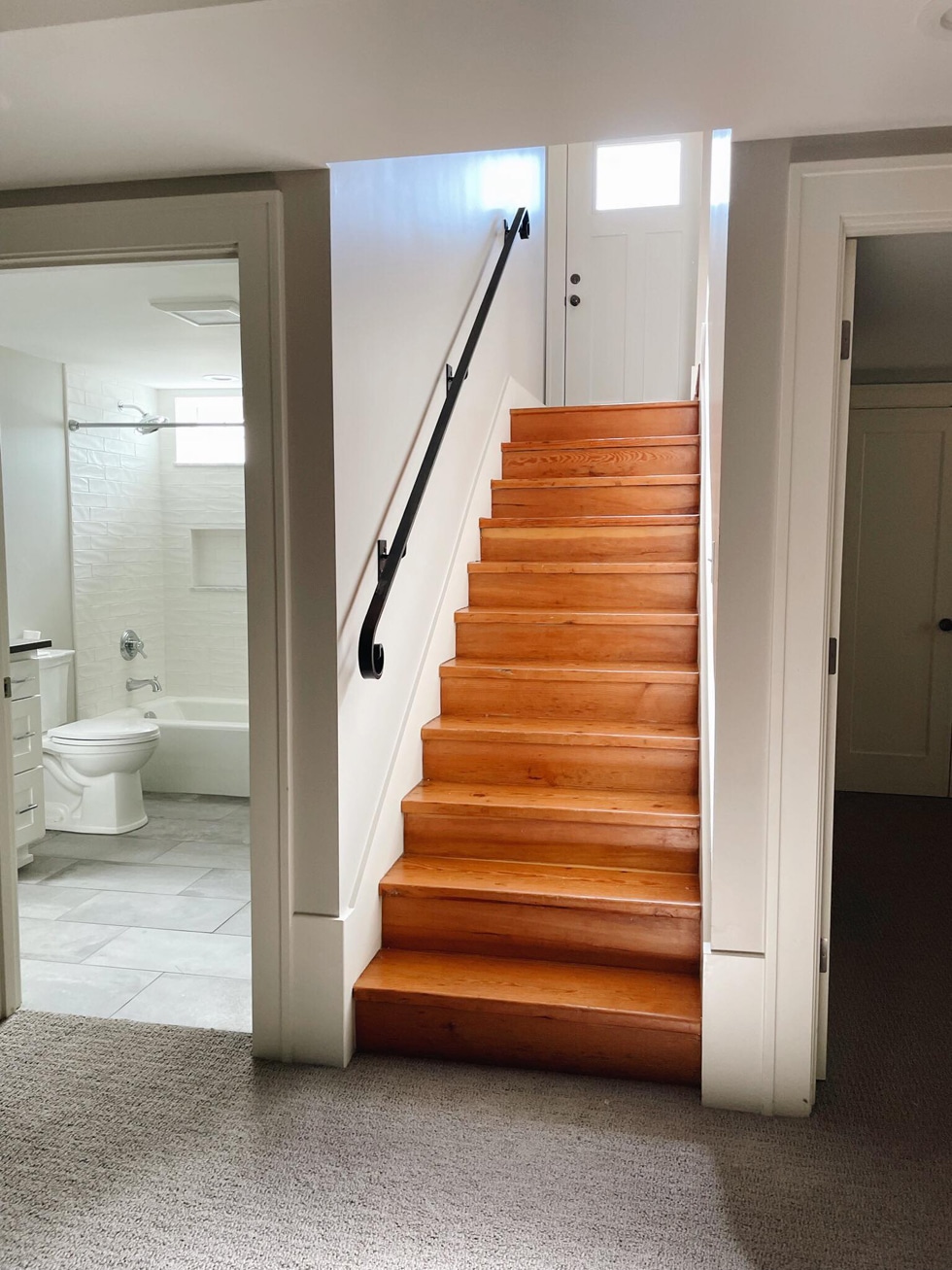 Then downstairs we have a finished basement. Pictured above is the staircase down and a bathroom on the left (even the basement bathroom was done nicely!) and another bedroom to the right.
The basement bedroom came with this pull down murphy bed and will be another great guest space for us! I imagine our upstairs guest room will be for short term guests and this will be for someone staying longer or who comes with kids or dogs (hi Mom and Dad and Jack and Lily!).
Then there is this big, open space with a fireplace and a space for a TV. This space isn't on our priority list, but eventually we would like new floors and paint down here. Maybe a big cozy sectional for movie nights?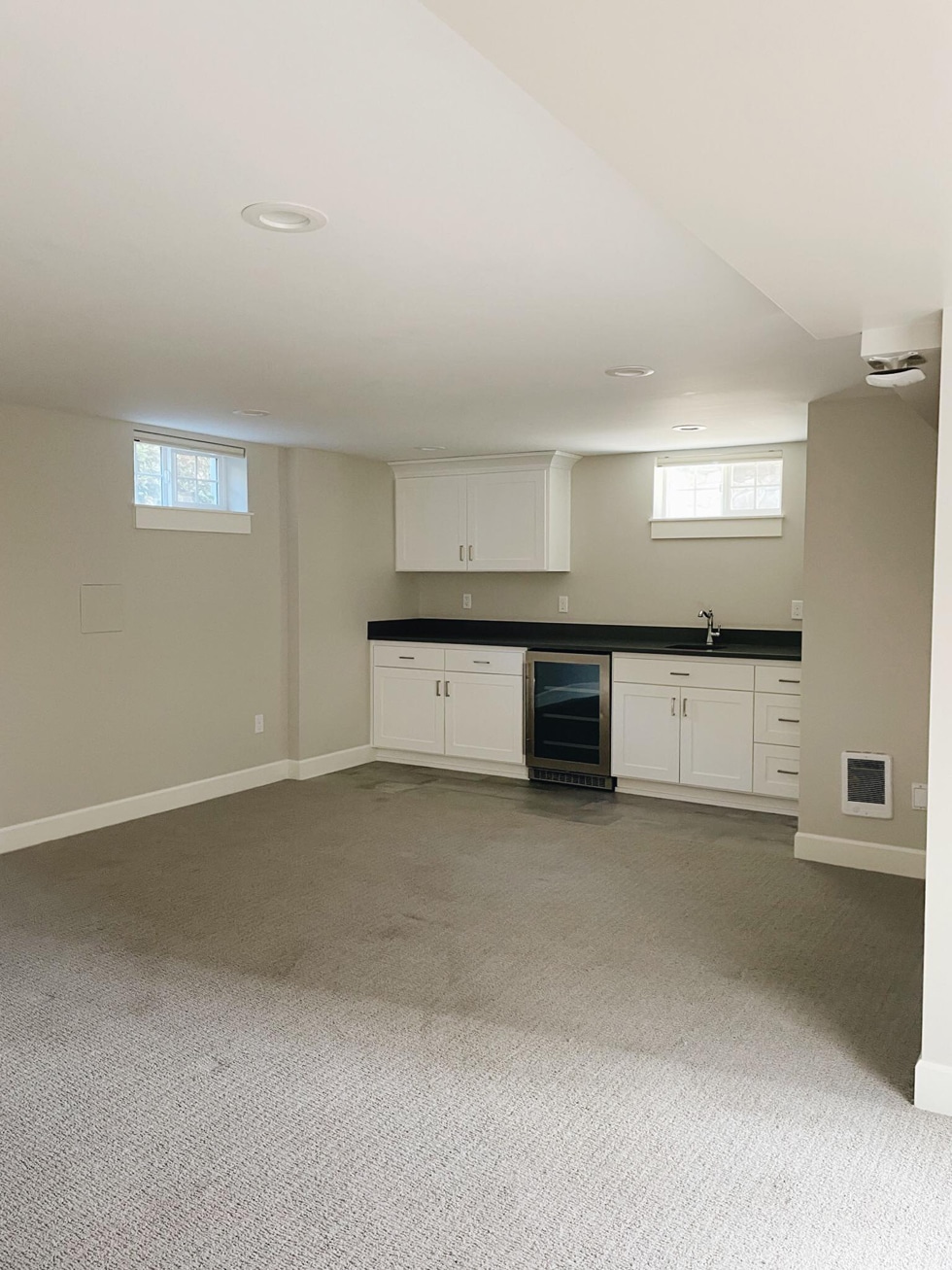 And on the other side of the open space is a wet bar/mini kitchen. We aren't entirely sure how we are going to use this space yet so TBD.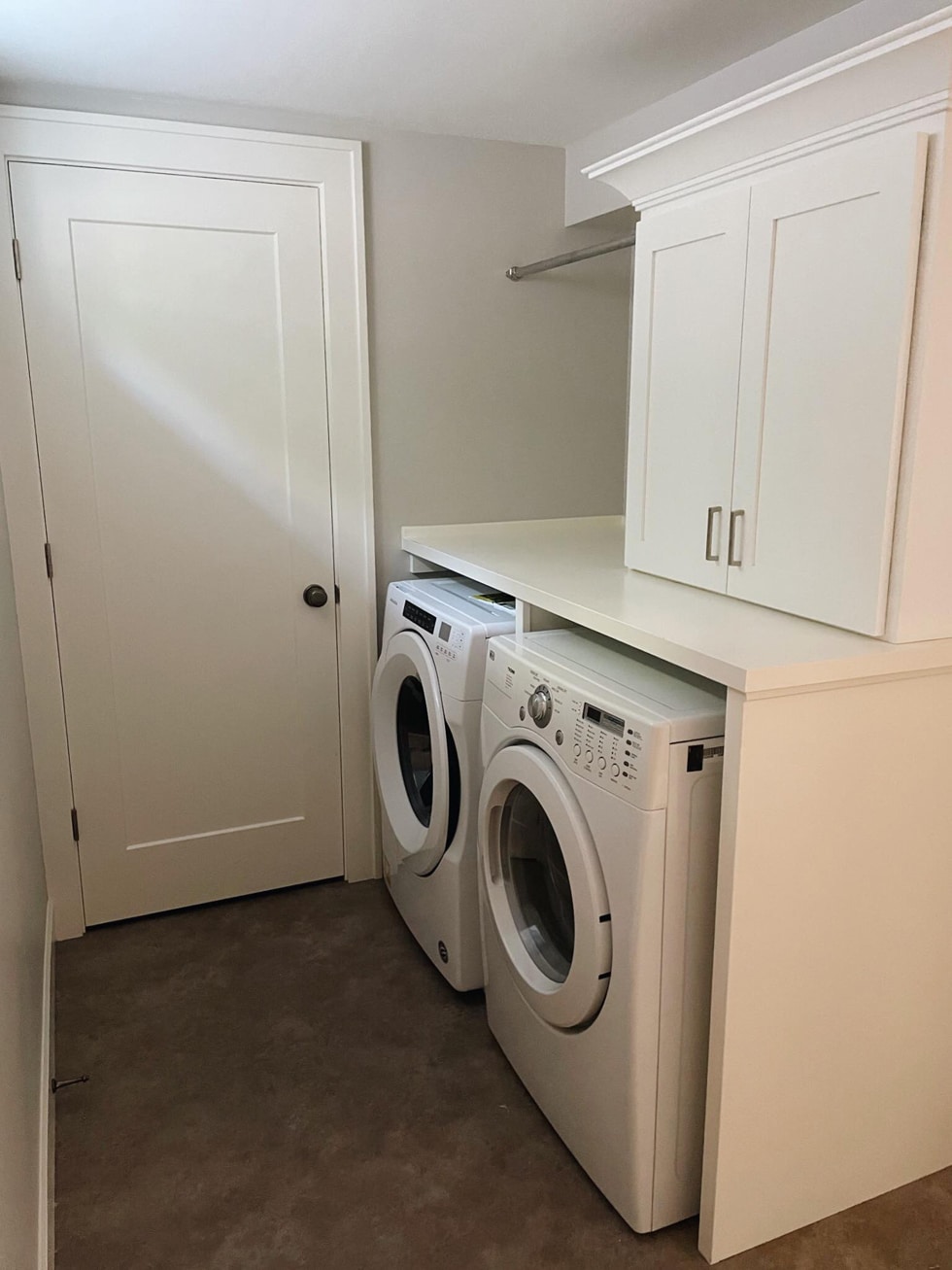 A whole laundry ROOM! In my townhouse I just had a laundry closet so this feels like a luxury. I'm thinking wallpaper may be just what's needed to spark a little joy into this space.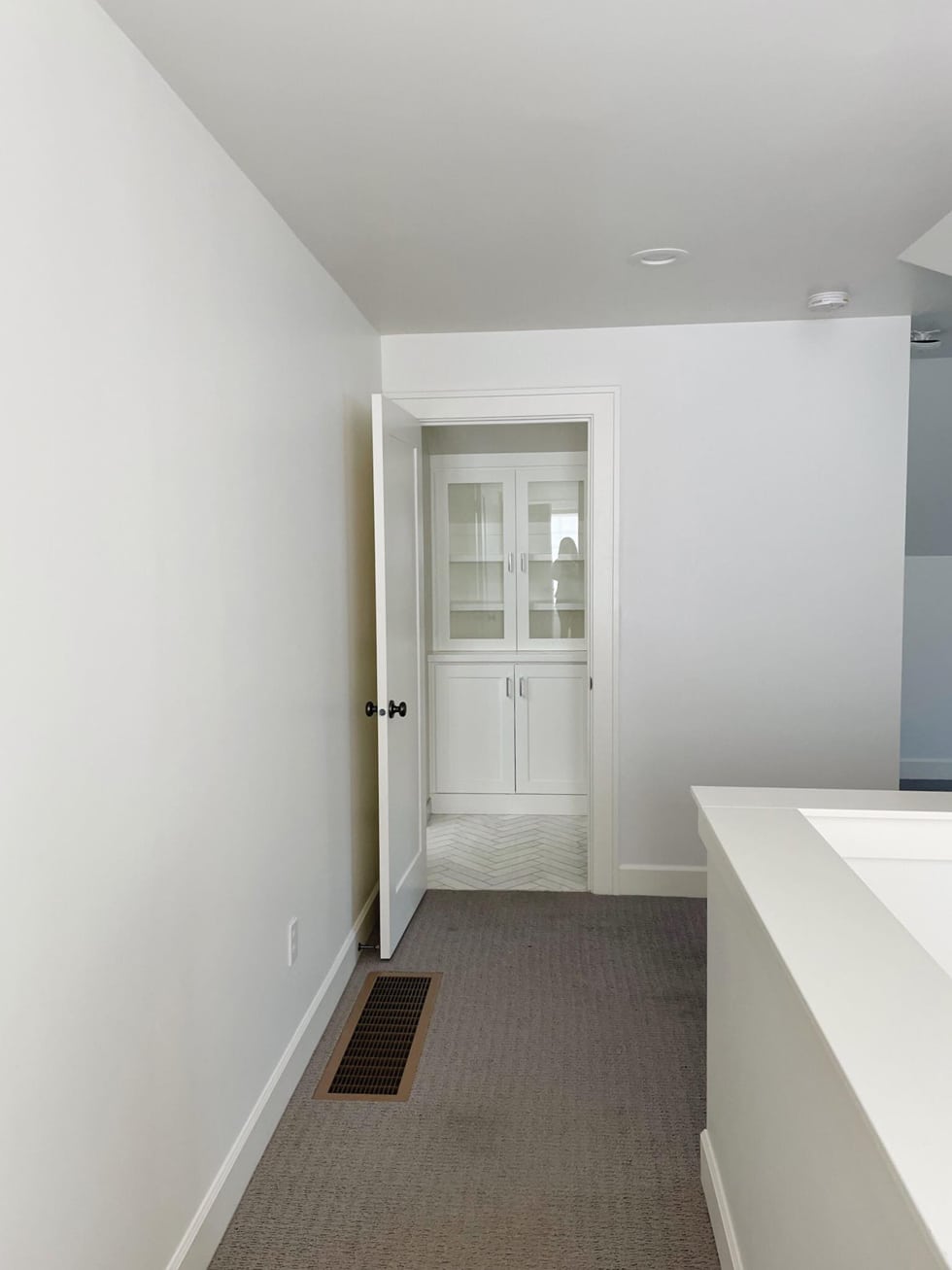 Now for the final space, the primary suite, which is basically the whole upstairs/converted attic.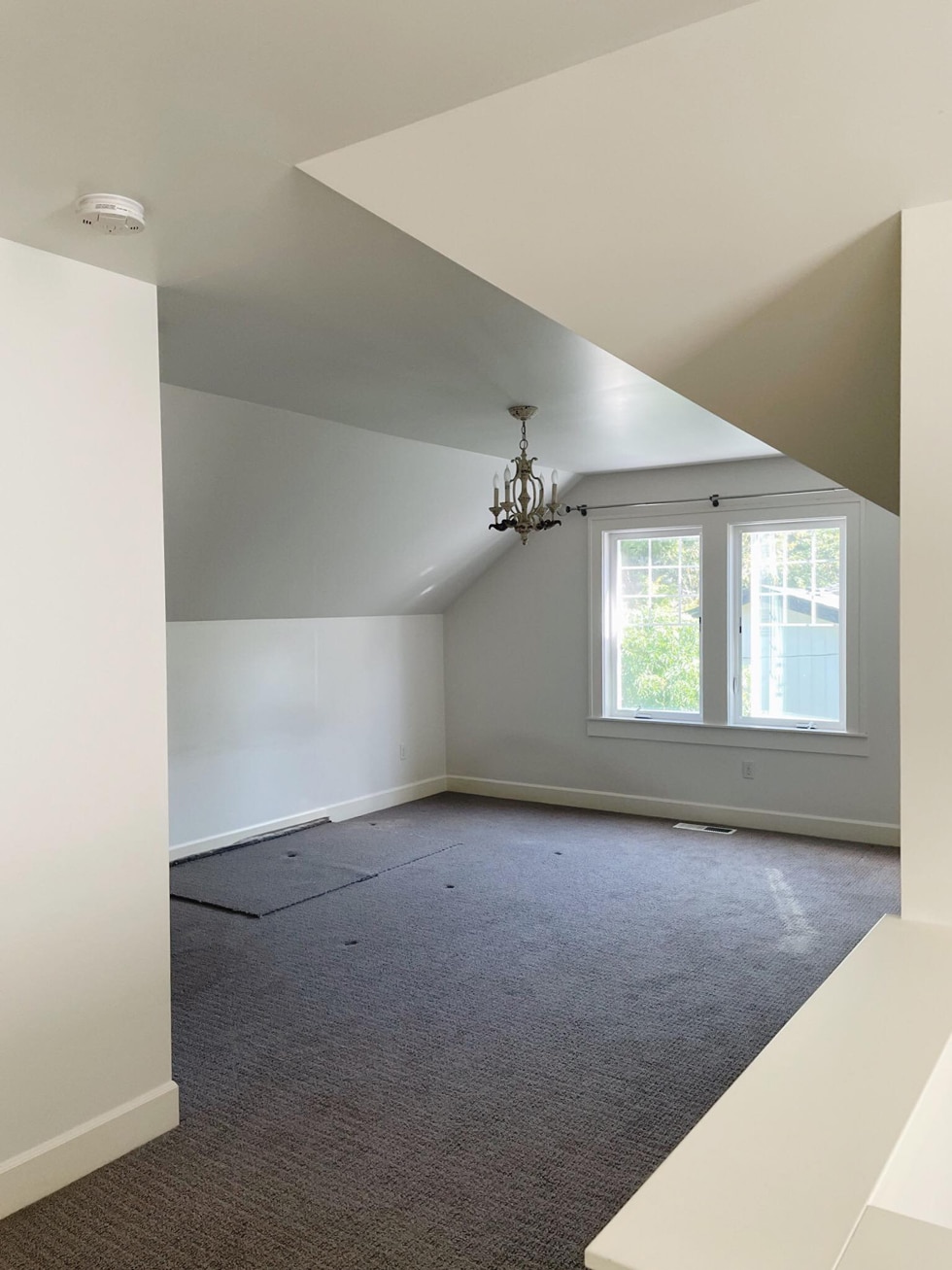 We have plans to get new hardwood floors up here soon. As anyone doing house projects right now knows, there are lots of delays on supplies, but hopefully this will be done in the next few weeks!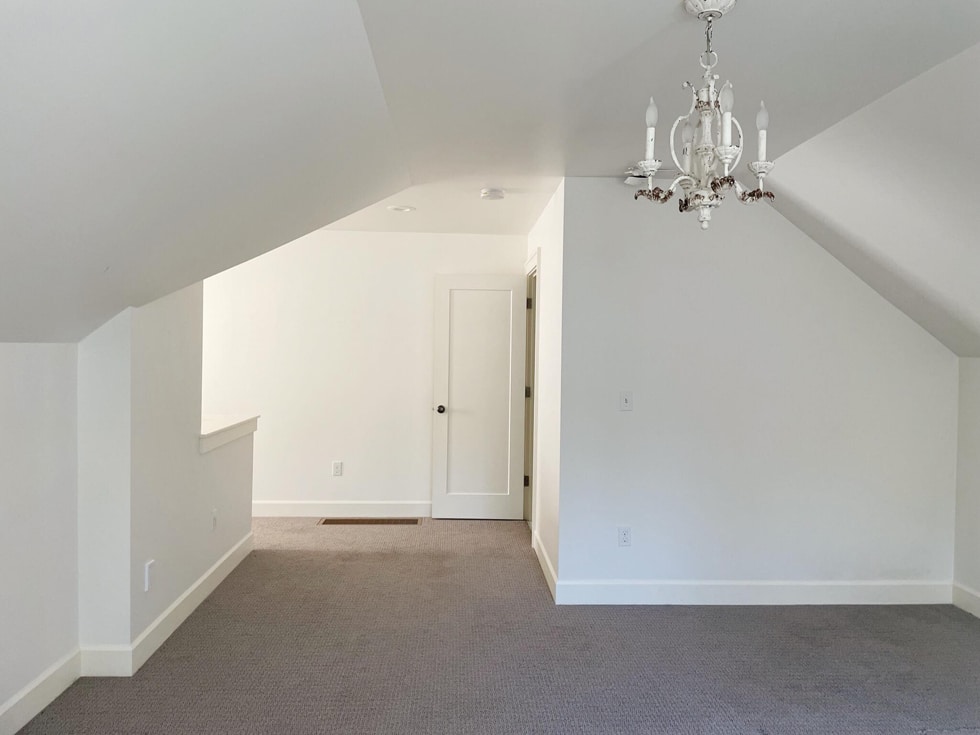 I'm still debating on paint colors, but we may actually transform this space with something darker to be a bit more moody and cozy.
The primary bathroom is a dream! The herringbone floors, the double vanity…I'm obsessed. We've considered a couple minor updates to make it more our own, like new lights and hardware, but we are enjoying it as it is for now.
Also, this shower. Can you even?! There's a little nook back there behind the shower that is kind of wasted space that I'm considering putting a vanity table to do my makeup. And to the left there is a HUGE walk in closet. Like, almost more space that we need kind of huge (not that I'm complaining!).
Thanks for coming along on this tour! We've already settled in a bit and started decorating so I'm sure I will be back soon with updates. If you follow along on my Instagram, I'll be sharing some of our progress in real time!
(Update 2022: you can see more photos of our home since we've settled in a bit here!).
---
If you're just catching up, here are a few recent posts related to Kylee's Move:
Kylee's Cape Cod Style House (first few photos!)
Styling Glass Kitchen Cabinets (Kylee's House Update)