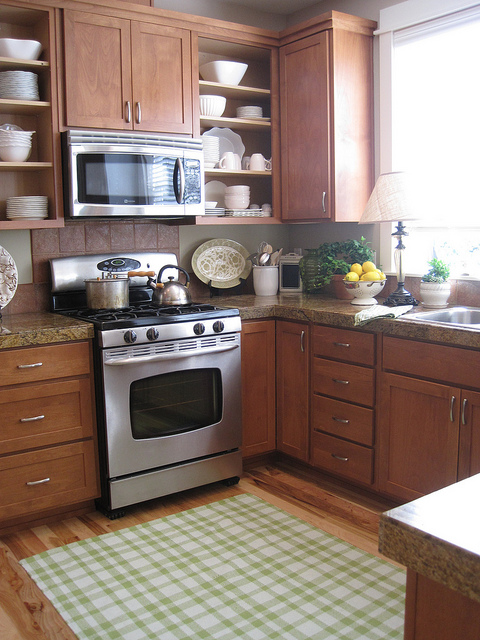 After cabinet doors were removed
I happen to love open shelves. They might not be for everyone, but they work for me. I am not in love with my kitchen, but even little updates make me happy. I'd love to go back to a white kitchen but that will have to wait for awhile. As a quick change when we bought the house, I decided to remove several of the existing cabinet doors. It took about 5 minutes.
Removing a few cabinet doors was a quick and simple way to break up some of the wood and show off my favorite white dishes. It didn't solve the fact that I don't love my kitchen, but at least I can look at the dishes I love every day. Someday I'll paint my cabinets white, get new counters and back splashes and add new knobs and glass doors to my open shelves (oh how I miss my old kitchen!) But for today, I'm content. I can live with it.
before we moved in and before cabinet doors were removed
See what the cabinets looked like when I was looking at the house, prior to buying it? Not much else has changed yet about the room, but the removal of the cabinet doors gave the kitchen a little more interest, charm and personality.
Ever since I took the cabinet doors off, I've received quite a few questions about the open cabinets. I already wrote a post about open shelves last year, but I still get the same types of inquiries.
Here are the answers to the most common questions I get on having open shelves in the kitchen.
1. Don't your dishes get all grimy from the stove?
No. The dishes do not get grimy because the dishes I put there are every day dishes meaning, we use and wash almost all of those particular dishes every day or every week. They are constantly being washed. If these shelves were filled with decorative items only, I'd be a crazy woman cleaning all the time.
The upper dishes that do not get used as often are simply cleaned up as needed, or just prior to use, which is actually what I would have to do even if we had cabinet doors. Dishes that don't get used get dusty or grimy, even if you have doors! Yes, it is true! It takes about 30 seconds to wash a dish so having to wash one every now and then prior to use isn't a big deal to me.
2. Do you go out to eat instead of cooking?
No. We cook at home. Really!
the refrigerator chalkboard project
3.  Do you have a maid that takes the dishes down and washes them for you every day?
No, I have never had a maid or a housekeeper.  Somehow we manage to wash the dishes we use every single day. It is a MIRACLE! We have super human powers.
4. I love the look of open shelves but mine would never look that organized. How do you keep them looking neat and pretty?
Again, we have super human powers. Just kidding! Seriously, how could you mess up a stack of white dishes? Is that even possible? Notice how my dishes are all in shades of white. they never clash with each other or get messy because they stack easily and they coordinate. They always look good, no matter how I put them in the cabinet. I like to make life easier for myself, not more complicated. I would not choose to put ugly boxes of Saltines or Metamucil on open shelves because they would not look good. Ever.
5. What happens when your kids or husband put away the dishes? I bet the shelves look awful unless you style them!
My kids and husband all understand that you stack dinner dishes together, salad plates together and bowls together. That is the extent of my need to "stage" a shelf. All of our every day dishes go in the same two cabinets. The only way I can imagine my family messing up my shelves would be if they tried to stack plates teetered on top of cereal bowls or decided at random to put our Tupperware or fruit snacks where the white dishes go. But they don't do that. I've trained them well.
6.  What should I put on my open shelves, I never know what to put in them?
If you don't know what to put on open shelves: here is your tip: White or other coordinating every day dishes, metal or glass baking dishes, baskets = always pretty. Boxes of crackers, medicine bottles and plastic food containers = always ugly.
On my baking shelves I use baskets to corral the unsightly and on other shelves I put canisters, baking dishes and muffin pans. They never look messy. Even when when one is "out of place" or slightly askew, it still looks charming. In fact, I think they make me look like I must cook. The Pioneer Woman would be proud of me.
7. How do you cover up the holes where the cabinet screws were?
Ahhhh, I don't? The holes are small and I don't even notice them. I could fill them with wood fill but I just haven't bothered. Sometimes you just live with imperfect and yet somehow, life goes on.
8. What are you going to do with the cabinet doors you removed?
I immediately made "shutters" out of them for over my fireplace! Here is the post about covering the fireplace niche with the cupboard doors.
I solved two problems in one by removing those kitchen cabinet doors. I fancied up my kitchen a little bit AND I re-used the doors (after painting them) to hide the awful "giant TV hole" above my fireplace. I'd say it was worth it!
If you want to know about the wall paint, you can find the paint colors here.
9. I like everything behind closed doors, don't open shelves stress you out?
The look of open cabinets is not for everyone. I know some people prefer the tidy look of all closed cabinets.
I don't want every cabinet door in my kitchen to be removed, I like a mixture of open and closed storage. I do not get stressed out by real life stuff at my house and so having a few things I use that are visible just make me feel like I am living an authentic life. I also LOVE to be able to easily grab what I need right off the shelf!
If you love a little more eclectic kitchen, can handle every day clutter from things you love and if you love the look of a real working kitchen, give open cabinets a try! I promise, you won't have to hire a maid.
Have you tried open cabinets? Are you afraid to try? What do you have to lose? {You can always put the doors back on if you don't repaint and reuse them as shutters, that is. Although, I actually could put them back on since I am planning on painting my cabinets someday anyway!}
Related kitchen posts:
White kitchens
Kitchens: 5 Take Away Tips
How to have open shelves without daily staging