Garden Sheds
My backyard has no real landscaping or structure. No, that is not a photo of my backyard, unfortunately. But I wouldn't be mad if it was, I dream of a gorgeous patio, shed and landscaping! One of the obvious drawbacks of a new house is usually a lack of landscaping to start out with. To make matters more challenging, our yard doesn't have a great view either, unfortunately, and no trees to camouflage it. So, we are basically just out in the open, other than our six foot fence.
But, on our budget and short time frame to find a house, we realized we couldn't have everything right away! And I like to come up with creative solutions (creative concealments, hahah) so I'm OK with the challenge and being patient.
We intentionally chose a house with a pretty small lot to make future maintenance and investment mangeable. We've lived in houses with large yards and mature landscaping that took several hundred dollars a month or more to maintain the shrubs and grass, and where every weekend and vacation was spent doing excessive amounts of yard work. That was crazy for people like us — I mean, I do like having a cute yard, but not bad enough to spend hours of my life trimming hedges.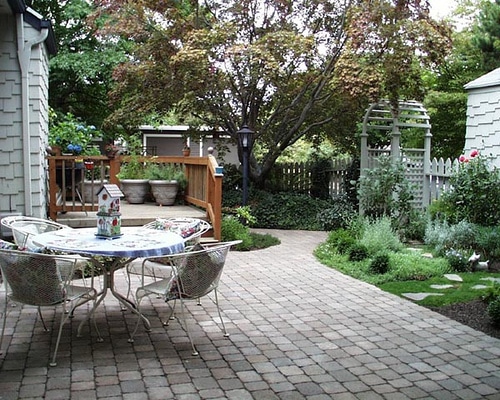 Small and manageable is more my style, so designing something I like and can manage for this stage of our life will suit me just fine. Many years back my house in Eastmoreland (Portland) had my favorite backyard, you might remember me showing it to you before (above).
It started out with the borders of a super cute jumbo picket fence, a charming garage which was really just a shed-like structure, and a beautiful tree. But other than that, it just had a boring patch of yucky grass in the middle. We added an adorable arbor, a paver patio to make the space functional and easy to maintain and then a planted a sweet garden area I LOVED with all my heart. It was so therapeutic and fun to work in that garden.
So, back to this house, last year we put in a fence for Jack, which helped define our yard and made it feel much more private. It still isn't all that great, but I can still see potential to be "better than it was." Our landscaping is basically just dirt over rocks with a few weeks sticking out. And our budget is tiny. Challenges all around.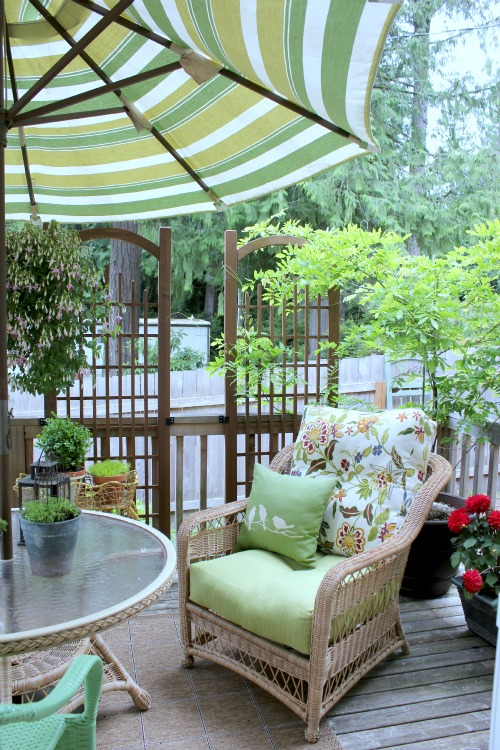 We've done a few little things in the last couple of years, like set up our little back deck with a few trellises and vines from Lowe's to begin to conceal the view from the deck.
We also set up an "outdoor room" for a potting table and is next to an area I put a fire pit for summer nights— nothing too fancy but it is functional. Little by little, we plan to set up small areas that are functional in the summer time and easy to maintain all year. With a puppy running around the yard, we didn't really want to do much more than that since he probably would have destroyed plants or dug up gardens.
Mostly our yard has been for Jack to run around in like a maniac and burn off energy, but I do want to create more structure and garden areas for people, too.
I think little sheds are probably the cutest things ever in a yard (see the cute sheds, above and below!).  They really do help define the space, bring a focal point to the area, and also help with taking up yard space so you have less to work on! See how I think? Always trying to make less work for myself while making things cute. It is my mission in life.
I doubt we'll ever invest in a fancy shed like these, or plant extensive landscaping or install beautiful patios, but it's fun to dream. Last year I dreamed a whole bunch of things and they all came true so I don't doubt the value of big dreams!
And these sheds are actually giving me some ideas that might actually be doable — even on a small budget! Sometimes you just have to start with something, to get the creativity flowing!
One of my blogging friends, Donna from Funky Junk Interiors, has an adorable backyard shed personalized with her own creative flair. I'm thinking with a little creativity I can figure out something cute for my backyard, too.
Any ideas for where to find cute but affordable sheds?
Are you starting to dream of spring projects in your backyard?
Stay tuned for a FUN WEEKEND GIVEAWAY!!!
related posts:
Charming Patio Spaces
Charming potting shelves
Pretty & Practical Backyard Sheds