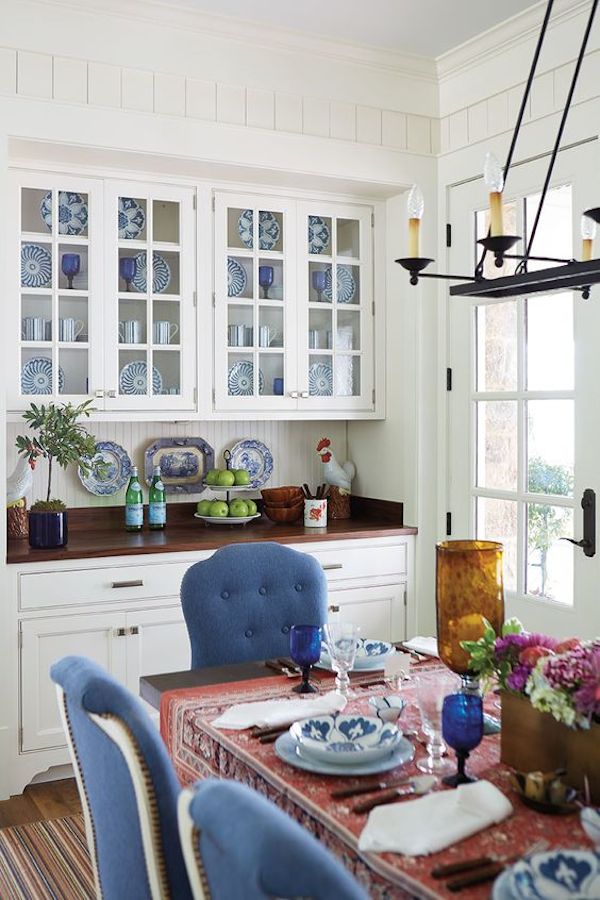 Southern Living Idea House with Bunny Williams
Now that our side yard is underway (insert big squeal of JOY!! I will admit, I look at it dozens of times a day!), I'm starting to connect the spaces in my dream planning. Meaning, I would love to have a home that flows well from room to room, as well as from inside to outside whenever possible. Even when you don't have the ideal setup (whatever that might be in your own  mind), it's good to make sense of your design decisions, making the very best of what you have to work with.
If we proceed with the kitchen being relocated to the dining room (which is the winning idea at this point, but you know, minds can change!) and if the new dining area is relocated to the existing kitchen (with a banquette along one wall) we will still have a single door out to the porch, which will lead to our small side yard. That layout is already existing, but it wasn't used as effectively as it could have been and it was lacking in charm. I think using the space you have more effectively and simply adding charm to it is so much fun. Oftentimes being budget-minded makes you think more creatively about what you have, which I really love.
The door (which will be a Dutch door, as I've said probably a trillion times already, hahah, EXCITED MUCH?) will remain the size it is, no installing big grand double doors out to a glorious backyard, but it's a door that can be made more charming! And for that, I say, YAY! And now that the side yard is getting a makeover, that door is going to lead to a very cute outdoor space for our BBQ grill and seating, so I'm THRILLED.
It is so nice to have a starting point to work with that we know we will love (as it is our first project). That space is inspiring me to connect the dots between the outside, that dream-to-come-true Dutch door and into the rest of the house.
So as you enter that Dutch door (say it with me again now, DUTCH DOOR!), you'll come into a room that right now I'm dreaming of being a cross between the dining room (located on the far side of the kitchen) and a mudroom type entrance since it's a door we might even begin to use more than our front door.
Yeah, let me just pause and say it would be so cool if it was able to be only one of those rooms, but in a relatively smallish one level home with a basement (our main floor includes the kitchen and dining room, living room, three bedrooms and a bathroom and it is about 1500 square feet, not including the basement which of course is a luxury we are thrilled to have) you definitely make compromises.
No complaints from me though, I love the puzzle of making the most of our space.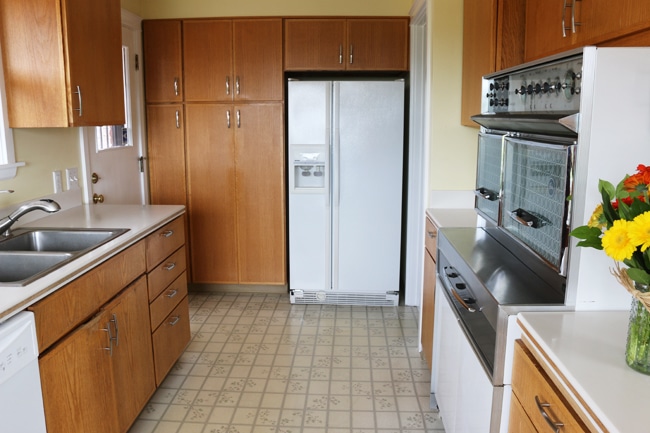 At the far wall, next to the dream Dutch door, is this wall of cabinets (and the current location of the refrigerator). Great storage and yet, room for improvement! That's good.
The dream Dutch door will be at the far side of the dream banquette dining table, so I imagine this wall as useful storage space for the kitchen and dining room. We could possibly even just refurbish the cabinetry that is already here and transform this wall into a really charming dining and kitchen storage space, thus the inspiration photos in today's post.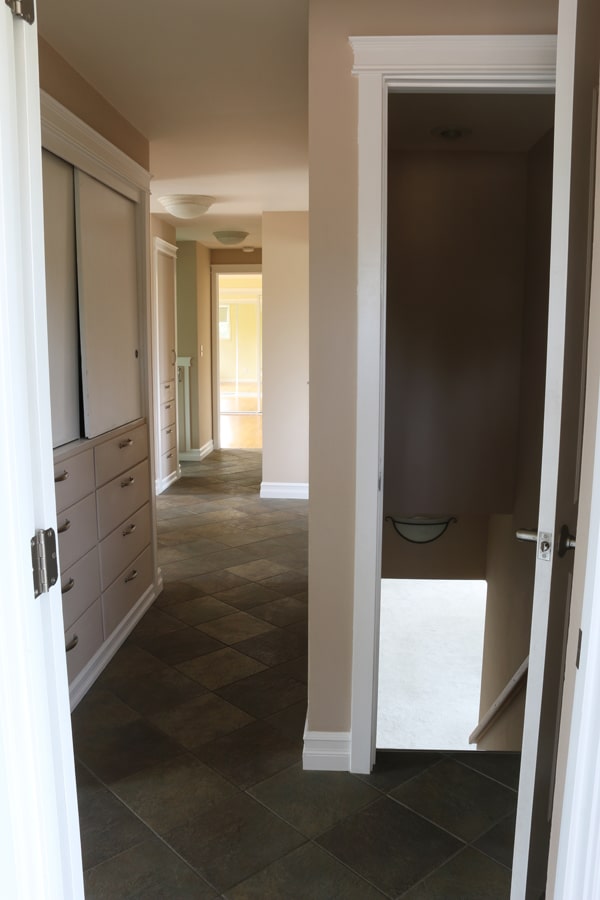 You can see the hall that is presently through the door to the right of the fridge, above. The current basement stair wall could be opened up to make the hallway feel more spacious, and the existing cabinet could be snazzed up a bit to look more like a butler's pantry, even though it is located in the hall, because it would be a convenient location for overflow platters and dishes. A little reimagining and it will be a cute cabinet!
If you keep going down that hall, you'll loop around to the right and end up in the new kitchen so it's a great circular floor plan.
I hope you enjoy today's inspiration for charming dining room built-ins and butler pantry style cabinets! It's fun to share this journey with you all.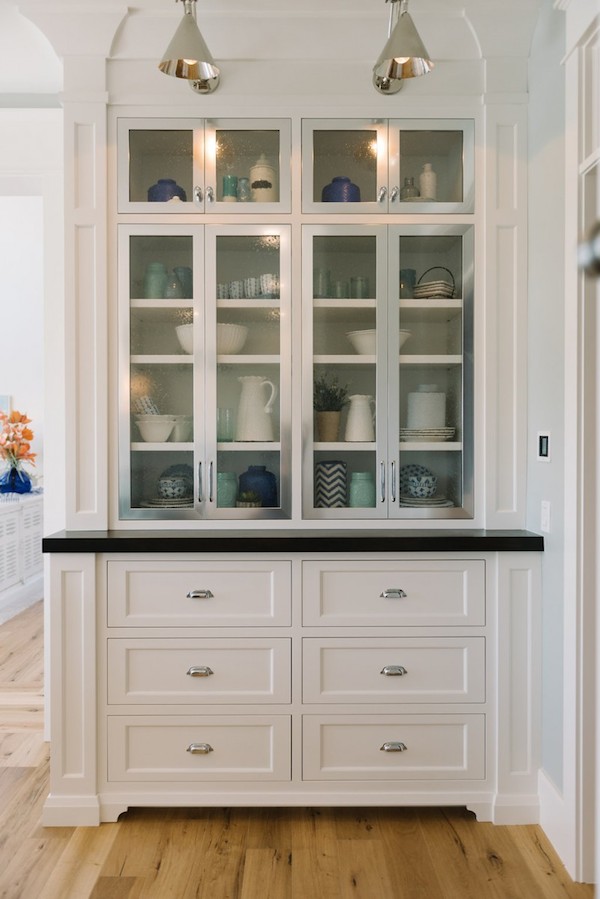 Millhaven Homes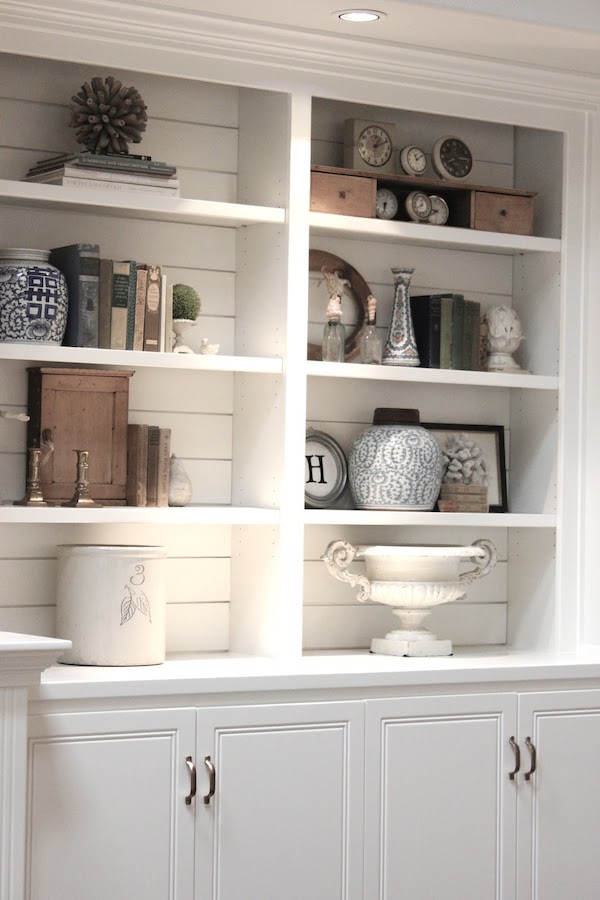 Jill Hinson – Forever Cottage