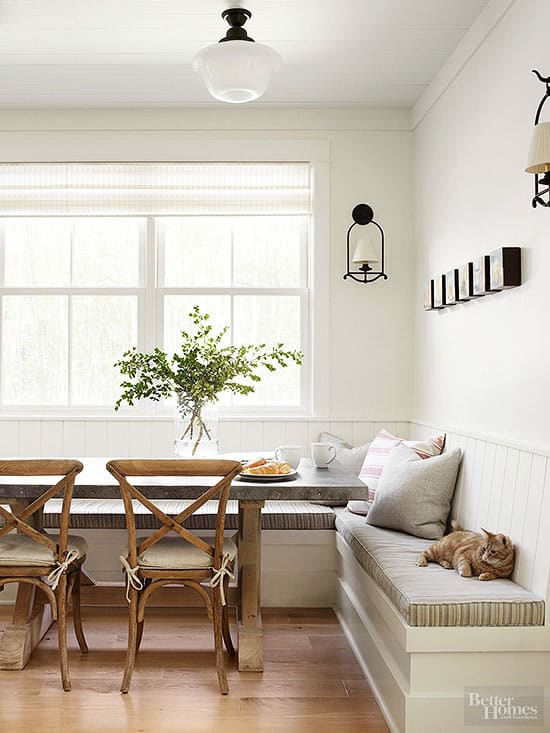 Banquette inspiration photo: BHG
Happy Monday! Hope you all had a great weekend! Last week I shared a new idea for our kitchen that I'm pretty intrigued with! If you missed the post, you can find the inspiration photos and thoughts here.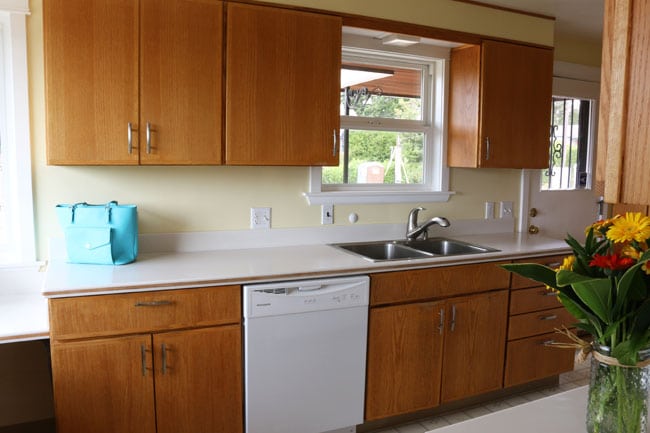 Our current kitchen is tucked into the small back corner of the house, with the sink below a small window overlooking our neighbor's new house and our side-yard, which is currently getting a fun makeover of its own (see that project here).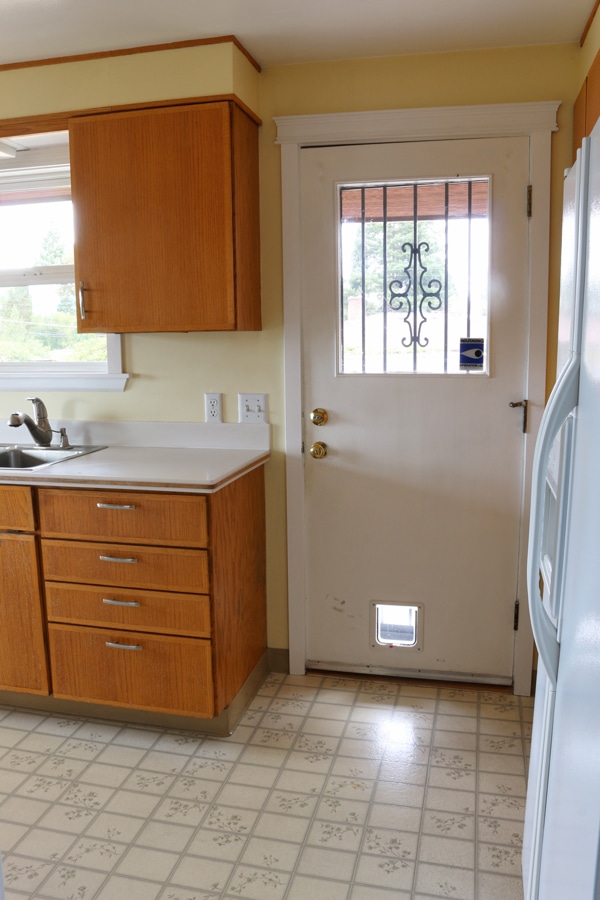 My plan is for this door to become a Dutch Door, no matter what. I'm going to try to make it happen soon, in conjunction with our side-yard makeover! Right now I'm on the hunt for the right door and getting the contractor on board with my visions :). You can find some inspiration photos for what I envision, here.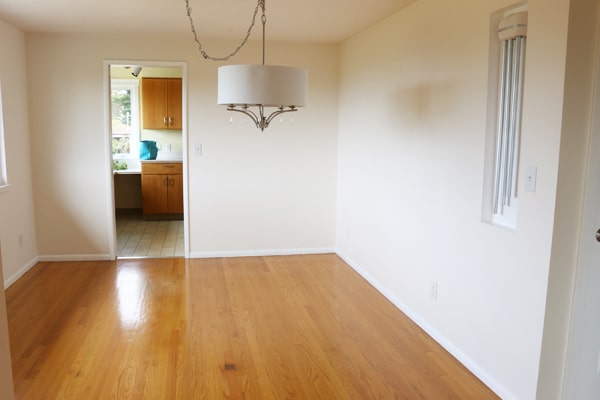 As I mentioned in my last post about the kitchen, right now I'm picturing moving the kitchen to the dining room so the sink can be oriented to face the backyard to take advantage of the view. The stove and fridge could be on the opposite wall (behind that wall is our basement staircase, so moving that wall would create more complications).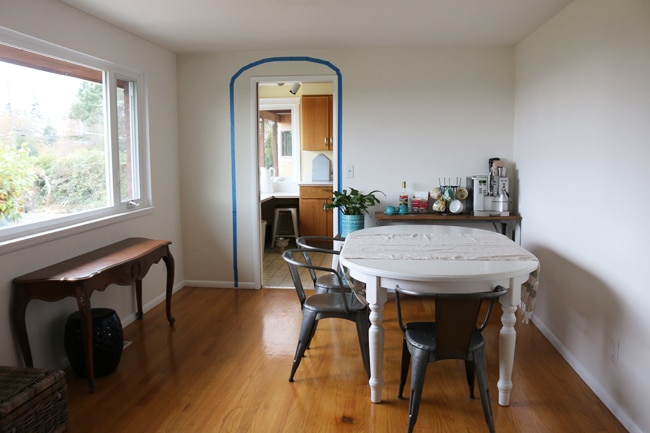 One possibility would be to open up the wall between the current kitchen and the dining room to create more flow between those two spaces. We could add the arch we originally envisioned (remember our painter's tape archway?) for the dining room, or for a more wide open layout, we could actually take the entire wall out.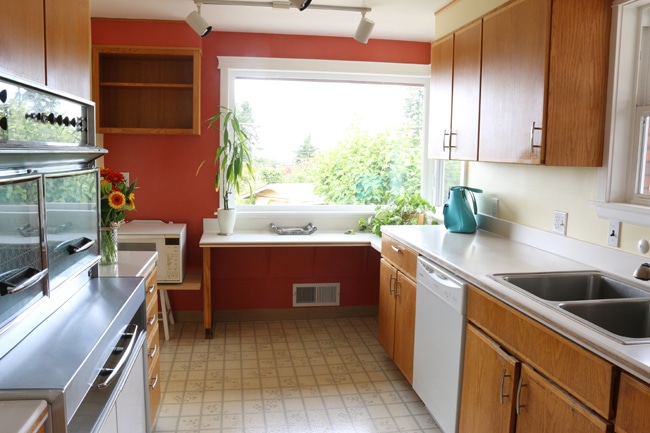 If the kitchen was going to remain where it is, that wall was needed for the stove so removing it wasn't ideal, but if we move the stove to the dining room, that in-between wall could be opened up to make the two rooms feel more like one space (although the kitchen actually extends beyond that wall towards our fridge and the outside door, I'll have to draw out the room floor plan so you can visualize better).
There are several possible dining room options, including the possibility of creating one bigger eat-in kitchen with the outer perimeter of the space lined with counters and the dining table across from the sink.
There are definitely pros and cons to that plan (as there is for every configuration so far, but that's often how it goes unless you are going to rip the roof off and expand the house! It seems you always have to get creative with the space available to you!). I can share inspiration photos and do a floor plan for that full 'eat in kitchen' soon so you can see how that could look.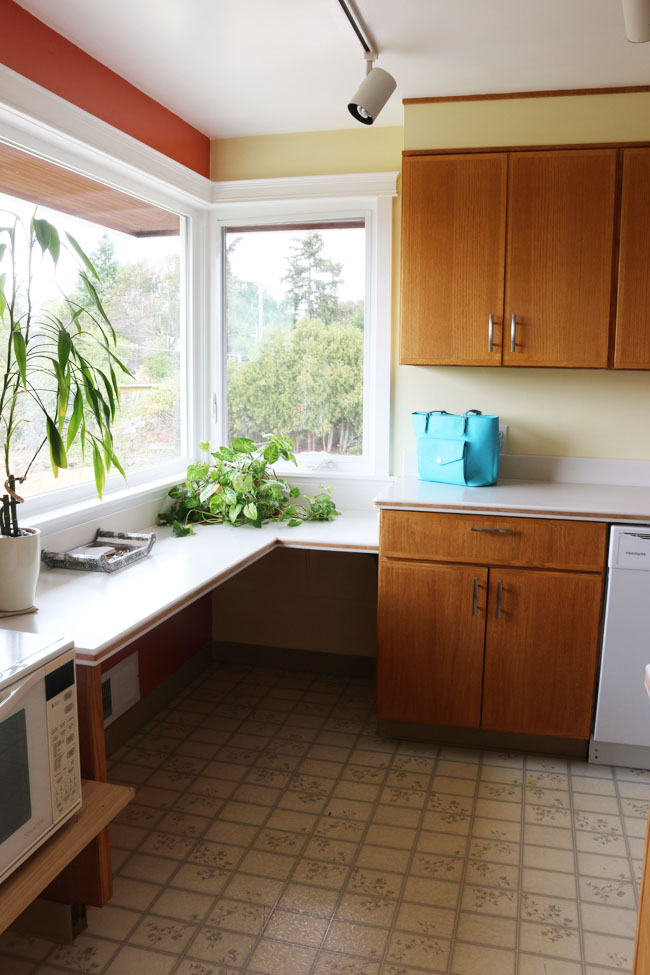 But the idea I thought I'd show today is the possibility of creating a dining banquette (one way or another I feel like I'm determined to find a space for a banquette!) right in this corner.
It would still essentially be an "eat-in kitchen" but the table could be nestled comfortably into one corner of the room, rather than out in the open workspace (with a bench along the wall under the corner window and around where the sink and dishwasher currently are). Paired with a narrow movable farm table and chairs, I think it would be very a intimate and inviting space without feeling too crowded or confining.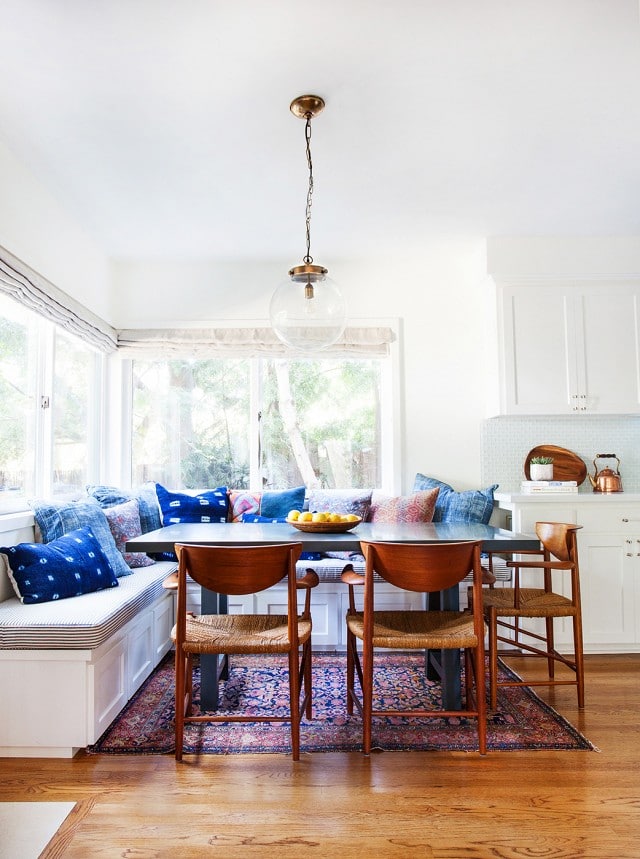 Banquette inspiration photo: Amber Interiors via My Domaine photography by Tessa Neustadt
Now, I realize with a corner banquette that you will have a couple of seats in the middle that require you to scoot to get in and out, but the view from the bench would be worth it. You could see right out the back window to the view in the day or into the new kitchen and through to the living space. Plus, banquettes are just so charming and space saving, that it would be worth the extra scoot. If you didn't want to scoot or couldn't scoot, there would be chairs! Our bench wouldn't be that long anyway, so I'm not really worried about it. There wouldn't be enough room for a full table with chairs all around it, anyway, so the built in seating would be the best solution in this small-space situation.
We would have to give up a formal separate dining room but we would be gaining a bigger remodeled kitchen with a view. I can live with that! I think the updates we would make would appeal to future buyers, too. The more casual and open but very charming dining space would be great for the way many people live and entertain these days. And if we (or future owners) wanted a separate formal dining room down the road, a nearby bedroom could be easily converted to a dining room.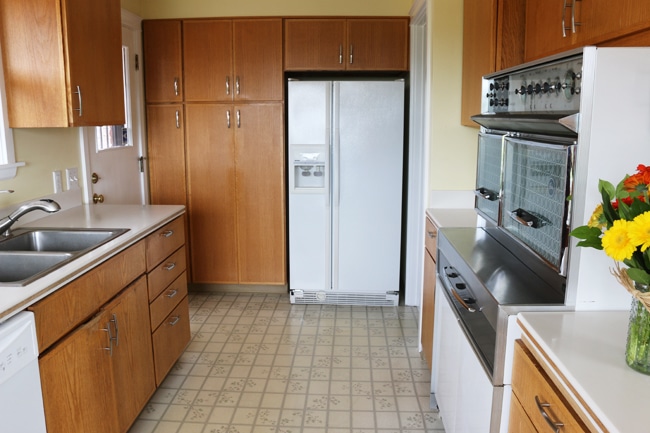 We could add built-in dish storage cabinets and even a serving buffet on the back wall of the existing kitchen, where the fridge is currently located, to give it a charming dining room vibe. With the stove wall removed on the right of this photo above, there would be room to pass through the kitchen out to the Dutch door as well as to get around the table even if people were sitting there.
There is also another entrance to this space (to the right of the existing fridge) from the hallway so guests could enter and exit the dining area without going through the kitchen! It's nice to have a floor plan that flows well so you don't have bottlenecks.
So, that's pretty much what I'm thinking, at least for the moment! You never know what idea might pop into my head next (I can't help it!!), but so far this is the idea we feel the most comfortable with and seems to make the most sense both financially and space-wise. Now that we've lived here for a few months, I really feel like I'm becoming more certain of what works and doesn't work and what would be the best improvements for this house.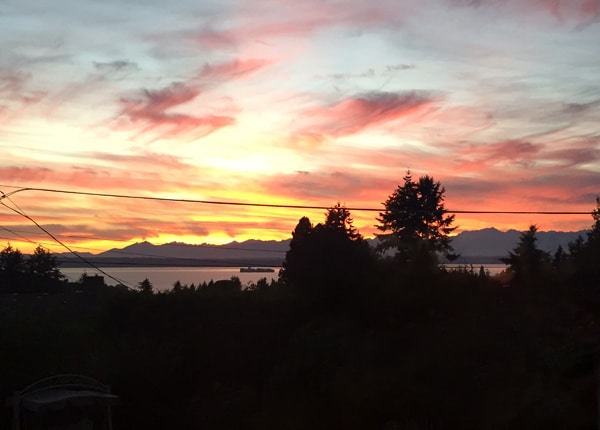 I love the idea of making the most of our water, mountain, sky and sunset views, so doing dishes while looking outside seems pretty much like a dream to me!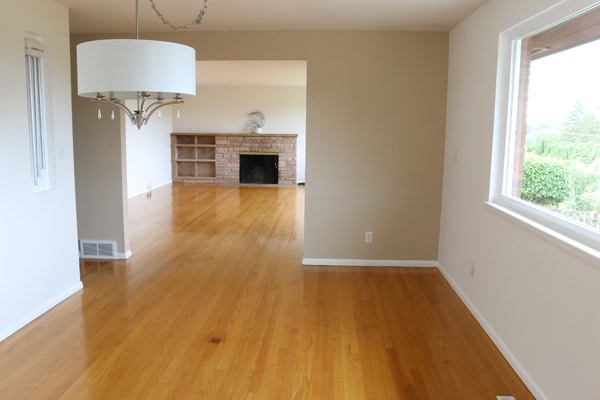 We love the generous size of our current living room so we don't want to cut it up to expand the kitchen or dining room into that space at all. We definitely have some plans to update that room so it will all feel cohesive, though.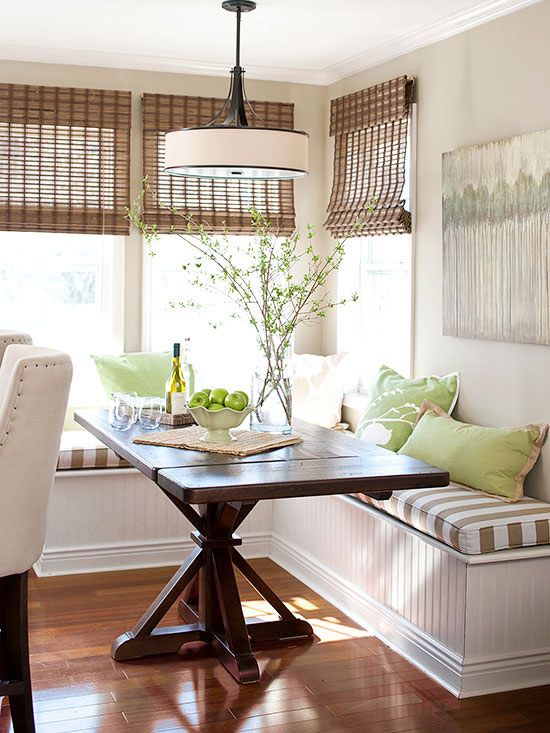 Dining nook inspiration via BHG
It's fun to reimagine a space, isn't it?
More inspiration: My Lifelong Dream of a Banquette