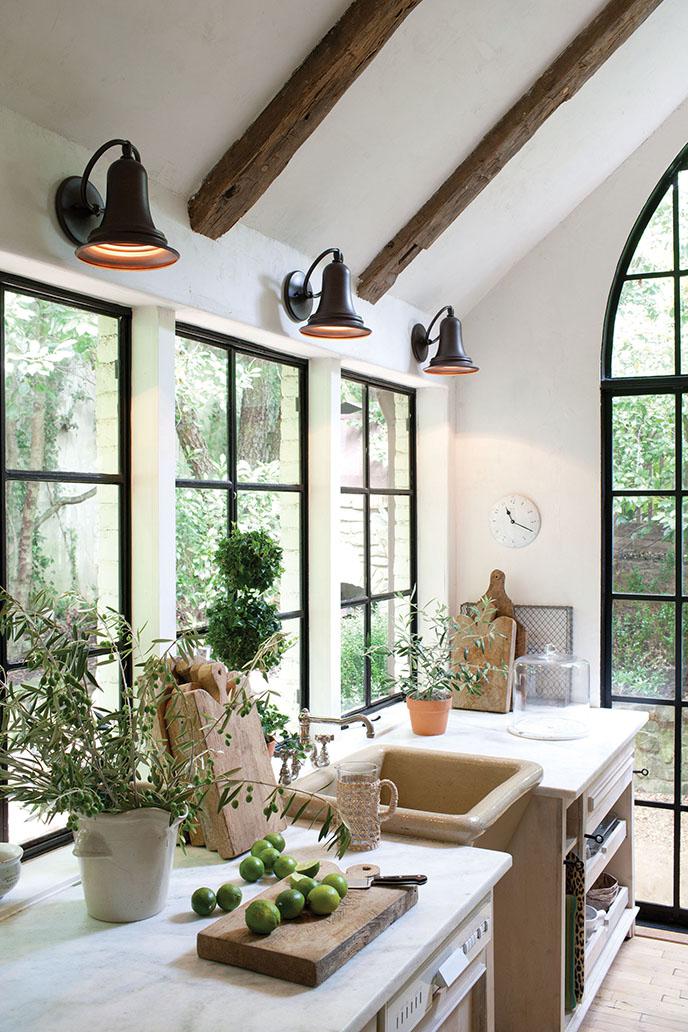 Jill Sharp Brinson seen in House Beautiful
Have you ever noticed kitchens with large windows that are nearly flush to the counters, often behind a sink? Well, I made an exciting discover about my own kitchen (and dining room) while I was on my Christmas break. More on that new development in just a minute!
As fun as it is for me, there are always dizzying amounts of options and decisions when it comes to remodeling a kitchen. Even when you need to work within the space you have and are on a budget (and maybe especially then), you still want your kitchen to turn out to be the best it can be so it is well worth the time to wrestle through the options.
So far I have shared my dream of a Dutch door, my intent to let my house evolve into a bit of a modern farmhouse style mixed with 1950s cottage leaning, and my desire to stay within the footprint of the original home, rather than to add on.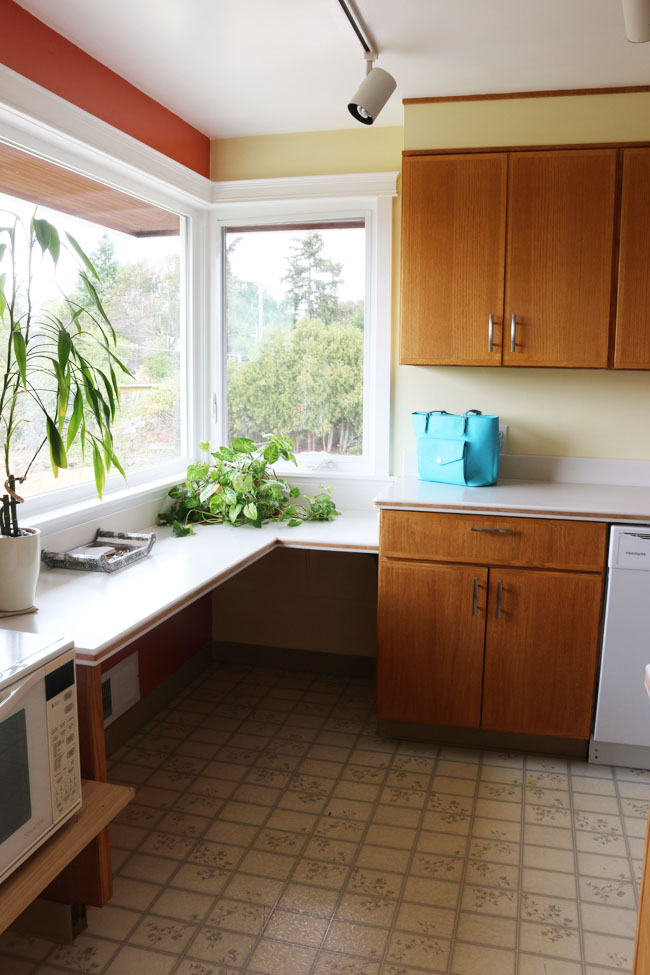 Remember this corner with the little desk area? I had shared about the possibility of adding a built-in bench, since it would fit well under the window. The desk/lower counter area is always a clutter magnet so the bench seemed like a more useful and charming solution for our family. I love that idea.
All this time I've been thinking (simply because I didn't measure it) that it wasn't possible to have a regular height counter space below this window. But over Christmas break I asked myself (ok, so do you talk to yourself when you are decorating your house? I'm a bit weird, I suppose, my house talks to me AND I talk to myself!) if I was certain a regular height counter could not fit below it.
Of course, I was certain it wouldn't fit because that is what I had been thinking all along. But just in case, I got out my measuring tape, googled the height counters should be and texted my mom to measure the height of her new countertops from the floor. Much to my surprise, there was actually plenty of space below the window to install regular (to even higher than regular) height counters without getting new windows. Hmmmm.
When we first saw the house we thought a sink under a new window with a view to the backyard would offer the most pleasing view. But even with the kitchen corner window accommodating a higher countertop, a sink in that location might feel a little scrunched.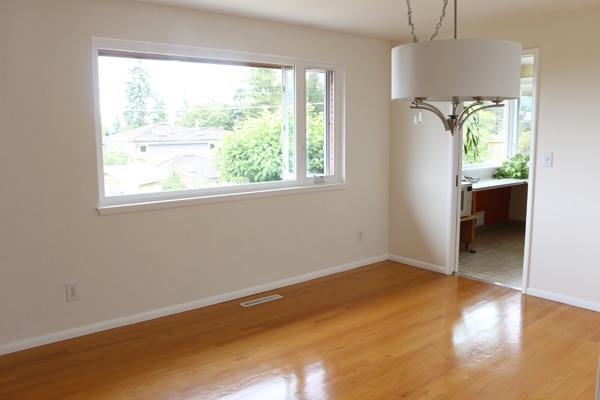 But here was my bigger epiphany, if the windows in the kitchen were high enough for a counter, it opened up an even more intriguing idea in the dining room where there is another window. Sure enough, it too was high enough for a countertop below it.
What if I actually moved my kitchen to the dining room and opened up the wall between the two rooms a bit more, and put the sink under the big window? My eyes got really big when that option popped into my head. Suddenly my heart was all a flutter!
The dining room window has the best wide open view, it would feel amazing to stand at a sink there and do dishes all the day long (well, not the dishes part, but you know what I mean)!
We had considered removing the wall before, but the placement of the basement stairs and the current stove location prevented that kitchen arrangement from feeling right. But by reorienting the kitchen with the sink towards the backyard, opening the wall a bit more makes sense. I will share more about how that kitchen configuration might work as well as dining space options in a future post.
But can you do that, have a kitchen counter basically flush with a window? That's what I was asking myself at that point. I started searching Pinterest and Houzz and the web for examples to confirm this and of course, after seeing it, I realized how much I love this look. SO MUCH LIGHT! Especially when you have a beautiful view out to the backyard!
So yes, yes you can. In fact, I'm pretty sure it is my favorite (and most practical idea) for behind a sink and with a view, especially if you have extra deep counters for breathing room behind the faucet (which would be possible in our dining room!). Big windows above a sink are always a dream!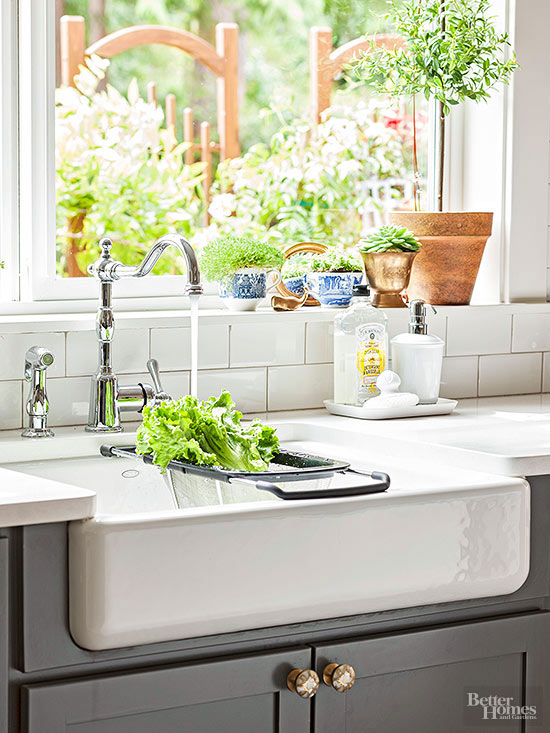 My previous kitchen in BHG
My old house had a huge window above the sink, but it had a several inch high backsplash that was really a bit awkward to keep clean as it made the area behind the faucet a bit cramped. Deeper counters would offer plenty of space behind the faucet, limiting most of the splashing to the countertop which would be pretty easy to clean.
In my post today I'm sharing a few kitchens with flush (or nearly flush) windows and countertops to get the ideas flowing! The styles may be different than what I will have, but the idea of a big unobstructed window directly across from the sink is pretty appealing to me!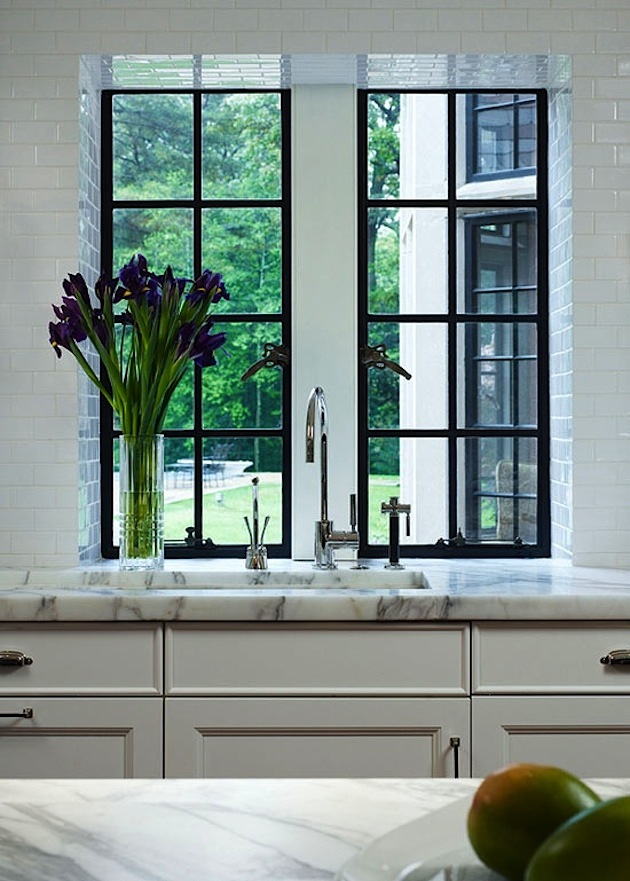 Traditional Home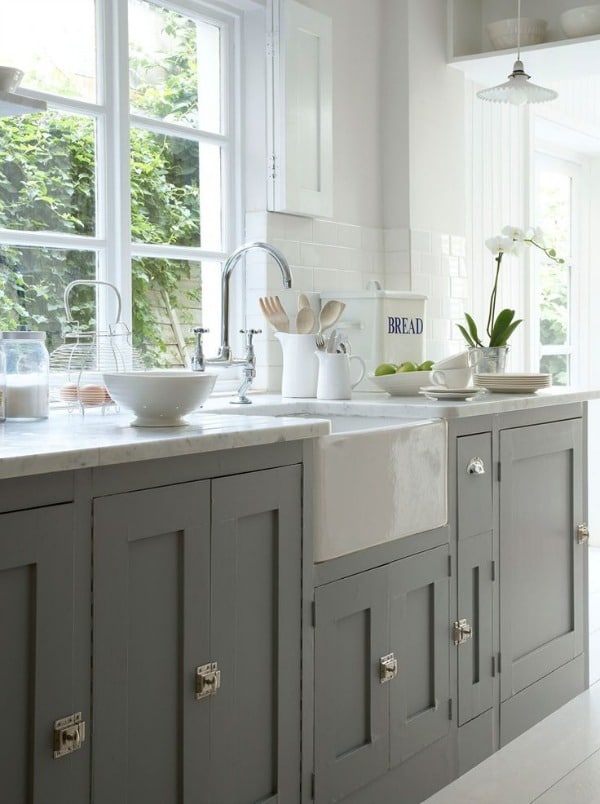 Westerbroek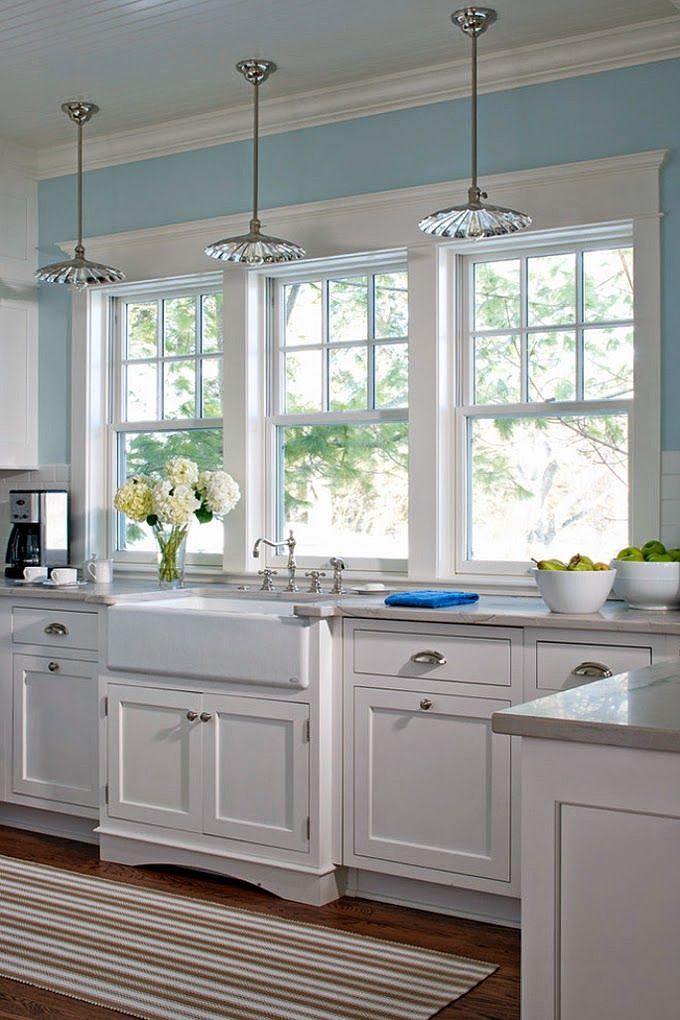 Liz Firebaugh of Signature Kitchens
Thanks so much for sharing your thoughts on design and trends the other day, I've been enjoying your comments! I always love hearing from you!
Related posts:
10 Reasons I Removed My Upper Kitchen Cabinets (my previous kitchen)
7 Tips for Planning a Kitchen Remodel
My posts on eBay:
6 Ways to Make Your Kitchen Feel Bigger