Hi friends! It's been a long week, well, wait. I'm writing this on Saturday but by the time you read it, it will be Sunday. :) So LAST week was a long one for me. Today is the start of a NEW week!
This photo of Jack was literally seconds before he hurled on the floor. Thank goodness he missed my rug :). Our dogs keep us on our toes, I'll tell you.
So, it's been awhile since I've done a Life Lately post, but I like doing these because it's a great way for me to feel like I can catch up on what's going on, plus answer any questions I've received or share some of the Instagram type photos that we (my girls and I) have posted on the interwebs.
YOU GUYS are my main kindreds, so I prefer to keep you in the loop most of all. The online world has gotten so big over the past few years, I sometimes just miss the good ol' days of a small home blogging community. Now everyone is scattered across social media, you know what I mean? I love how the online community has grown, but I still miss how it was.
Anyway, REMINISCING! I'm just always so grateful you guys come here to the blog. I know everyone has so much going on and there are so many places to go for inspiration. It just means a lot to me that you're HERE! So, thank you.
This is Kylee's little coffee cart in her house. Her sister Courtney just moved out of that townhouse and is now in her own place (and she took her coffee maker with her, ha! Time for a new one, Kylee!). If you missed Kylee's living room blog post on Friday, you can catch up here. If you missed Courtney's post about her tiny room, you can find it here.
Meanwhile, a little birdie told me that Courtney is going to give you a tour of her new place and give you the scoop on some of her plans for it this next week.
Oh, to be a young gal in your very first apartment and buying your very own PINK POTS. Sweet days, yes? I can't wait for you guys to see her place.
Speaking of sweet. This girl. Lily. She's a gem. She's taught me so many lessons. You can see a couple of them here on my Insta post.
Jack is his own special kind of wonder. He spends most of his day on high alert, watching for funny business. He's a real character, that guy.
Cute little stack of books on Kylee's coffee table :) Do you have my latest book, Simple Decorating yet? It's a nice compact size and a great little gift if I do say so myself!
Our boy Luke turned seventeen! My baby boy is growing up. He was just seven when I started blogging! Now he's bigger than his big sisters.
If you weren't around the blog back then, I have a funny post about Luke wearing underwear on his head and a dead giraffe our hallway. You can go look real quick if you want a little chuckle (excuse the tiny dark photos circa 2007 when you get there!).
We had fun on the fourth, we had a barbecue in our backyard and went to fireworks nearby. It's so nice to live close enough to still be able to hang out together often!
My girls and I are now in love with this new natural makeup line. I've looked for good clean makeup forever. None of the other natural or mineral makeup was good (like my face would break out in a rash if I used it due to preservatives or other additives).
If you need some beautiful makeup that won't put chemicals on your skin, it's good, y'all. Message my girls Kylee and Courtney and they can help you get the best deal or give their suggestions ([email protected]).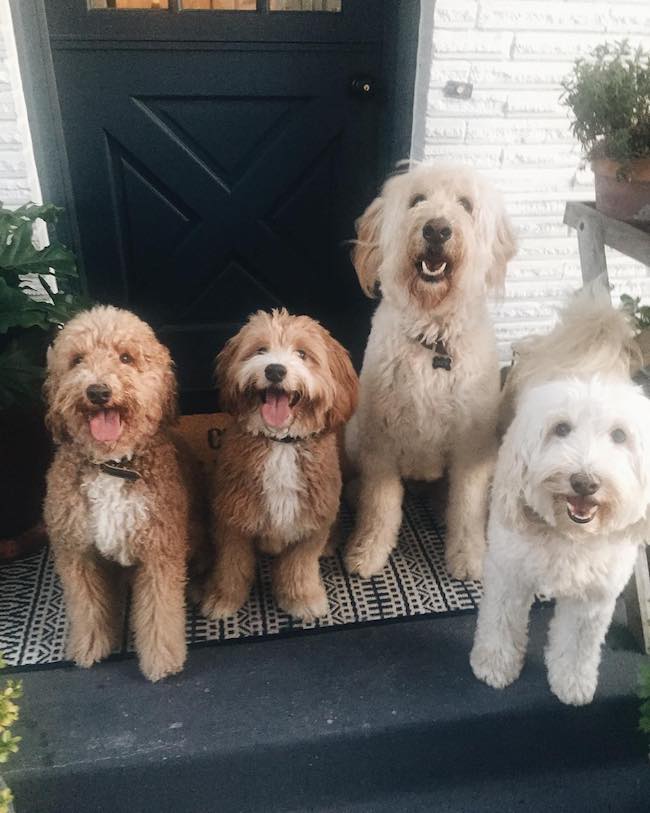 In case you wondered, trying to get a photo of even one of our dogs looking at the camera can be a challenge. Imagine trying to get all four looking at the camera at once! It may be one of the only times we've ever succeeded. You can follow our pups on Instagram or Facebook. 
Leo is still the smallest of the bunch, but we're wondering if he'll have another growth spurt before he's fully grown. He's so cute!
Come as you are mat / Door color: Hale Navy by BM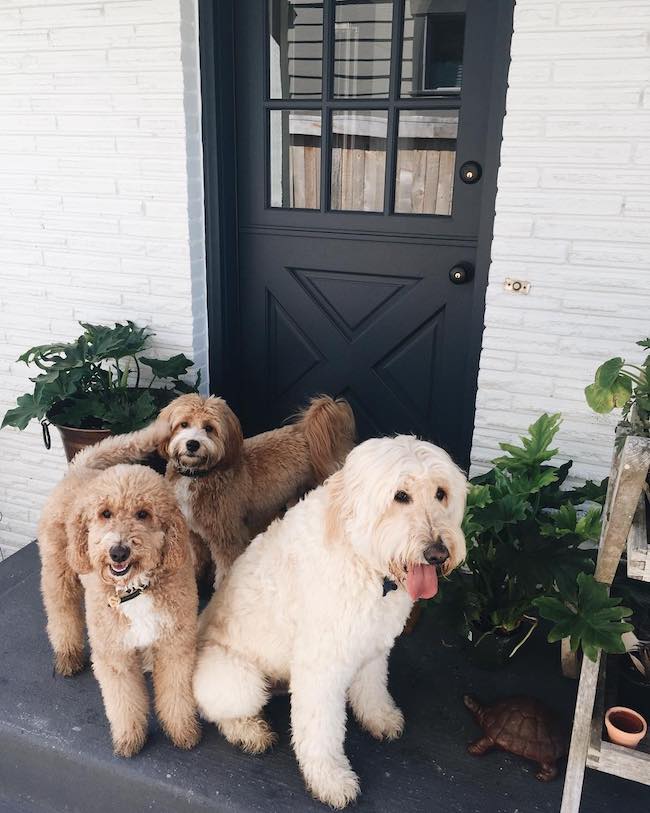 The Dutch door seems to be the dogs favorite place to congregate lately, ha! I think I know why. Dutch doors and doodles just go together, don't you think?
Lily is the most popular among the pups, everyone wants to be her friend. But I think she's an introvert because she usually tries to find a quiet corner of the yard where she can be alone. :) We call this her secret garden.
My kitchen hardware and other sources
Speaking of a garden and our backyard, we actually planted a vegetable container garden this year! I intended to get some photos of our garden barrels to show you (I'll try to still take a few). We've already been eaten some of our lettuce!
We've been preparing food and cooking at home so much more ever since our kitchen was completed. I think this cookbook is one of my favorites of all time!
My husband and I celebrated our anniversary awhile back. Some people go to fancy restaurants or on tropical vacations. We often spend the day going on walks or drive around neighborhoods looking at dream houses. My husband gets me.
The city is so pretty, we actually walked all over the place (not just to look at houses!) that day. Right across from these boats off to the right is where the Sleepless in Seattle houseboat is! We ended our anniversary evening watching the movie again. It's one of my favorites!
I hope you have a great rest of your weekend, friends!
You can follow along with our Instagrams below:
The Inspired Room // Kylee // Courtney // Dwell Well Collective // Jack the Goldendoodle // Doodles at Home
If you haven't yet had a chance, I would REALLY appreciate your help on something! I've submitted 3 rugs to a competition where the top 10 rugs will be produced by Dash & Albert in 2018! It's tough competition but it only takes a second to vote. Click HERE to vote by liking the photo on Instagram. You don't have to do anything but click the heart on my designs and you can vote for all three if you'd like (this one, this one, and this one). Together we could make this happen! THANK YOU for your time!