I've always been quite inspired by gates. They aren't just a way to keep unwanted visitors out or beloved pets in, the right gate can feel like a special invitation to enter a secret magical garden. You know what I mean?
As far as I'm concerned, a gate doesn't even have to be fancy (but a little charm is nice!), I just love what they represent. I actually go gate hunting in neighborhoods as often as I go just to drool over houses!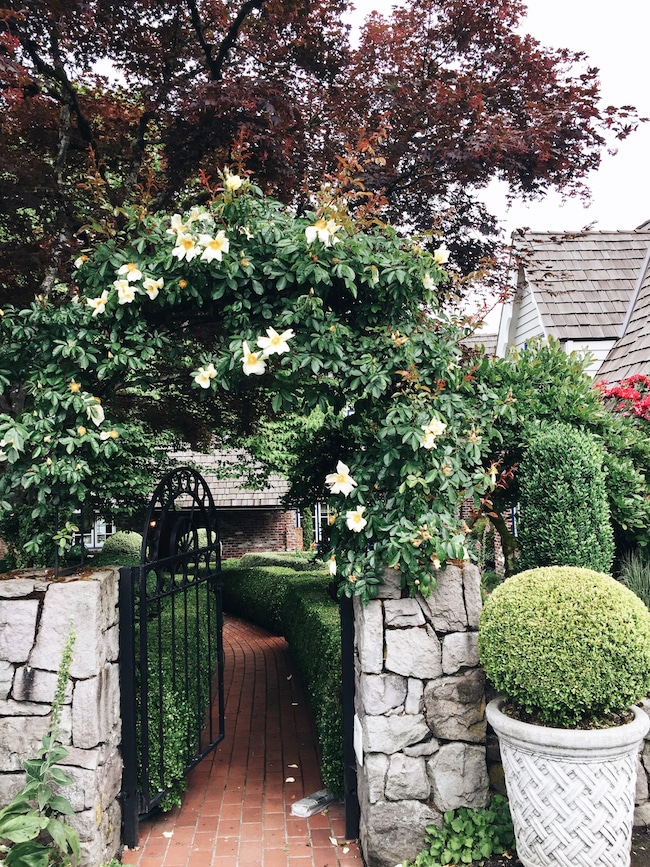 You may have seen those two gates from my previous drive bys. If you missed them, you can find the drive by posts here. But if you're curious about our gate …
We're still Gateless in Seattle, at least on this side of the house. I know.
Years ago (insert eye rolls over how long it's been) I started talking about how excited I was about installing a gate to our side patio.
In fact, we had two other gates built around that same time, the double gate between our side yard and backyard (which we just painted, you can see a bit of it above) and a single gate on the other side of the yard (above).
But the side patio gate? It didn't get done. It's a long story, just a series of unfortunate events. So we still have to use a bench and assorted garden supplies piled up in the opening to keep the dogs in. I agree, it's truly quite ridiculous.
The good news is we finally have a new contractor lined up that I'm confident is going to do the work (thank goodness for Lowe's contractor service, I should've called them years ago! So much easier.). The new contractor is going to build our gate and wrap our side porch posts with wood trim (which we've also been waiting on for a long time! Wrapping a post gives them a more substantial, finished look).
This photo above is before our railings were installed (they look amazing, you'll see soon!), and how our posts look now before they get wrapped. Note the pallet in the background acting as our gate. Lol.
Fingers crossed, knock on posts and gates, we're on the home stretch here.
The gate and the porch posts are actually the last two projects we plan to complete in this long spree of outdoor projects this summer. Most of our projects have been on a small scale, like planting our veggie barrels!
These are the same barrels we have been using for the past few years (they are chemical-free for planting). I still envision a big garden in our backyard, but these barrels are so easy to plant! They tuck in quite nicely to this small space, too. Since we had so many other projects going on we decided to use them for another year rather than start another large project.

We planted a lot kale and lettuce (we got a late start so these plants were bought ready to plant, we didn't grow from seed). I love watching them grow and can't wait to eat 'em. We get a lot of our vegetables through a weekly delivery box from a local organic farm, but it's still fun to grow some of our own.

Speaking of small gardens and growing, Lily's little fragrant garden has really filled out! This was from a couple of weeks ago.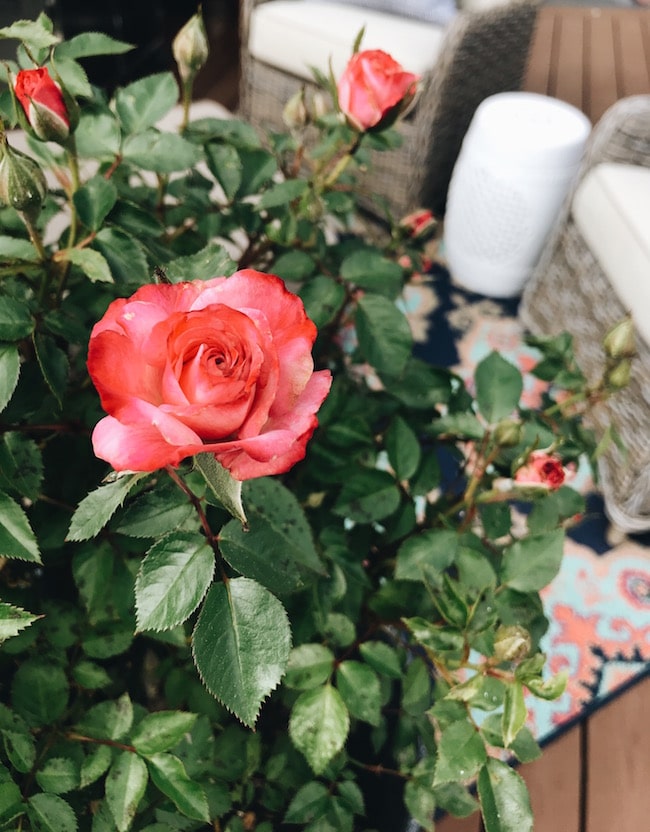 We spent the last couple of weeks setting up the deck furniture, planting the garden and flower pots. We planted these miniature rose trees (bushes?) that we bought last year. This spring they sadly got totally destroyed by aphids. I cut them all back thinking I'd have to wait until next year to see them flower. Well, they surprised me! They leafed out again and bloomed. The aphids came back, though, so I was going to go get ladybugs, but I tried some essential oils in a spray bottle first and it worked. Good-bye aphids! So far, so good.
As soon as I got all furniture set up, it rained so we had to put all the cushions and rugs inside again, ha! Yes, we live in Seattle so you just have to expect that rain might happen. I do bring cushions and some of the rugs all in if there's going to be a longer spell of rain, otherwise I don't worry about it and just let 'em get a little damp . We mostly have had fantastic weather, so I can't complain about rain too much this time of year.
I will definitely show you the furniture and flower pots when I take the photos, and of course I can show you the porch posts and the gate as soon as they're in! I might even be able to show you some progress on that in the next week or so.
I know lots of you have been asking about how we stained our side patio concrete (you can actually see it in the white gate photo with Jack, above). We're just about done so I'll update you on that project, too.
And of course, as promised, we'll be hosting our virtual deck party for the big reveal! I'm really looking forward to all of the yummy dishes y'all offered to bring :). I'll announce the winners of the Simple Gatherings books this week so if you didn't enter yet, it's not too late to enter by sharing what you're bringing to the virtual party (you'll find the giveaway in the previous post about the deck progress).
We can't wait to be able to just get outside and relax in our entire outdoor area, I'm so ready to enjoy it all!
You can catch up on our deck and exterior projects here:
Painted Brick Exterior and Outdoor Projects
Designing and Shopping for our Deck Project