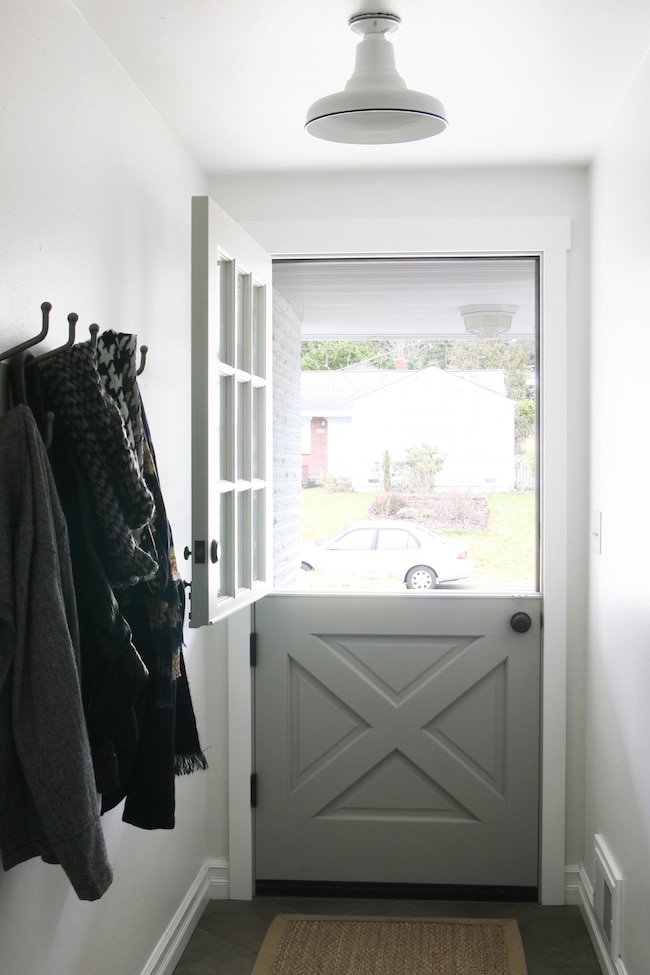 Y'all. Remodeling is a slow process. I know I've said that a time or two, right? ;). So instead of continuing to say it's slow, today I can actually give you an update on one of the projects that is actually not in progress any longer!
Now, I am still going to do an official reveal of this hallway and Dutch door installation on a beautiful sunny day because I really want to do it justice. I will style the hall, hang up some art, take all the pretty pics, fancy angles and before and after shots and everything. :) I'll put together all the details on the door and have answers for questions you might have.
But you have been so patient I thought you guys might like a preview of one of the first finished projects right now :).
Remember how many times and how long I dreamed about having a Dutch door? I can't believe the day has arrived. We really have a Dutch door as our front door. :) She's a beauty!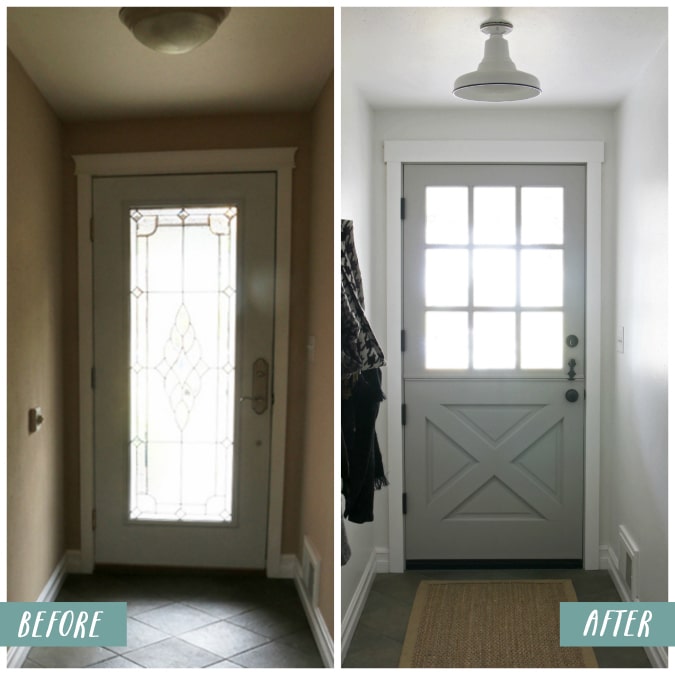 Remember what this hallway looked like before? I love its new look. You might remember we changed out our lighting, too, to these great lights from Barnlight Electric.
And yes, there is another Dutch door in our kitchen! EEEE!!! :) It's so adorable. I can't wait to show it to you, too. I won't be giving a preview of that door though because I really want you to have the fun of seeing it with the finished kitchen. Soon. Very soon.
When you remodel, the last thing that usually happens is they go over a "punch list" with you. That's the stage we are at. A punch list is just a list of everything that is left to complete. Every remodeling project will have a few last details that need to be finished or touched up near the end, not just mine :).
Sometimes there are still a few important installations you are waiting on (in our case, we are waiting on our custom round window trim, final details on our new archways, and still have to complete the thresholds in the doorways), and often it's just little things like fixing a wobbly outlet or a misaligned door latch, adding some caulking or paint touch-ups.
When you hire a company to do your remodeling, you make sure each detail is finished before you send off the final check. But timing-wise, you are at the mercy of the contractors who are coordinating schedules and juggling projects, so sometimes it can take awhile to get each detail completely done.
I wish everyone was out of my house right now so I could just putter around in the kitchen, but today it's like a party around here. I've had an electrician, a painter and two contractors hanging out with me. :) So like I've said, we really are so close, but still inching towards the finish line. I'm not just stalling or dragging my feet, I promise.
Hallway and door details:
The door color is Ozark Shadows by Benjamin Moore.
The hallway paint color is Swan White by Glidden (although the other white walls in my house are painted Simply White by Benjamin Moore and we may eventually paint this hallway the same color).
If you missed it, see the rest of this hallway's before/progress makeover here.
Hope you enjoyed the little peek at the front Dutch door today!
PS. I mentioned in my post yesterday that I was going to tell you guys a personal story of mine today about the background motivation that prompted me to want a healthy and chemical-free home, but I ended up deciding to share more than expected so I need a little more time to complete it. I'll link to it when it's done, though!
For those of you who are interested (like I am) in creating a happy and healthy home and want to know how essential oils can support both your emotions and physical health, I am sharing a fun little five-day Instagram mini-series starting Friday that you are invited to! I hope you'll follow along with us on Instagram at @pureandlovelyliving. You can also find the series on Facebook here starting tomorrow.