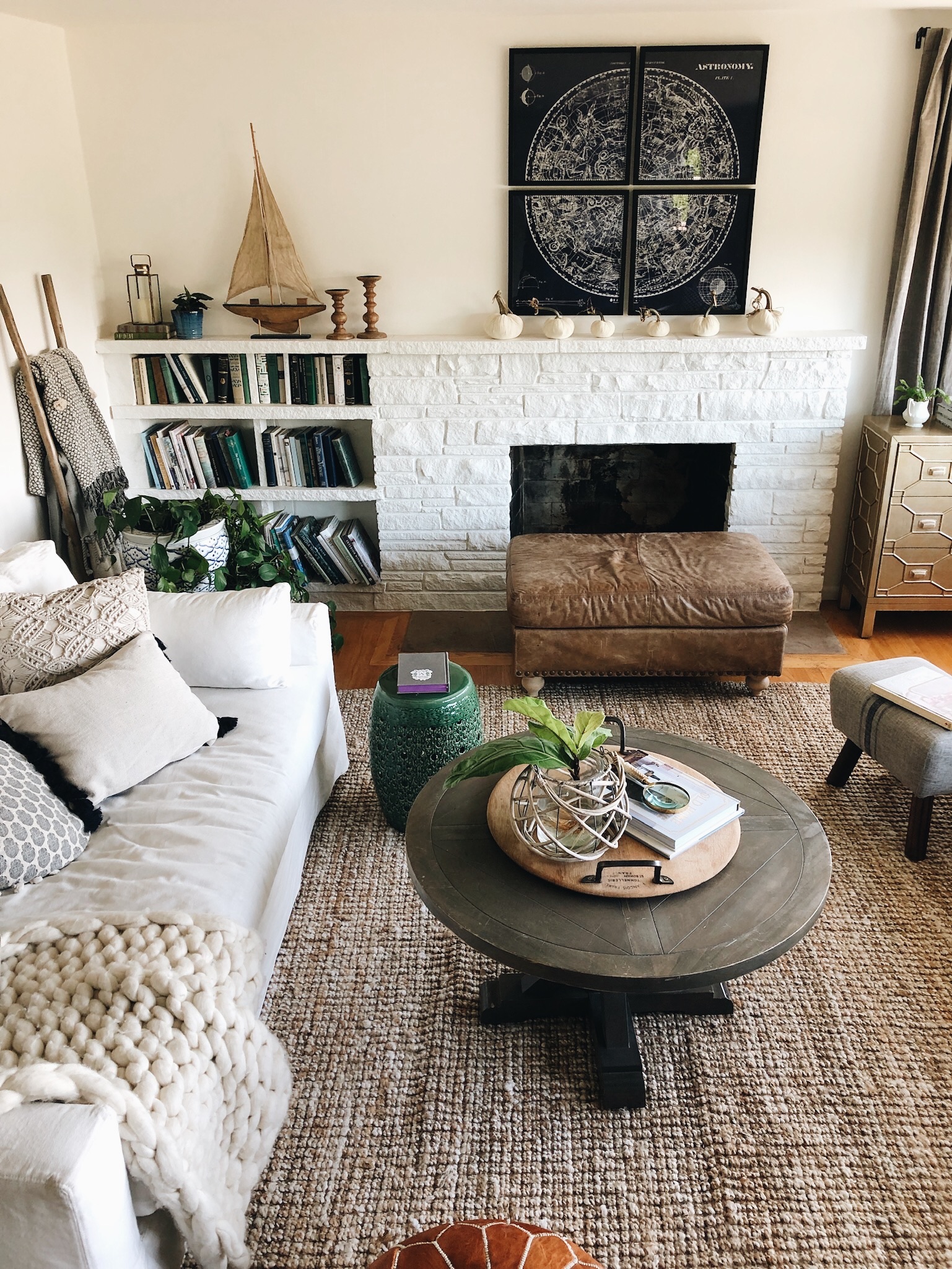 You'll want to scroll down in this post to laugh at Jack with me so don't miss the end, but first, let's talk about an affordable way to get a new fall look. My typical fall decorating has always been mostly about non-seasonal specific things, like moving everything around until it feels cozier to me.
I know it's fun to go shopping this time of year and stock up on all the new cozy fall stuff, and of course, to bring home a car full of gourds and pumpkins. I was actually out shopping this week and got that new green garden stool at HomeGoods (which I've been on the hunt for since we moved in, so it was a major win!!!).
But when I got to the aisle with all the pretty ceramic pumpkin stuff I considered how cute and fallish it all was for about five seconds and then thought to myself, do I really want to have to put all that in my garage in a few weeks?
In case you're wondering what my answer was, it was no. No I don't. So, I vetoed the cute ceramic pumpkin decor but brought home that garden stool and a plaid blanket. Because a green garden stool can stay out all year, a blanket is pretty easy to fold up plus it works all the way until next spring, but large faux pumpkins would have to be stored somewhere by November.
I may get myself some real pumpkins, we'll see. For now I am using the velvet pumpkins on the mantel, I've had those for years and they are pretty easy to store (I put them in a basket or cabinet and that's where they stay all year!)
So, even if you don't want to shop at all, you can just as easily (well, almost) and more affordably get a new look in a room by rearranging the furniture and accessories you already have.
Last week I started going through the house, swapping items between rooms and rearranged pieces within rooms. It was raining, thundering and lightning here so I was feeling the fall feelings, so that gave me the motivation to want a cozier house.
Now, keep in mind that I'm not done changing things around yet, and still haven't decided on decor, so who knows what this room will look like by next week (or let's be real here, by the time you see this post).
But it's fun to keep tweaking this and that and then live with it for awhile to see how it feels, you know? Sometimes I put it all back, sometimes I try something else. You can see a little peek at another corner I'm still working on in the above photo. :-)
PUTTERING AROUND THE HOUSE LIKE THAT BRINGS ME LIFE! LIFE I tell you! It's definitely something that sparks joy in me. I do love shopping for new things, too, but there's something extra enjoyable about just pulling furniture together, trying a chair in a new place, making an underused corner more cozy with a new arrangement.
You know what else brings me life? This dog. Jack! LOL! I moved the ottoman over by the fireplace when I was rearranging. He keeps going over there to lounge on it like that! HAHAH! I feel a little bad and might have to put the ottoman back, or move it somewhere so he can face the room.
Sigh. Anyway, it might drive everyone else in the house crazy that I keep rearranging stuff but for me, it's fun. One more week and my teen furniture mover is going to college (WHY CAN'T HE LIVE HERE FOREVER! Tears!), so my rearranging days might be stalled for awhile. But I'm keeping him busy helping his mama in the meantime!
Have you rearranged anything in your house to make it cozier for fall?
If you don't already have stuff you like or want to rearrange, don't worry. We'll talk about ways to gather and collect cozy things you love during this series, too.
My Window Shades and Sources (+ Discount Code)
---

---
Don't forget to check out the Decorating Blogger Q&A Tour & $500 Wayfair Giveaway for the release of my new book But Where Do I Put the Couch?
BLOG TOUR LIST (get another entry in the giveaway at each blog!):
Thistlewood Farms (September 20)
Catch up on this year's Fall Nesting series HERE!
More Fall Inspiration:
14 Simple Fall Decorating Ideas
3 Cozy Fall Activities for the Homebody