Welcome, friends! Can you believe it's time for all things cozy? Fall is a lovely season to enjoy our homes, so I'm thrilled to join in a tour with a wonderful group of bloggers to get inspired for the season! You'll find links to each blogger at the end of the post. Today I'm sharing a simple "preparing for fall" project we completed on our porch recently (in our current home). It doesn't evolve a single pumpkin yet, but it still looks so much better, I am thrilled with the result!
If you are new here, I hope you'll join us on The Inspired Room blog and Instagram for our 14th annual Fall Nesting series! (I'm especially excited for fall this year because we are moving to a cute little house on an island! Ahhh! It is going to be such a cozy place to curl up by the fire, I can't wait to show it to you!).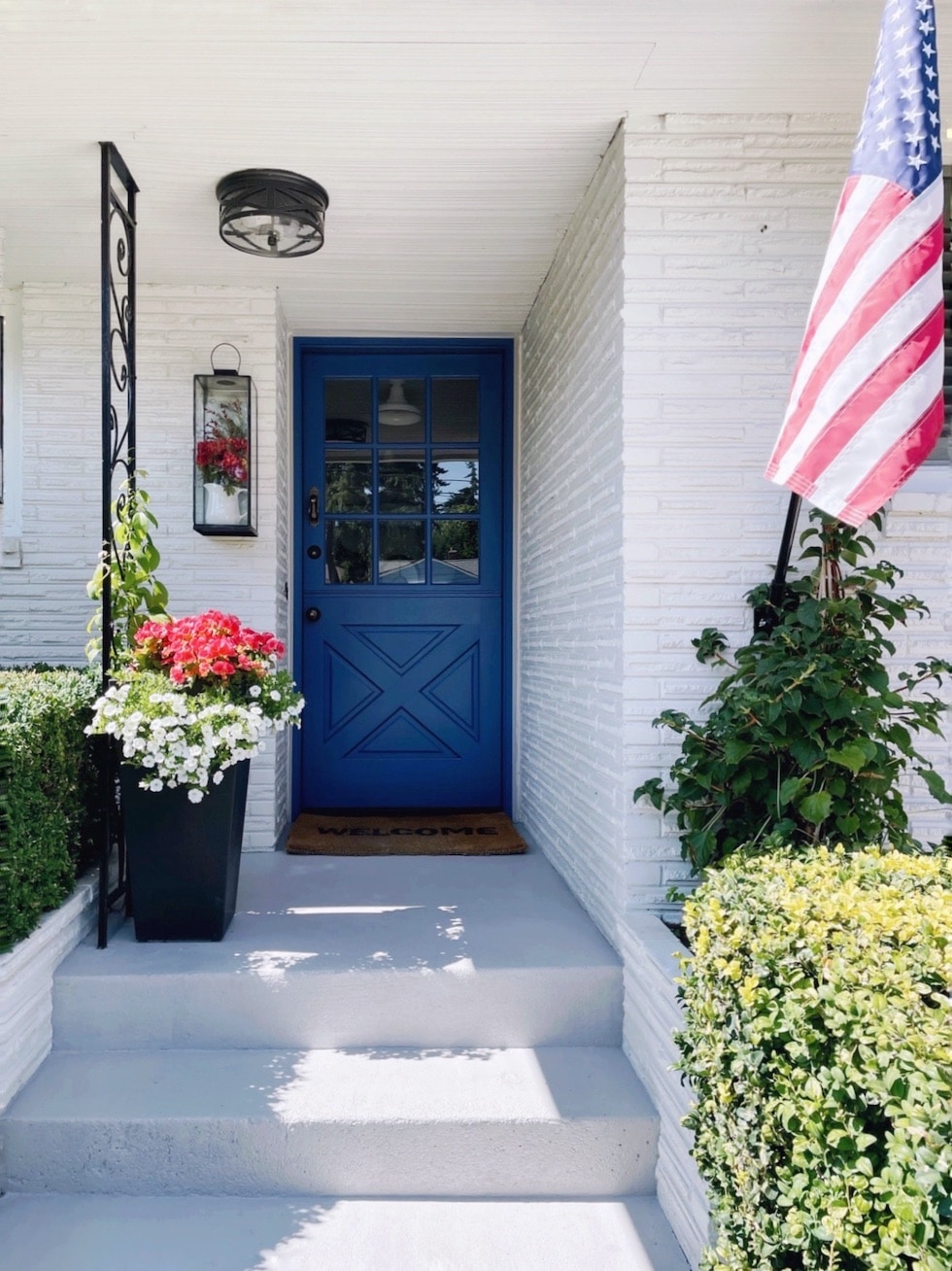 I find the weeks in between the last warm days of summer and the cooler days of fall to be the ideal time to fit in a few last minute house projects to be prepared for the seasons ahead! It's fun to add pumpkins or decor, of course, but I usually don't do that until October.
It's a really great month to clean, refresh, paint and tend to any other outdoor projects that we probably would dread doing in colder weather! (It might seem too early to hang Christmas lights if your summer flowers are still blooming like mine are, but it's all good. Do it anyway! Your December self will thank you for thinking ahead.)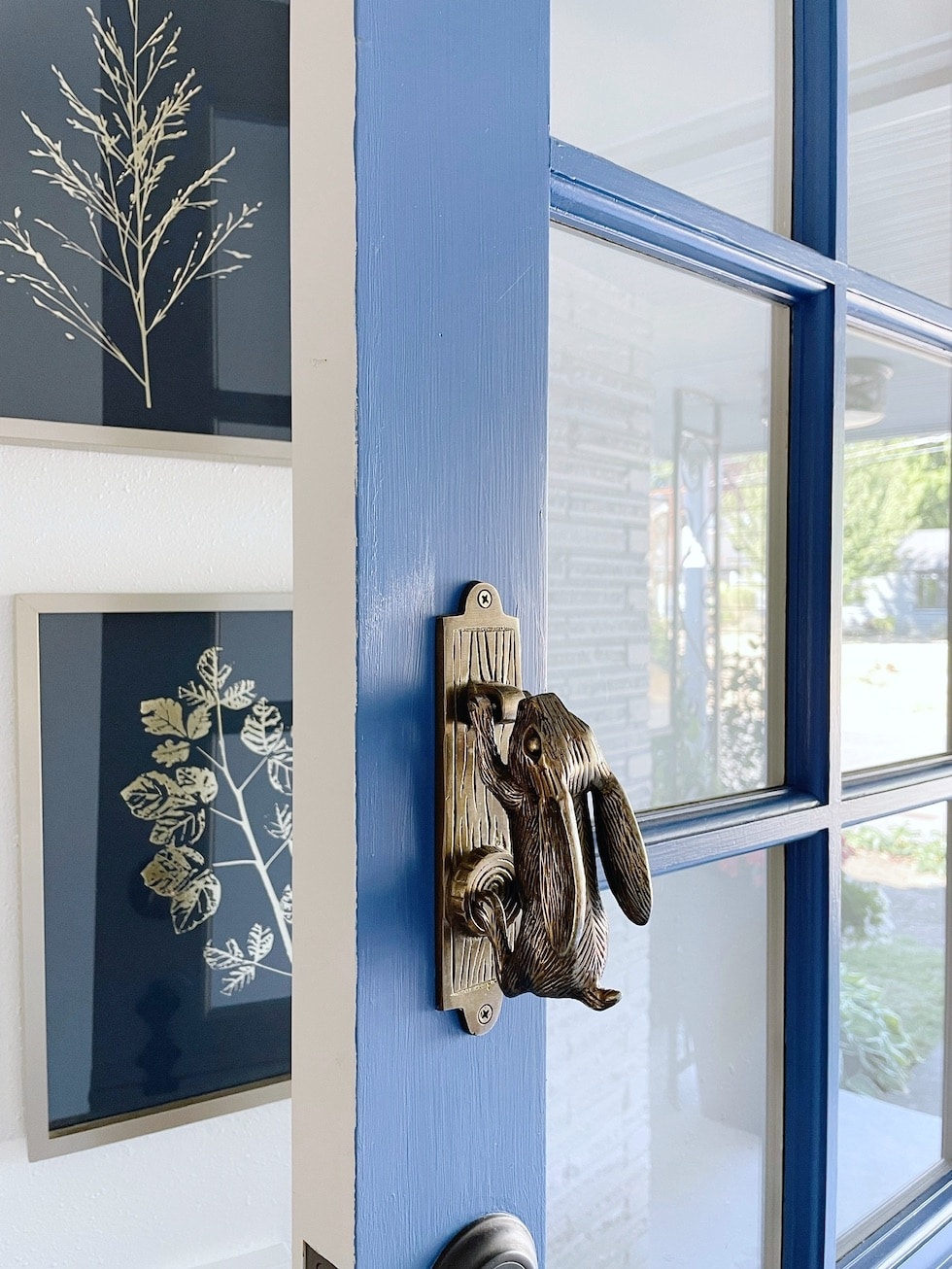 The changes to our exterior has been like the ol' give a mouse a cookie situation. In past years we painted our exterior, installed a new Dutch door, added a fun lantern for seasonal decor, and this summer we re-painted our door a fun shade of blue. Plus, we added our bunny door knocker to give our entry even more personality!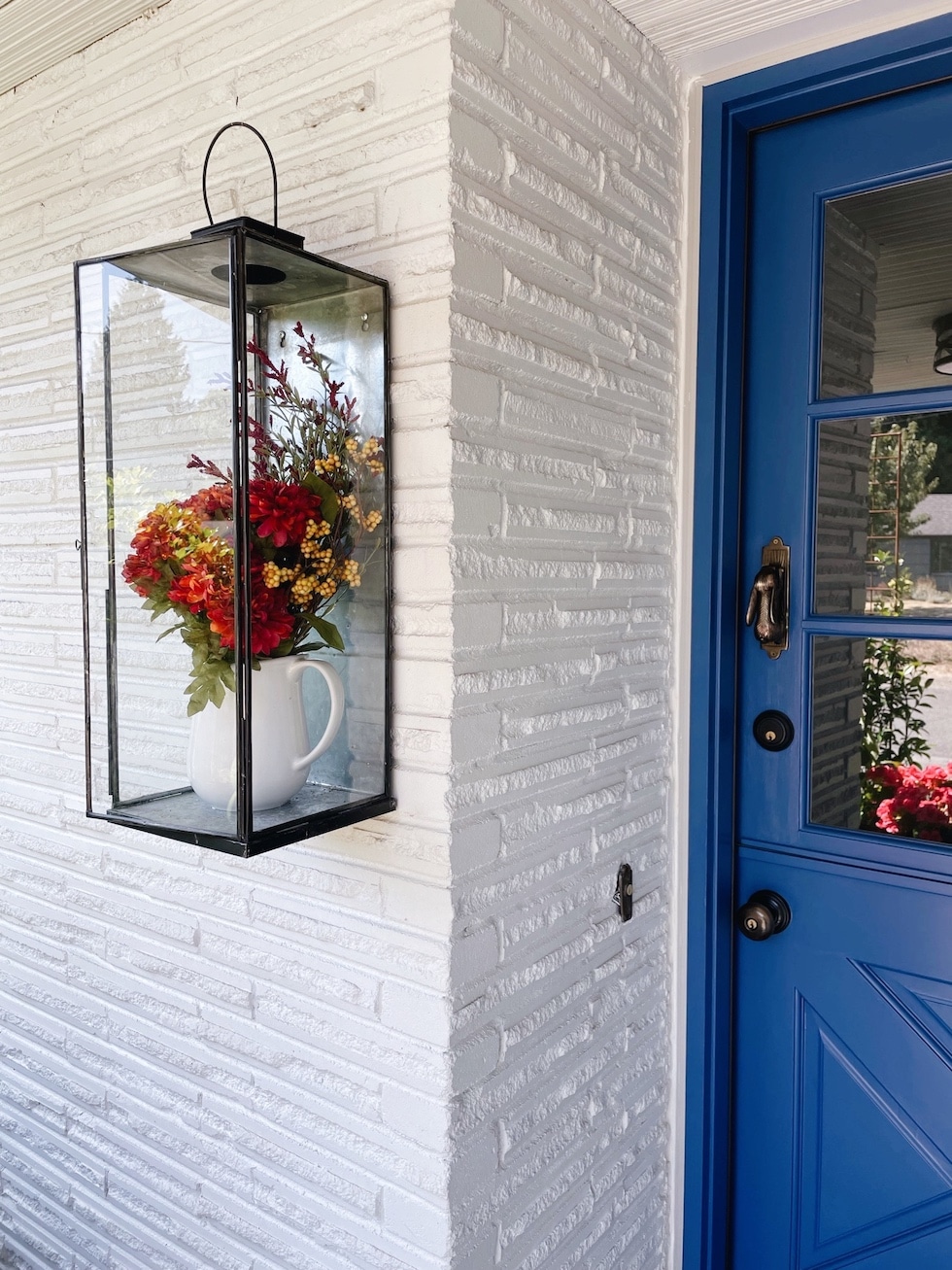 It's been so fun to see our home (slowly) evolve through each season. With fall on the way (and putting our house up for sale!) I knew it was finally the time to cross one last exterior project off our list, painting the concrete on our porch and steps! Boy did it ever make a difference! The porch looks so much fresher, I just LOVE IT! We wanted to get to this project for YEARS so we're so happy we finally fit it in, just in the nick of time.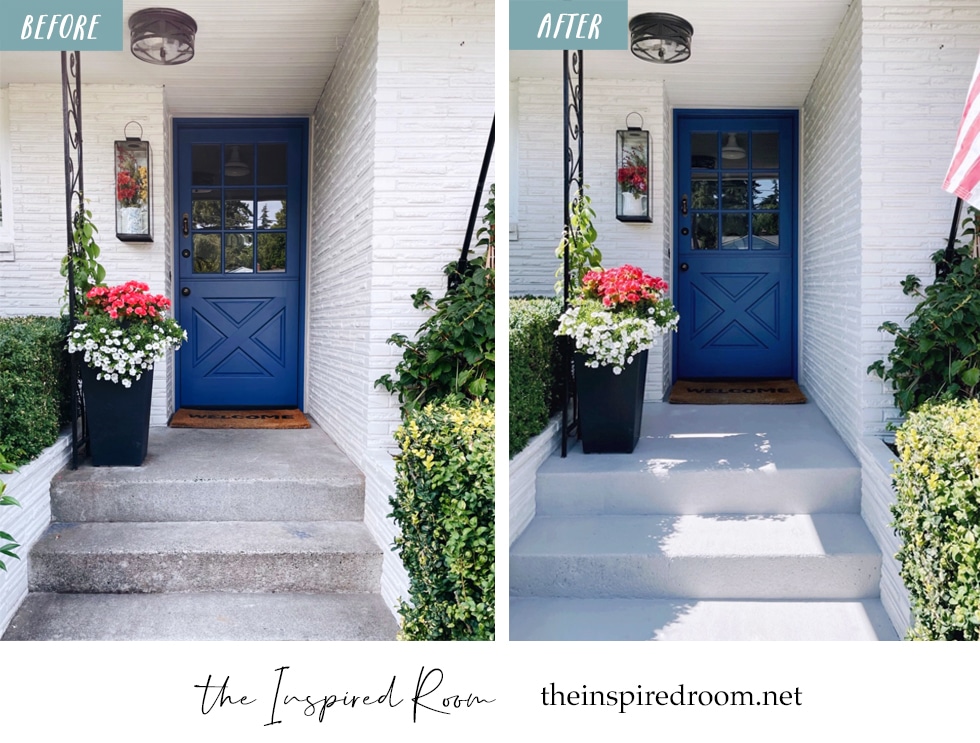 Look at the difference above! If you have been wanting to paint a front porch, now is a great time to fit it in. You'll be so glad you did. And bonus, a fresh coat of paint on a porch will feel so welcoming during the holidays, as well as set the stage to make all of your fall and winter decor look its very best!
The paint we used is Benjamin Moore Floor and Patio Paint in Ozark Shadows (the same color as the interior of our Dutch door). The exterior of our door is painted Blue Suede Shoes by Benjamin Moore, and the brick is Reserved White by Sherwin Williams. You can find more of the paint colors in our home listed here.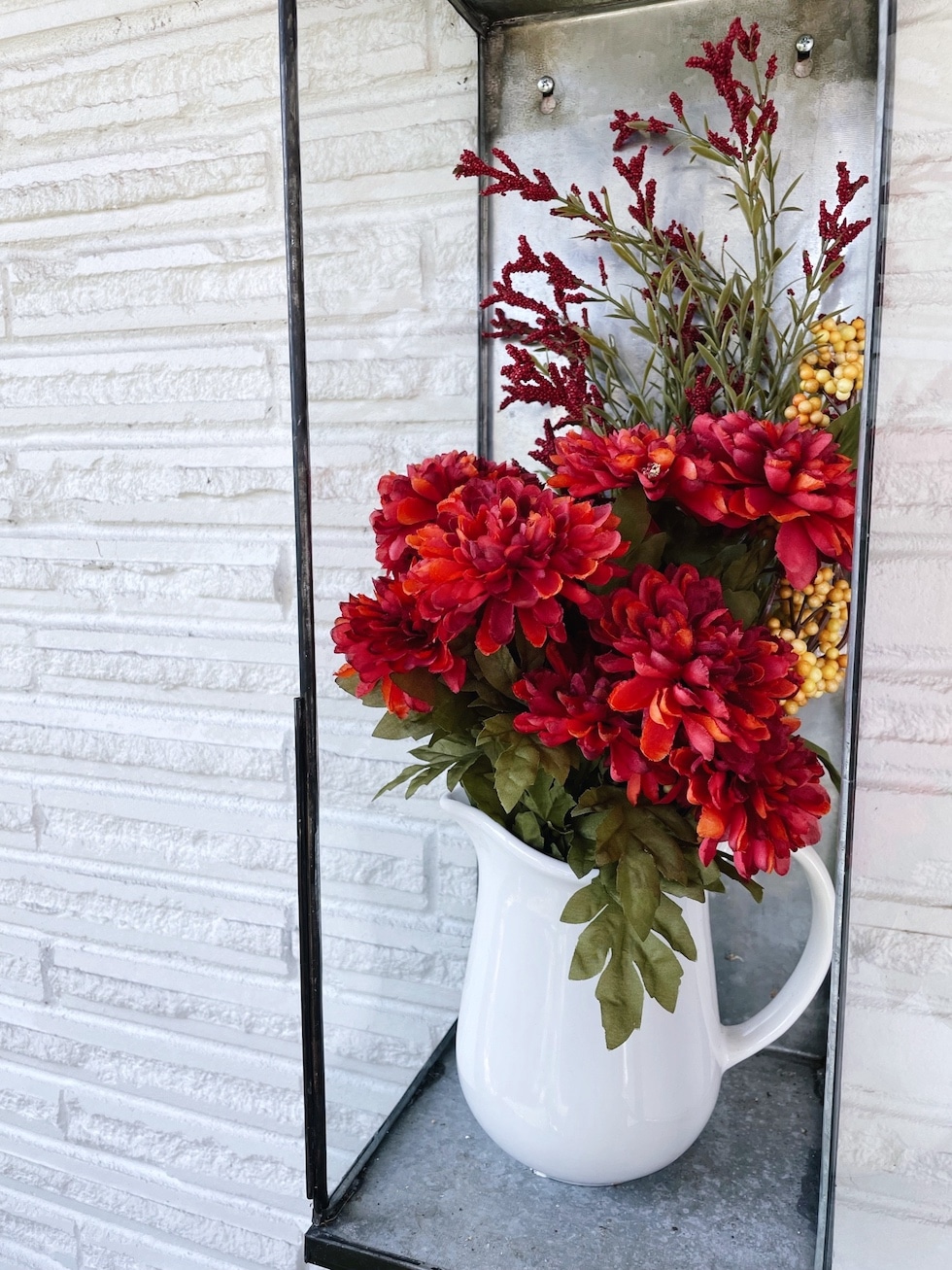 Once we completed the porch paint, I was extra excited to put some fall flowers in my lantern! My lantern has been such a fun and simple way to decorate for the seasons. (My exact lantern is out of stock but click HERE for a similar lantern that could be hung on a lantern hook!
Every week or two in all seasons I try to update the lantern in some way, whether it's with new flowers from our yard, greenery or any other type of seasonal decor. This time I used some faux flowers because I wanted it to stay looking good for the next couple of months as we are listing our home and selling.
And in case you're wondering, for simplicity and cost effectiveness we decided to just keep that black porch post and turn it into a trellis for a vine! It was a simple idea, and so many have stopped by to mention how clever that was! And it was so easy, too! We just put a pot in front of it, planted a vine and have been training the vine to climb! Every makeover project doesn't need to be expensive or complicated, find ways to use what you have!

---
What fall projects or decor are you working on or looking forward to around your home?
Thanks again for coming today—let's keep in touch!
Follow me on Instagram and hang out with me in stories HERE, and subscribe to the blog HERE!
I'm thrilled to be joining in today as 30 talented bloggers bring you the best of all things home! Please continue along this inspiring Harvest Home tour, and visit the other participants in each of the following categories.