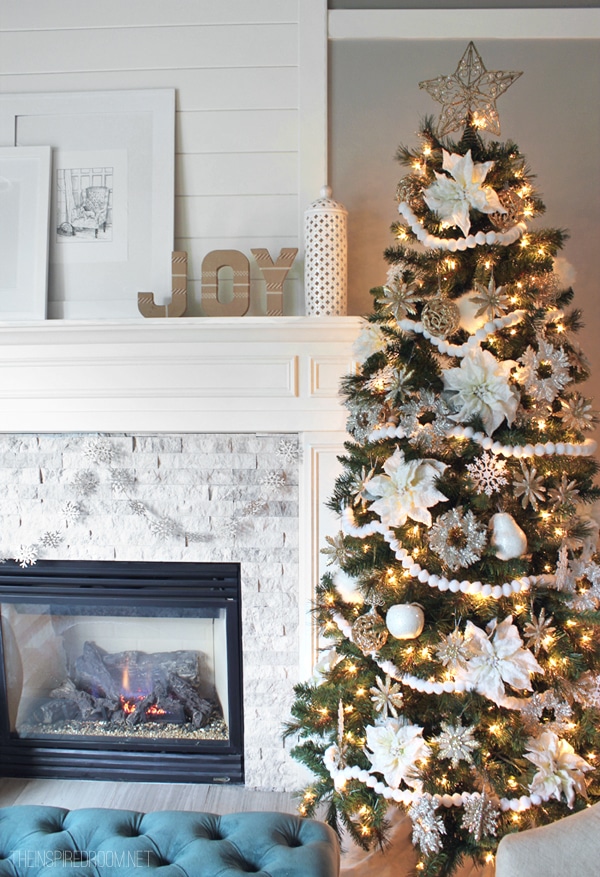 This year for the Michaels' Dream Tree challenge, my girls and I decided to create a Winter Wonderland tree. Without using flocking or actual snow to make it wintry white, we filled the tree with lots of white fluffy pom poms, big sparkly white poinsettia flowers and fruit and glittery silver and gold ornaments to give the white effect we were after!
If you missed our shopping trip for the theme and tree ornaments, you can find it here.
We really had fun putting the tree together! We have plans to add at least one more Christmas tree this year, I just think it is fun to do more than one. Our favorite "tree tradition" is to go cut down our own fresh tree, so we are looking forward to that!
One of my favorite things about November is the gentle transitional time between Fall to Christmas. I still get to enjoy Fall, but I enjoy planning ahead to Christmas. While I still have plenty of time left to savor Fall and Thanksgiving, a little advance planning makes Christmas time all the sweeter.
I always seem to get a big burst of creative energy in early November. Do you?
I'm not sure why I do, but I guess it is the impending holidays (deadlines!) and the fun of nesting in colder weather that really motivates me to accomplish a lot around my house. It seems like every November I'm repainting and redecorating something! This year I'm working on decorating three rooms, or maybe four :-). I'll update you in the upcoming days with my new projects :-).
While I was in a festive and glittery mood, I even did a quick holiday craft last night! I know! Look at me go! I made a Glittery Snow Candle, which you can find here along with instructions to put one together yourself! It was so easy and fun.
Here are some links to some fun and unique Christmas tree themes I've had in past years!
Woodland Christmas Tree
Starfish Tree
Black & White Silhouette Tree
Heirloom Jewelry Christmas Tree
Humble Silver Spoon Christmas Tree
Thanks for coming by to see my Winter Wonderland tree!
You can find the other bloggers participating Dream Trees soon on the Michaels Facebook Page! Each of the participants in this challenge was provided a pre-lit tree and a gift card to create their own dream tree. Need more ideas? Michaels Décor Guide has lots of tips and projects to make decorating your house more fun this year. You can see the online version, download a copy, or pick up one at your local Michaels!