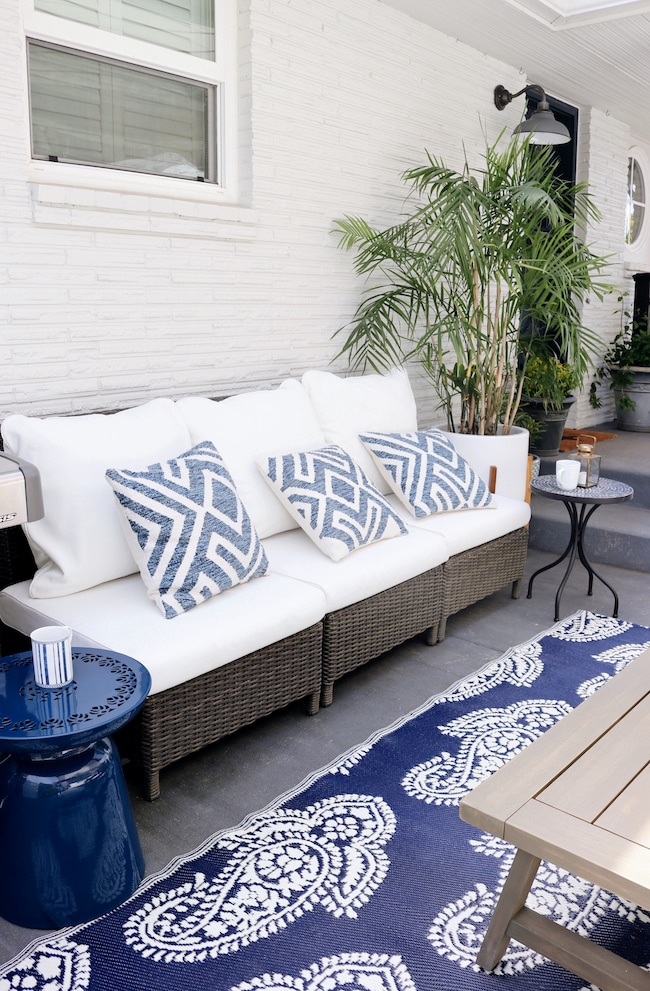 Hey friends! Thank you so much for all the kind comments on my refreshed side patio. It has been a long process for the past 3 1/2 years or so to get it to this point with our outdoor spaces!!! If anyone else feels like their home progress has been sloooowwww….you know I can totally relate, hahaha.
I can't wait to take a look back and show you all the phases it went through. Remembering how crazy some of the situations were actually makes me laugh now! But at the time….I wasn't that amused :). Stay tuned for that post in the near future, along with an update on where we're at now with our gates and next outdoor projects.
But first….I've had so many questions about our outdoor cushions, rugs, furniture and spaces that I thought it would be good to answer a couple of FAQ!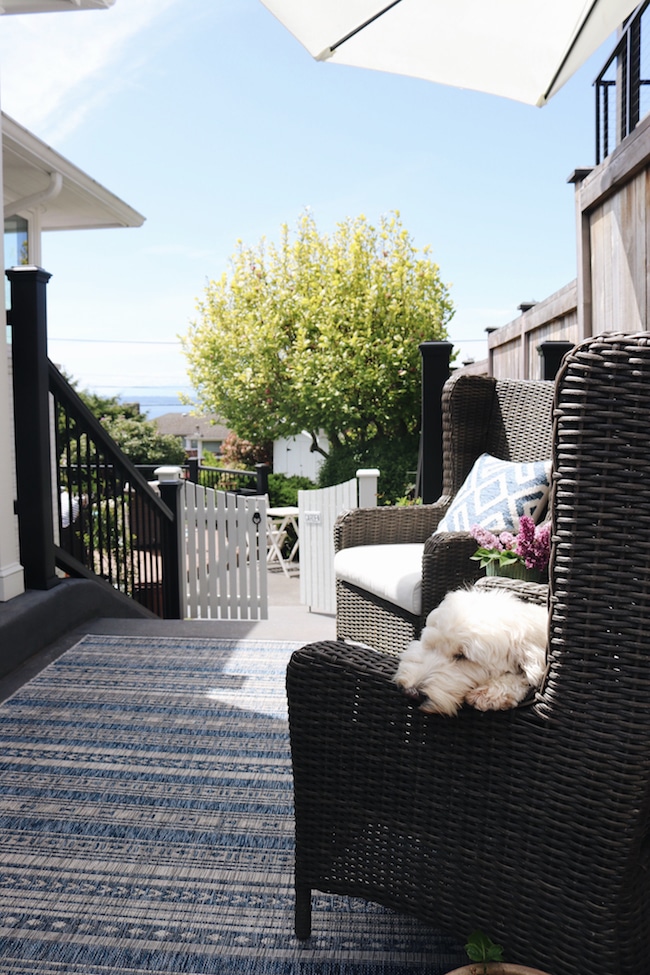 FAQ:
What do you do with all of your cushions and rugs when it rains?
We have our cushions and outdoor rugs out from about Mid-May through early November (or late October, depending on the weather). That's about six months of the year!
We live in Seattle so obviously you might assume we have a lot of rain. So what do we do then? Honestly the weather has been pretty nice during those six months over the past few years, so it's not been a big deal to have cushions out most of the time.
But, it does rain now and then, so here's what I do when it does.
If it is just a brief rain, I don't worry about it. All of the cushions and rugs we have are outdoor-friendly. They dry very well and have had no damage from a little rain.
But if we hear there is going to be a downpour for a day or a week :), we pile up the cushions on two outdoor "sofas" and put a tarp over each, tied down with a bungee cord so they don't blow off in any gust of wind.
It doesn't look beautiful but it does the trick. We used to bring them all inside but that's a big pain, so tarps it is!
We do not worry about covering our outdoor rugs. We've had a few rugs in the past that didn't do as well in a lot of rain, so we would roll them up and bring them in. But for the most part the rugs we have are fine in rain! And they clean up really well, too.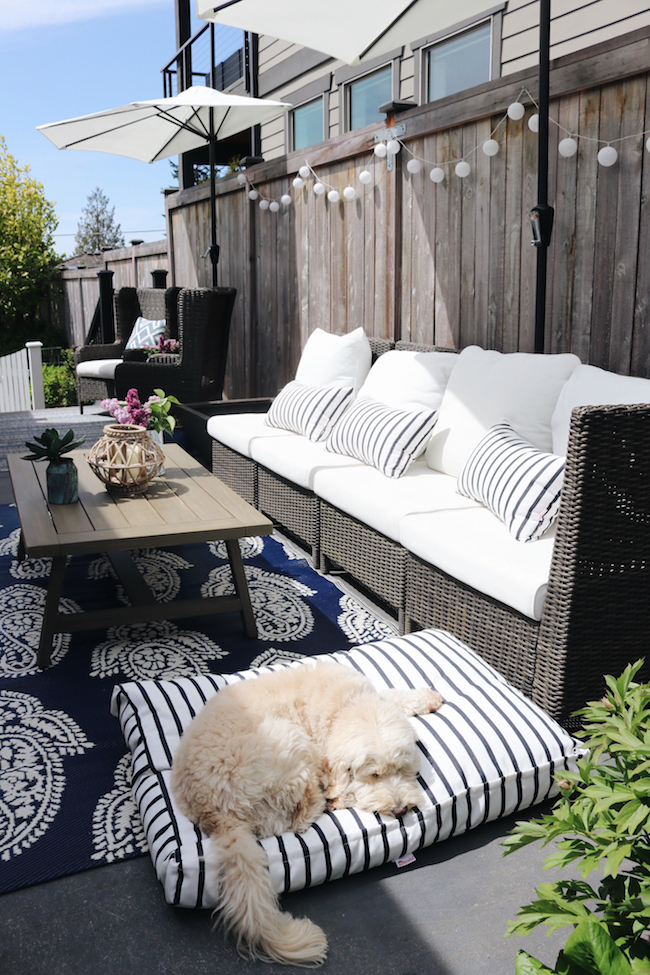 How do you get/keep your white outdoor cushions clean?
Believe it or not, we've had the same outdoor WHITE cushions for about FIVE YEARS! Yes, five years. And they look practically like new!
But what about …
Mud?
DOGS jumping on them with dirty feet?
Dirt?
Dust?
Beverages?
Food?
I've been asked about every possible scenario, so here's my answer.
Yes, our dogs jump on our cushions. They get muddy or dusty footprints on them. Yes, people spill on them. Dirt ends up on them.
But when that happens, I simply use the same cleaner I use for my indoor white slipcovers (and basically every thing else in our house) and spot clean them as needed. It works so well!
I shared a quick video on Instagram the other day of my husband cleaning them, click HERE if you want to see!
Get the Thieves concentrate cleaner here. Trust. I promise you'll love it all, it's such good stuff for YOU and your HOME (and safe for your pets, too!).
Where do you store your furniture all winter?
We actually keep our furniture outside all year round. We do not have enough room anywhere else to store it, so almost all of it stays out in the elements! It has held up so well.
However, in the winter I do put the outdoor rugs and cushions in our little storage shed. No cute little "she shed" for me to work or lounge in. It's jam packed with seasonal stuff. Click HERE to see our cushion storage shed in our yard.
Where did you buy your outdoor furniture, rugs, umbrellas and accessories?
A lot of it came from World Market. I love their price points and quality. We have this sectional in a different color. You can also order Replacement cushions …. although you may never need them since they seem to last forever! But since their furniture seems to last forever too, I recently ordered a couple of replacement cushions to have on hand, just in case.
Other FAQ on my outdoor spaces:
Do you still like your Trex deck?
YES!! We couldn't be happier with it.
Find all the details on our Trex deck, the railing and the whole install process through Lowe's along with the deck sources here.
How did you paint your concrete?

Find the answers here! >> How to paint your concrete steps or patio
Any other questions I could answer about taking care of our outdoor spaces or cleaning our outdoor cushions or rugs?