Hey friends! It's been quite awhile since I've done an "out to see" post (a travel series I named as a play on my childhood love of what I called "going out to sea" on the canal in my grandparents backyard off the Puget Sound!) I'll link to some of the other 'Out to See' series at the end of this post! We went out of town last week, it was so good to get away to the Oregon coast! We don't get to go on a real vacation very often (womp, womp, womp), but when we do it's a good reminder of why it's so beneficial to get away (and a confirmation that I also LOVE to be home!).
Are you the same way? It's fun to escape for awhile, but coming home again is always so sweet.
Today I'll share a few highlights from our trip so you can see where we were. If you follow me on Instagram, I shared a few of these in my Instagram stories throughout the week! Maybe if you're in the Northwest or traveling this way for a getaway, this will inspire a last minute summer trip. I think the Oregon coast is so beautiful, even when it's a little chilly or cloudy. Fortunately we had really nice weather, not too cold and not too windy. And it was definitely not too hot like it is in many people's neck of the woods (neck of the coast?) this time of year.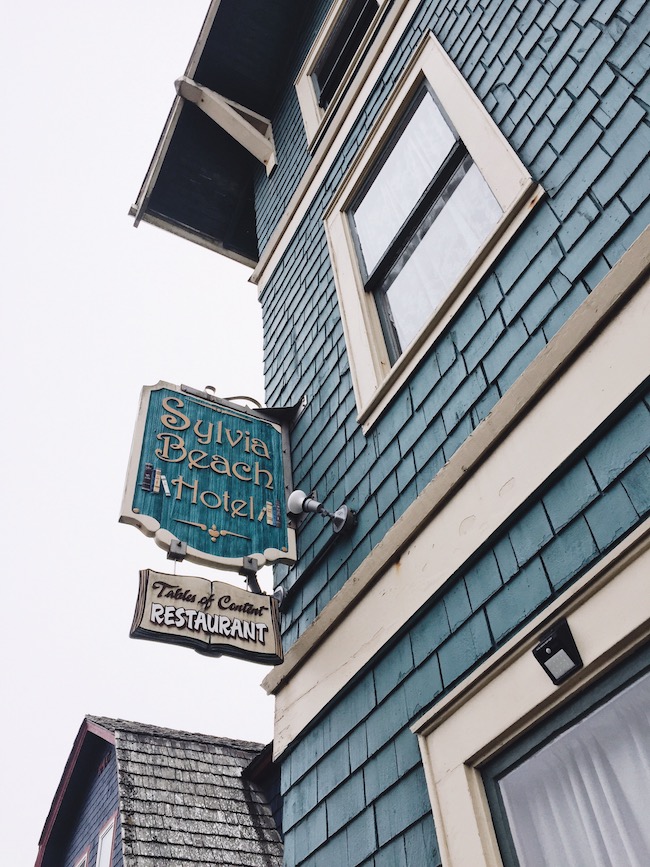 The Sylvia Beach Hotel is a place my husband and I have gone for years. It's a quirky old hotel, well-loved by book readers and travelers.
It's not fancy at all, but it's got its own special character and charm. We started going here for a couple of days every winter just the two of us, when our girls were very small (especially during the years when we didn't have a family beach house!).
Each room is a tribute to an author, this is the Mark Twain room. We've stayed in this room twice over the years! It's a cozy little room with a fireplace and a clawfoot tub instead of a shower.
The Mark Twain room is on the ocean front (and even has a balcony!). The view from the bed looks pretty relaxing, doesn't it? It is.
We've always wanted to bring our kids here, so this time we decided to make it a family trip to show them this special little spot on the Oregon coast. Since our kids are old enough now to have their own rooms (um, obviously since Courtney lives on her own already, ha, and my son is eighteen!!) and there aren't any large family sized rooms here to my knowledge, we splurged on rooms for all!

Courtney stayed in the Jane Austen room.
Courtney even read the beginning of Pride and Prejudice and was quite proud of herself since she admits she's not normally much of a fiction reader. You can hardly go to this hotel without wanting to curl up with a good book!

There's a third floor library overlooking the ocean that really is the perfect spot for reading. Or writing a book! I actually wrote part of my first book, Love the Home You Have right in this corner of the library! That book became a New York Times Bestseller so I guess this place worked its magic for this (then) first time author.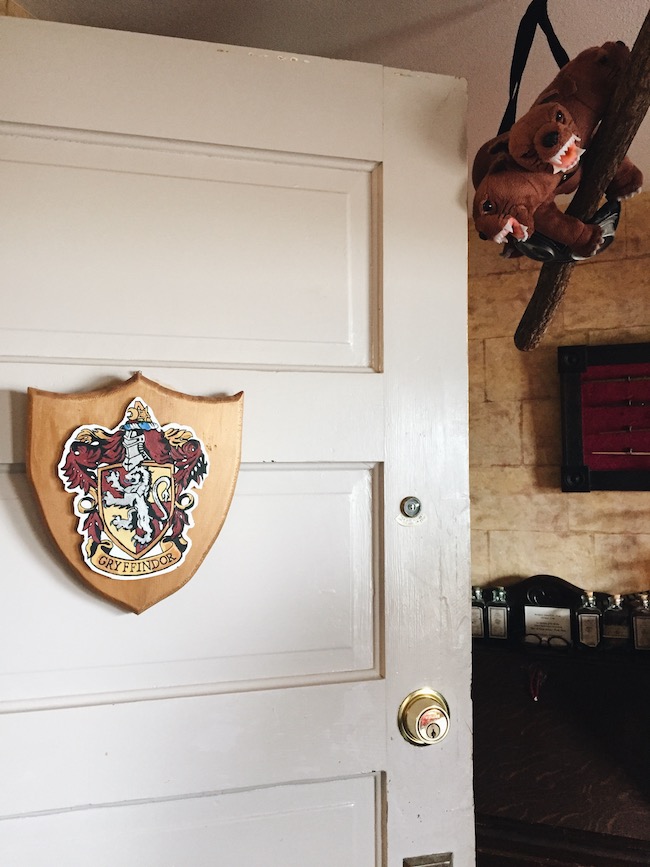 My son Luke stayed in the J.K. Rowling room. I'll give you a little tour as it's one of the more elaborately designed rooms!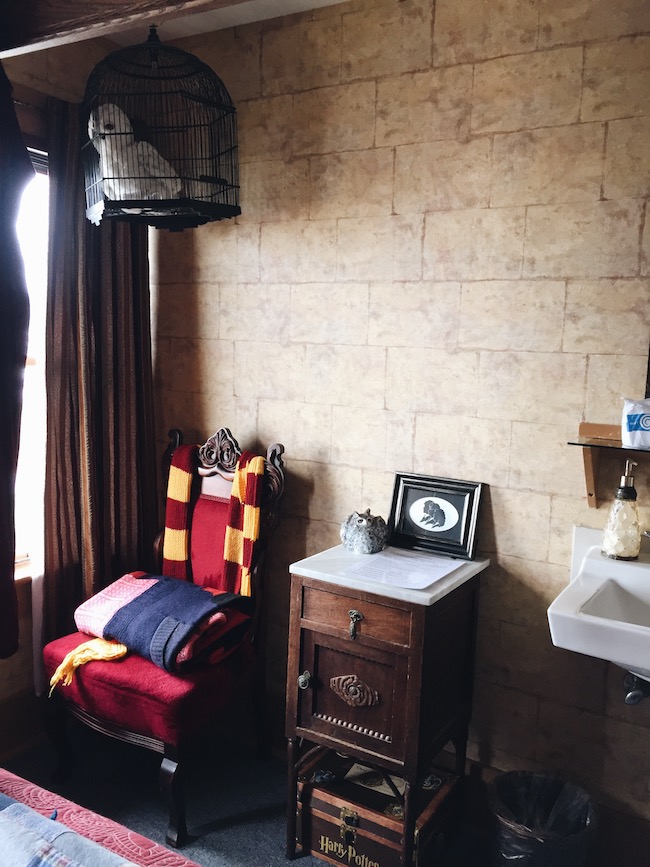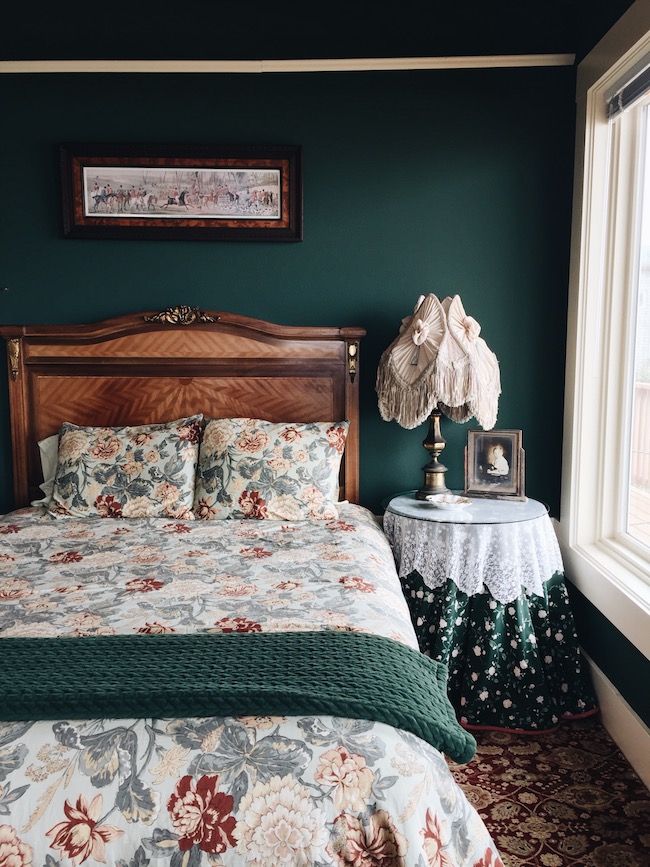 What better place to curl up with a stack of mystery novels than this quirky Agatha Christie room?
If it's stormy out, all the better. Put a fire in the fireplace! The ocean is right outside the window so you'll get to hear the ocean roar and the walls creak, too.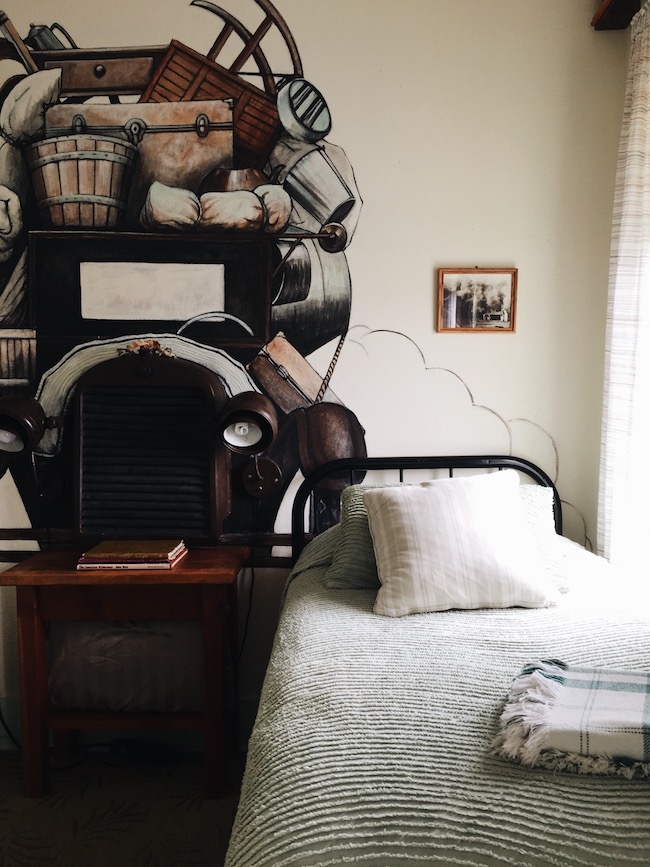 This is the Steinbeck room, I didn't get to photograph all of the rooms since they were occupied but I snuck into a few! The Jules Verne room was also a cool room we peeked at this time, but I don't have a photo of it.
I'm not sure how many rooms we've actually stayed in here, but I would guess we've stayed in about six or seven of the rooms prior to this trip (and a couple of them twice!). There's also a dining room where you are served breakfast included in the price of the room, and you can make reservations for a multi-course dinner. You get to meet a lot of interesting people over dinner! It's fun, but as an introvert I'm always glad to have my husband there to keep talking ha!!
While we were in the area, we visited a few of the local sights.
The Yaquina Head lighthouse is really cool (you can even go inside during a scheduled tour, but we didn't this time).
The views up here are so amazing!
It was a perfect day to explore.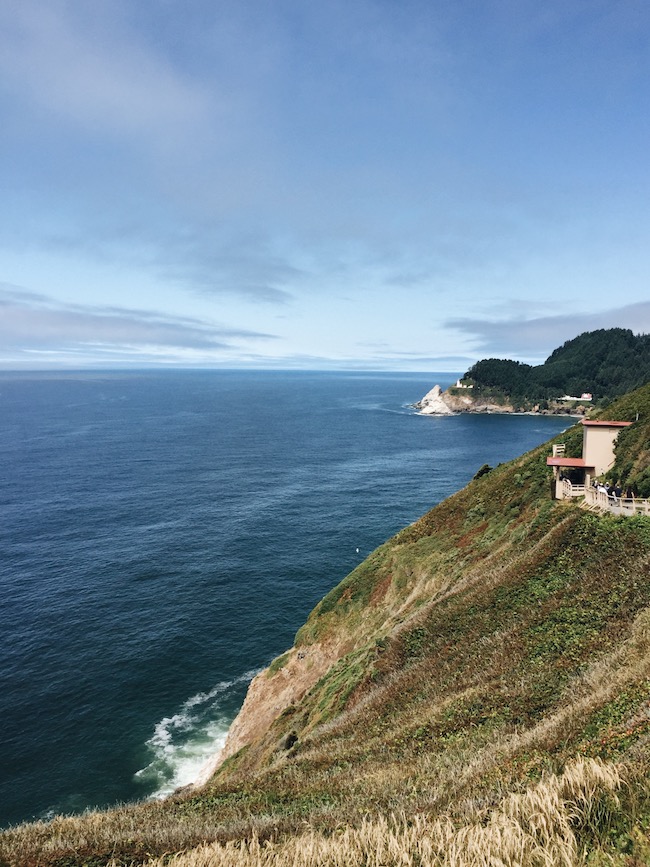 We even saw whales off the coast (although I don't have a photo to prove it).
The views were just spectacular!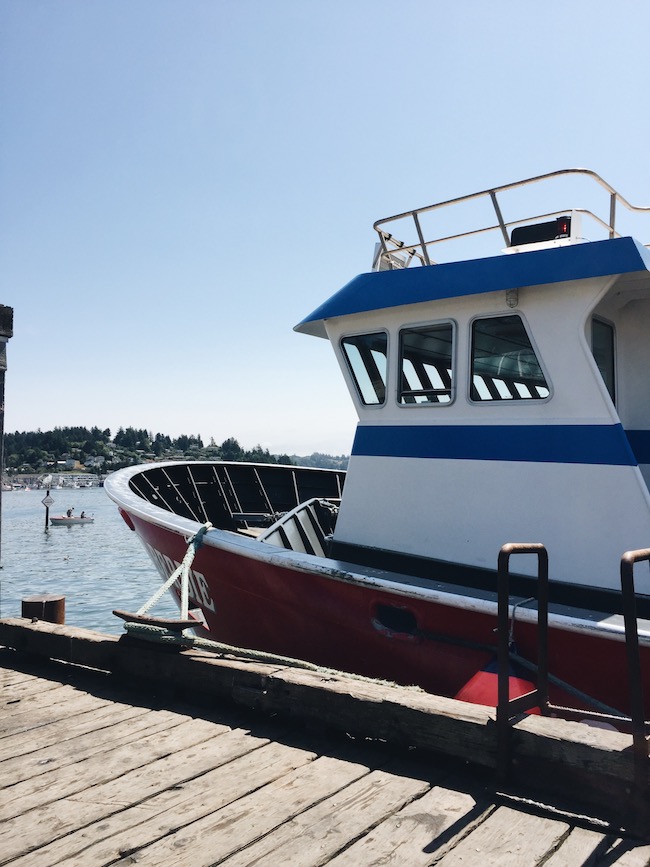 We also spent some time at some other favorite spots, including this dock in the historic Bay Front area. Brace yourself for this next shot.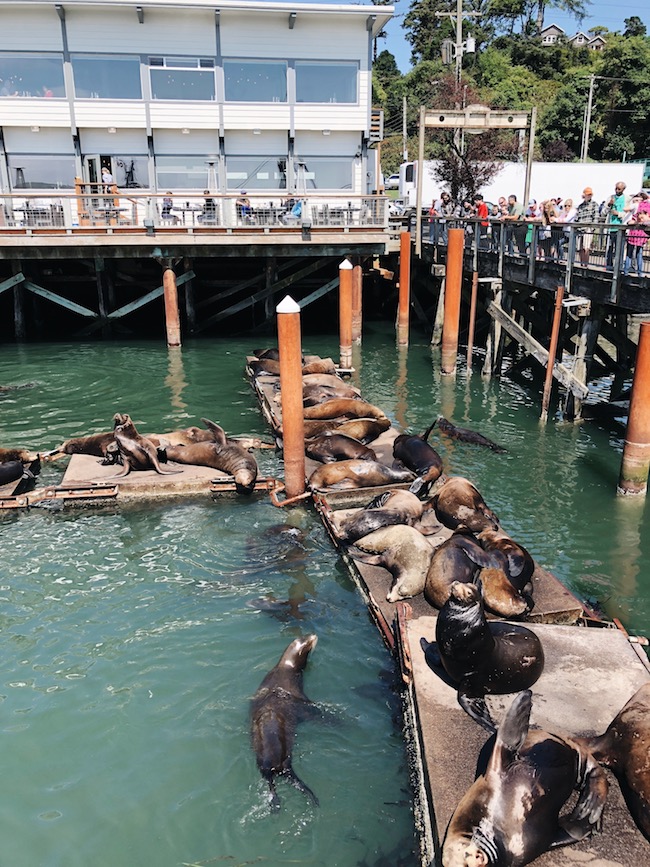 There are tons of sea lions here! They've been gathering on these floating docs since I was a kid. They are hysterical (and loud) to watch. It was pretty funny to watch them try to squeeze themselves onto the dock and all the fights that break out. We spent a long time just enjoying their antics.
It's a fun little area. Right over that bridge is the Oregon Coast Aquarium. We went there with our kids when it was first opened about 20+ years ago or so and Keiko the whale from the Free Willy movie was there. It's not quite as exciting as that any more, but we went again anyway and there are really beautiful fish and other sea creatures to see.
While this was a family trip, sadly Kylee couldn't join us this time. But she and her husband Lance kindly stayed with all of our dogs (her two and our two) and held "doggie summer camp" at my house so we could get away! I think they (the pups) had a great time by the looks of the photos she sent to me (below).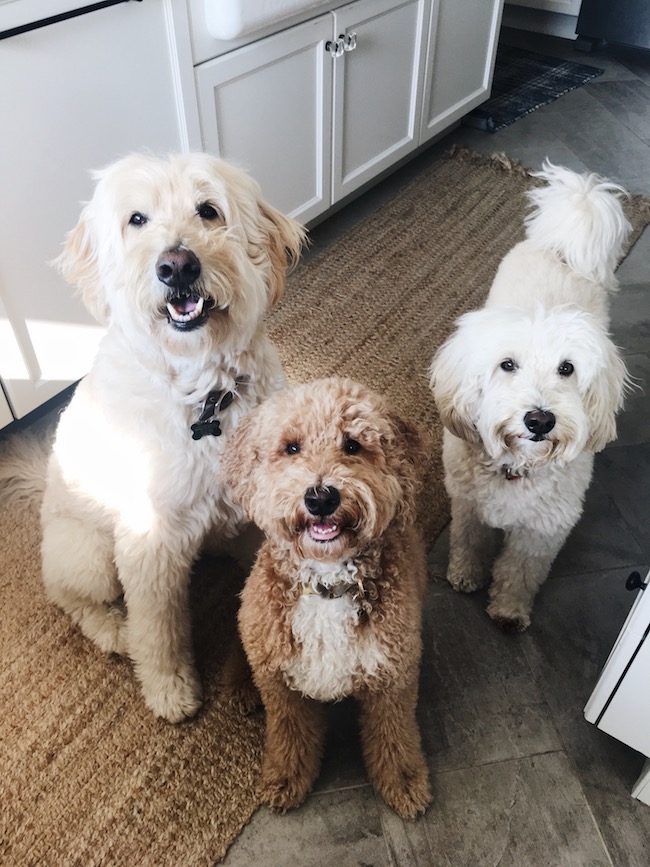 Like I said, we had such a great time but it feels so good to be home (and I'm sure Kylee was very happy to get home, too, ha!). We sure missed our pups and couldn't wait to crawl into our own beds.
Now that I'm home I'm pretty antsy to do some nesting around here! After a fun spring and summer of completing outdoor projects, I AM SO READY FOR FALL to get here (well, in a few weeks). How about you? Are you getting the "fall nesting" bug, too? We'll be in full fall nesting mode on the blog, soon, too!
Have you taken any vacations this summer? Where do you you like to go to get away? If you go to Nantucket, that is my dream.
More Out to See Posts:
Mermaid Cottage on Tybee Island
Sesame + Lillies (a shop in Cannon Beach)