I love most styles of homes, but my heart is drawn to the architecture in the Cape Cod style. I love to analyze the photos of rooms, paying special attention to design elements I love. It helps me to think more creatively about my own home.
As I study a photo, I always ask myself questions about what I'm drawn to, such as how I could incorporate that architectural detail? What are the colors are represented in that space and would they be pretty in my own? Even if you're on a tight budget or your home is a different style, there are often ideas you can take away from any home you love. If not, the best the take away tip is that it might be best to just appreciate or admire the look from afar or save it for the future!
I was scrolling through the photos of this lovely Cape Cod style house from New England Home and thought I'd share some of my take away tips with you! Enjoy the house below, then you'll see my tips at the end of this post.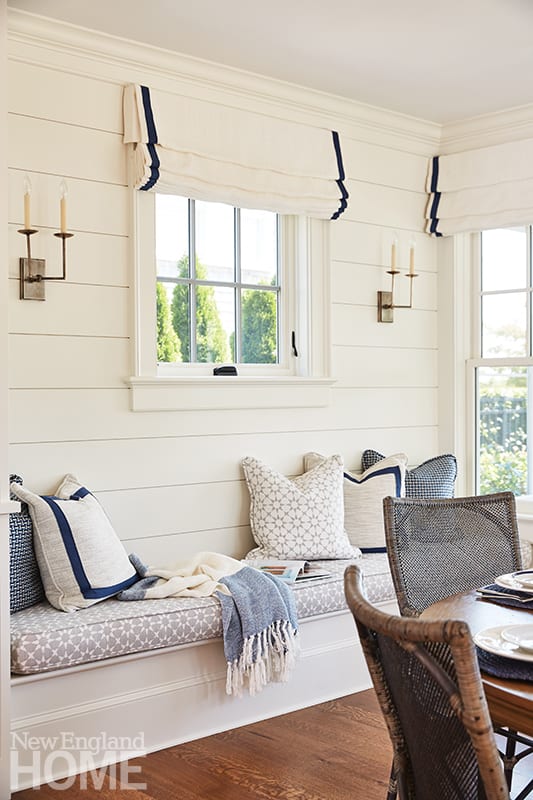 Here are 5 Take Away Tips from this Charming Cape Cod Home:
Add character with architecture
Box beam ceilings, wood wall paneling, and substantial molding and trim add a sense of history, warmth and character. Open shelving in the kitchen and living room provide a more laid back, casual feel and allow display space for personal collections such as books, mementoes, accessories and personal touches.
Create a cohesive color palette
This home used a cohesive color palette both inside and out, keeping the look simple and classic with white wall backdrop with neutrals, blues, and warm accents.
Incorporate many types of textures for a warm and cozy feel
Incorporating many different types of textures throughout is what creates a warm and cozy atmosphere. If you were to take away these textures, the feeling in the space would be more cold or sterile. Notice the warm wood floors, woven baskets, cozy throw blankets, woven mirror, fabric roman shades, rattan, glass hurricanes, warm metal lighting, warm woven chairs in the kitchen.
(See my post on texture: The Secret Ingredient Every Home Needs)
Mix patterns
Mixing patterns is a fun way to add unique personality to your home! You can use a combination of patterns in a cohesive color palette (try two colors!) for a more restrained look. I love the mix of larger scale geometrics, small scale pattern, subtle stripes, and solids in this home.
(See my blog post on pattern: The Best Secrets for How to Mix Patterns in Your Home)
Use wall lighting for ambience
Sconces make rooms feel extra cozy and charming! They spread light around the room, making a whole space feel warmer and more inviting. This home utilized wall sconces by the fireplace, and by the built-in bench in the dining area. I'm sure it looks so cozy at night!
(See my blog posts on lighting: Adding Character with Wall Sconces, and The Light-Changing Magic of Rechargeable Bulbs for Sconces + Lamps, and Charming Inexpensive Decorating: Non-Electric Wall Lights with Battery Candles)
More Take Away Tip Posts on The Inspired Room:
6 Take Away Tips from a Beautiful New England Home
5 Take Away Tips from a Charming Home on Martha's Vineyard
A Memorable Kitchen: 4 Take Away Tips
17 Take Away Tips from an HGTV Dream Home
5 Budget Friendly Take Away Design Tips