My name is Melissa and I'm the creator of The Inspired Room, a decorating blog designed to help you love the home you have. I have been honored two years in a row, 2015 and 2014  to be voted the Reader's Favorite Decorating Blogger at Better Homes & Gardens magazine! I am budget conscious but also appreciate good design and a well-kept home. I don't think you have to have one without the others!
I am the author of the NY Times Bestseller Love the Home You Have released March 2015, and The Inspired Room, released November 2015.
I love to share about my own home and things that inspire me about decorating, homemaking and organization. I share tons of posts on how to decorate, or to get inspired when you are in a slump, how to organize a home and keep up with homemaking. I share simple ideas like my four daily routines or regular inspiration like how to fall in love with your home.
Over the past eight years, this blog has had one mission: to inspire women to create an authentic home they LOVE. I believe when we love our home, it inspires our life! I'm a wife and mom of both humans and fur kids, I have a growing business and busy volunteer schedule. I know how hard it is to juggle all of our plates without at least a few of them crashing to the ground! But as I've learned to love the home I have (even though it isn't perfect!), I have found I have more passion and energy for everything else in my life! 
I'm here to encourage you with realistic ideas and manageable expectations for your home, but also to inspire you with how to make your home more beautiful along the way. We can't do it all, but we can surround ourselves with what we love and find contentment with what we have!
I keep things very simple! I'm DIY-challenged and always on a budget, so if I can figure out a way to do decorate or organize my home without a lot of time, stress or money, I'm all for sharing my journey and passion for the home with my readers. I hope you'll join us!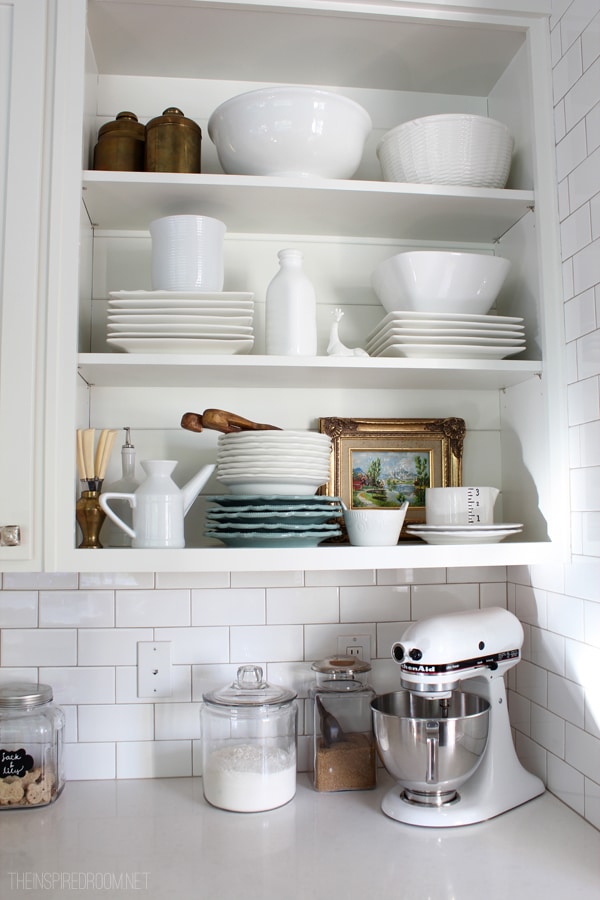 My Kitchen Remodel
While this blog has grown and spread its wings over the years (now reaching 600,000 people and over one million page views a month), my focus and passion has remained the same. I'm thrilled and humbled by all the opportunities I've had since 2007.
I'm humbled to have been voted in the top five editor's choice awards for best decorating bloggers at Better Homes & Gardens, as well as the number one fan favorite decorating blogger at Better Homes & Gardens in 2014 & 2015. 
I've been featured on such sites as HGTV.com, House Beautiful, Apartment Therapy, Better Homes & Gardens, Ladies Home Journal, Country Living, Family Circle, The Seattle Times, The Oregonian, The Nest, Coldwater Creek, The Dallas Morning News and The Pioneer Woman and featured in Cottages & Bungalow's magazine, House Beautiful and my kitchen remodel was featured in a five page spread in the November 2014 issues of Better Homes & Gardens and featured in Cupcake Magazine!
I've worked with brands such as as Target, Lowe's, West Elm (an Etsy Pop-Up Shop!), Martha Steweart, Electrolux, Home Depot, Clorox and Kohler. If you are a company seeking top notch ad space and corporately sponsored posts, please contact my ad network Federated Media for options.
My pup Jack in our kitchen
In addition to writing at The Inspired Room, I am a monthly writer of a home organization column called The Decluttered Home, on the writing team at (in)courage, and have contributed to Proverbs 31. I'm a blogger for My Colortopia (by Glidden Paint) and have contributed to a series at the HomeGoods blog, and have been a speaker for such fabulous conferences as Blissdom, Relevant and A Woman Inspired. I'm also a "pinner" for Better Homes & Gardens magazine.
In day to day life, I am a mom of three and a pastor's wife helping to launch a new church and brand new all ages concert house in Washington called Voyage.  If you want to read a little about the behind the scenes look at my life, you can find that here.
I like to open my eyes to new things to inspire me in living an authentic life — hopefully things that will inspire you too! I love to dream, find inspiration in all sorts of places, and then take what I find and apply it to my own home and life.
Along the way I hope to slow down enough to appreciate all the beauty around me every day. Life flies by too quickly and I don't want to fail to notice the little things.
The Inspired Room was selected in the top five editors' choice favorite decor blogs by Better Homes & Gardens
The Inspired Room was voted as the top readers' favorite decorating blog by Better Homes & Gardens in 2014 and again in 2015
My kitchen remodel was featured in the November 2014 issue of Better Homes & Gardens magazine.
My home was featured in the Fall 2014 Edition of CupcakeMag
My Christmas mantel was featured in the Christmas 2011
Edition of Cottages & Bungalows magazine!
My reading corner was featured by Country Living Magazine.
Featured writer for BHG Style Spotters
My kitchen organization ideas were featured by House Beautiful.

My home has been featured several times on HGTV.com! 

Featured writer for HomeGoods (find my articles here)
Guest writer at Williams Sonoma Designer Marketplace

Featured on Ladies Home Journal! 
The Washington Post Blog Watch The Seattle Times
Apartment Therapy several times, including my blue table!

Radio interview: Click here to listen to my live interview on Blog Talk Radio: The "O" Myth!

NW Holiday Magazine, The Oregonian, December 2008

My Fairy Garden has appeared in publications all over the world.
See all of my previous house tours here!
…I tried to picture what I would want my house to look like if I could decorate it any way I wanted. Not thinking about money or other people's opinions. And guess what was the only place I could think… I Googled:

"how to decorate your home like Anthropologie."

Lo and behold, The Inspired Room popped up.

Right away, I was hooked. I could love Melissa for the simple fact that she lives in the Northwest, but I loved her even more when she talked about living authentically. Not striving to have a home like something out of a magazine, but a real, lived-in, loved-on home. Where you feel comfortable and those that enter your home do too.

She told me to ignore the "rules" of home decorating and use the things I love. She gave me permission to paint my family room ruby red (if I wanted, which I don't). She told me I could hammer a nail in the wall to hang a picture… even if I wasn't 100% sure I wanted it there the next week.  And she said if I didn't like something, I could change it. Imagine that!

She unlocked the chains of my decorating bondage ;)

I experienced home-decor freedom for the first time in my life! hee hee.

But let's be real here, or should I say, authentic. It was more than just the freedom to decorate how I wanted.  Reading that blog gave life and inspiration to someone who had been missing for so long. It was about learning who I was again. Learning how to live authentically, in my home, as myself.  And with that, creating a place where my family feels comfy, loved, and safe.
NOTE: The Inspired Room@ is a legally registered trademark. This means that you may not use The Inspired Room or any variation of that name in a way that could easily be confused with me or my business. I am required by law to defend my trademark, so if you are in doubt, check with an attorney or email me to ask about the use of any similar name.