The Inspired Room was voted in the Top 12 Best Home Design Blogs in 2013 at Apartment Therapy!
My name is Melissa and I'm the creator of The Inspired Room, a decorating blog. I love to share about my own home and things that inspire me about decorating, homemaking and organization. I share tips for how to decorate, how to organize, how to clean, and how to love the home you have.
I keep things very simple! I'm DIY challenged and always on a budget, so if I can figure out a way to do decorate my home without a lot of time, stress or money, I'm all for that. 
Over the past six years, this blog has had one mission: to inspire women to create an authentic home they LOVE and for their home to inspire their life.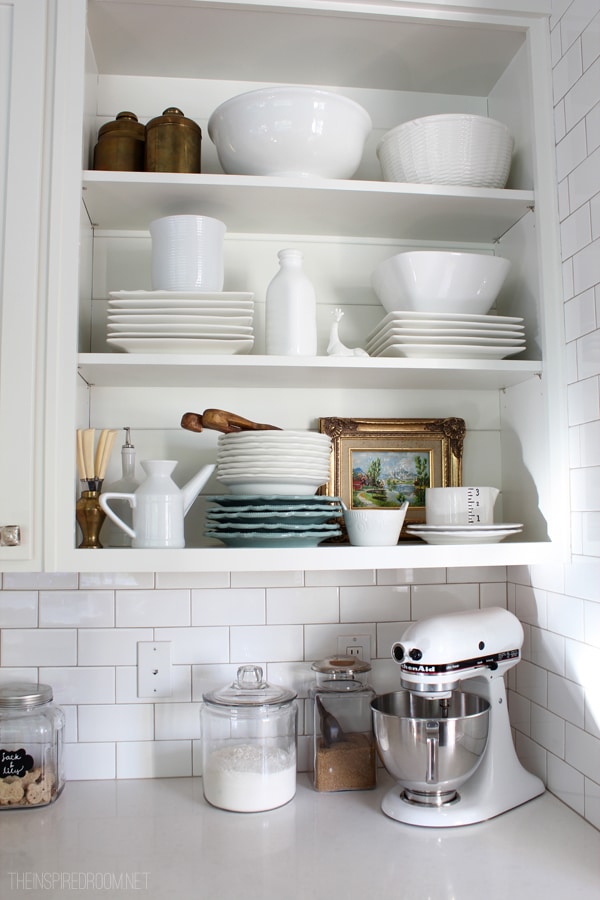 My Kitchen Remodel
While this blog has grown and spread its wings over the years (now reaching 400,000 people and one million page views), my focus and passion has remained the same. I'm thrilled and humbled by all the opportunities I've had since 2007.
I'm humbled to have been featured on such sites as HGTV.com, House Beautiful, Apartment Therapy, Ladies Home Journal, Family Circle, The Seattle Times, The Oregonian, Better Homes & Gardens, The Nest, Coldwater Creek, The Dallas Morning News and The Pioneer Woman and featured in Cottages & Bungalow's magazine, House Beautiful and my kitchen will be featured in an upcoming issue of Better Homes and Gardens.
The Inspired Room was in the top 12 Home Design Blogs at Apartment Therapy's Homies Awards in 2012 and 2013 and the Top Five Home Blogs in a Lamps Plus Blog Contest.
I've worked on campaigns with companies such as Target, Lowe's, Clorox, Electrolux, Kohler, Home Depot and Martha Stewart. If you are a company seeking top notch ad space and corporately sponsored posts, please contact my ad network Federated Media for options.
My pup Jack in our kitchen
In addition to writing at The Inspired Room, I am a monthly writer of a home organization column called The Decluttered Home, a contributor at  (in)courage, I'm a blogger for My Colortopia (Glidden) and have contributed to a series at the HomeGoods blog, and have been a speaker for such fabulous conferences as Blissdom, Relevant and A Woman Inspired. I'm also a "pinner" for Better Homes & Gardens magazine,
In day to day life, I am a mom of three and a pastor's wife helping to launch a new church and brand new all ages concert house in Washington called Voyage.  If you want to read a little about the behind the scenes look at my life, you can find that here.
I like to open my eyes to new things to inspire me in living an authentic life — hopefully things that will inspire you too! I love to dream, find inspiration in all sorts of places, and then take what I find and apply it to my own home and life.
Along the way I hope to slow down enough to appreciate all the beauty around me every day. Life flies by too quickly and I don't want to fail to notice the little things.
 Kitchen photoshoot behind the scenes with BHG
 My Christmas mantel was featured in the Christmas 2011
Edition of Cottages & Bungalows magazine!

My home has been featured several times on HGTV.com! 

Featured writer for HomeGoods (find my articles here)
Guest writer at Williams Sonoma Designer Marketplace

Featured on Ladies Home Journal! 
The Washington Post Blog Watch The Seattle Times
Apartment Therapy several times, including my blue table!

Radio interview: Click here to listen to my live interview on Blog Talk Radio: The "O" Myth!

NW Holiday Magazine, The Oregonian, December 2008

My Fairy Garden has appeared in publications all over the world.

NOTE: The Inspired Room is a legally registered trademark. This means that you may not use The Inspired Room or any variation of that name in a way that could easily be confused with me or my business. I am required to defend my trademark.