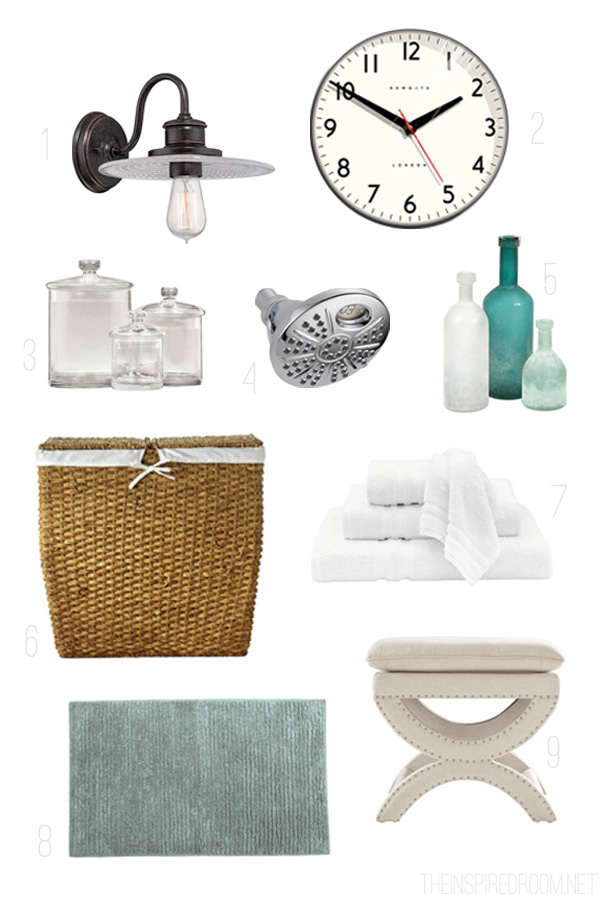 Collage Sources: 1 , 2 , 3 , 4 , 5 , 6 , 7 , 8 , 9 
This post is sponsored by The Home Depot.
I
want my home to feel like more than just an ordinary house. I want it to be a restful retreat, a destination that comforts my family and prepares us to impact the world outside of it. The bathroom is where we start and end our days, so no matter how ordinary our house is it's nice to create a luxury experience. While a bathroom covered in beautiful tile and with a glorious soaker tub would definitely feel luxurious, we can give even the most average every day bathroom a tiny sense of 'luxury' with affordable accessories and easy updates.
House Beautiful
Here are 10 Simple Bathroom Luxuries To Consider:
1) Mood Lighting
Consider changing out standard builder lighting, updating old fixtures, installing dimmer switches, or even just change out your types of lightbulbs to warm the mood of a bathroom. Lighting makes a big impact on how we feel in a room, and even how we look!
2) A Favorite Candle
I think it's safe to say I have a candle in every room of my house, and the bathroom is no exception. I love the romantic feel of a flickering candle mixed with the pretty scent (but unscented adds a nice ambiance even if you are sensitive to smells!).
3) Hand Soap, Bath Salts, and Bubble Bath
Soap and bathroom accessories feel luxurious when they are in a fancy jar, don't they? Incorporating spa-like products in your bathroom will make you feel welcomed and inspired, as if you are on vacation in a luxury hotel.
4) A Spa-Like Shower Head
Every shower can be a spa-like experience when you have a shower head that you love. A spa-like shower head (such as the 
Delta Temp2O 6- 6-Spray LED Digital Temperature Display Showerhead at The Home Depot
) is a quick and affordable way to update your bathroom and make the whole bathroom feel almost brand new again! With the new technology that regulates the temperature to be just right,  your shower is great way to start and end your day.
5) Flowers
Flowers and plants in a bathroom are a luxurious touch that add a sense of well-being and calm to a space. Keep spa colored vases on hand to hold pretty blooms.  "Flowers always make people better, happier, and more helpful; they are sunshine, food and medicine for the soul" — Luther Burbank Enough
6) A Laundry Hamper
One thing I've learned about myself is that when something functional is beautiful, I am much more inspired to use it. Treat yourself to new bathroom accessories like a pretty laundry hamper!
7) Fresh Towels
A stack of fluffy white towels neatly folded in a cabinet or by the tub will give you a sense of being in your own luxury spa.  It's about time at my house to purge out many of my old towels and start fresh!
8) Fresh Bath Rugs
One of the quickest ways to refresh and update your bathroom is to swap out old bath rugs with new clean mats. I like to have a fluffy bath rug by the sink, and more absorbent rugs by the shower.
9) A Pretty Stool
If you have the space, consider adding a pretty stool to your bathroom. It's the perfect spot to perch on while putting on shoes or an extra space to stack towels. Adding furniture to a bathroom is a great way to add character, color, pattern, and texture too!
10) Clean Counters, Organized Drawers
Last, but certainly not least…a clean bathroom will instantly feel more luxurious than a bathroom with cluttered counters and chaotic drawers. Go on a bathroom 
cleaning frenzy
 and throw out excess or expired cosmetics and medications, clear off the counter, and tidy up the drawers. Your space will feel serene and ready to welcome you in the next time you're ready to relax!
What are your dream bathroom luxuries?
I acknowledge that The Home Depot is partnering with me to participate in this Home Decorator's Collection (the "Program"). As a part of this Program, I am receiving compensation in the form of products and services, for the purpose of promoting The Home Depot. All expressed opinions and experiences are my own words. My post complies with the Word Of Mouth Marketing Association (WOMMA) Ethics Code and applicable Federal Trade Commission guidelines.
More Bathroom Design Inspiration Posts:
Beautiful Bathroom Remodeling Ideas
Pretty & Functional Bathroom Storage Ideas
5 Navy & White Bathrooms
Beautiful Bathroom Vanities
Lovely Bathroom Storage Solutions
Bathrooms with Trough Sinks
Inspiration: Repurpose Furniture Into Bathroom Vanity
Divided Master Bathrooms: Jack & Jill Style
7 Inspiring Bathroom Designs
Inspired By: Clawfoot Tubs
Wallpapered Powder Bathrooms
Cottage Style Bathrooms
DIY Faux Tin Ceiling Tile Backsplash